April 30, 2015
Lingling Jiang and Nick Marro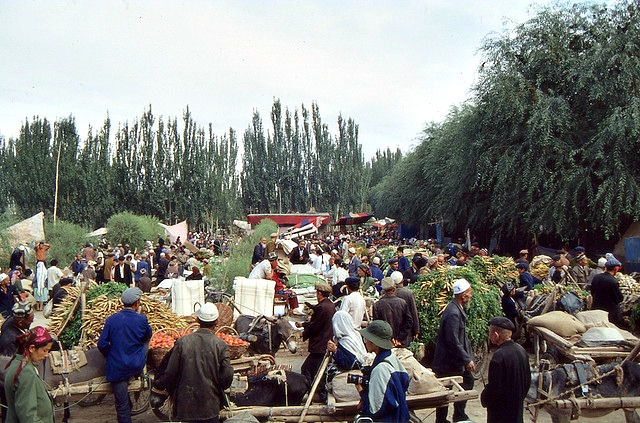 For millennia the Silk Road served as an important network of trade and culture between East and West, facilitating the peaceful movement of people, wealth, and ideas between East Asia and Europe during its zenith in the 12th century. A newly issued action plan for the "One Belt, One Road" initiative (OBOR) has been billed by the Chinese government as an effort to revive the economic integration that nations along the historic Silk Road once enjoyed.
The plan, which seems to have both political and commercial motivations, has gained the attention of multinationals operating in Asia. But questions remain on what China's newest initiative actually means for foreign companies looking to take advantage of these developments. The lack of concrete details has meant that many foreign firms are continuing to monitor developments related to OBOR, awaiting details that might signal their ability to participate.
The path to the 'One Belt, One Road' initiative
President Xi Jinping first proposed developing the "Belt" and the "Road" in separate speeches shortly after taking office in 2013. In both speeches, President Xi drew on history to promote the idea of stronger economic interconnectivity between China and its neighbors. The new OBOR plan took concrete form in March 2015, when Premier Li Keqiang announced in his National People's Congress government work report that China would be promoting the One Belt, One Road initiative by developing regional infrastructure networks between China and its neighbors. The action plan released in March clarified the routes envisioned by the new network:
"The Belt"  Also known as the Silk Road Economic Belt, the Belt refers to the three land-based routes that pass into Southeast Asia, link Central Asia with Russia and Eastern Europe, and link the Middle East with Southern Europe.
"The Road"  Also known as the 21st Century Maritime Silk Road, the Road refers to the two sea-based routes from the South China Sea into the South Pacific Ocean, and into the Mediterranean Sea via shipping lanes into the Indian Ocean and through the Red Sea.
However, the plan has yet to provide important details about project implementation timelines, specific projects, or estimates on investment scale. At an April briefing in Beijing on OBOR attended by the US-China Business Council (USCBC), the central government announced its intention to see results of the initiative by 2020, but did not provide any specifics on how these results might be measured.
Geopolitical considerations
The entire initiative spans 27 countries including China, covering a region home to diverse cultures, religions, and resources—and a host of territorial disputes. OBOR has primarily been treated as a foreign policy initiative, addressing China's political goals rather than explicitly pursuing economic objectives. A number of the stated goals, such as coordinating counter-terrorism work, promoting stable regional security, and connecting resource-rich countries, are proposed as beneficial to all regional players, regardless of cultural, political, or territorial differences. However, there is a more obvious commercial security aspect regarding the two proposed maritime routes ("The Road"), as China seeks to address its longstanding concerns on energy security. The Road will ease China's reliance on the Strait of Malacca, a congested sea route that China is dependent on for over 60 percent of its international trade and 90 percent of its energy resources.
Economic considerations
While foreign policy concerns receive much attention, economic considerations are also important. The total economic volume of the countries within OBOR accounts for roughly 29 percent of the total global economy. With such market potential, improved inter-regional connections would help boost regional trade and investment, as well as generate a large number of new infrastructure projects.
Faced with a slowing economy and severe restraints due to over-capacity in sectors related to infrastructure, the Chinese government sees many opportunities via this initiative. OBOR may help Chinese companies expand in overseas markets, as well as export domestic overcapacity to other regions and enhance regional development. Domestic development is a significant driving force. At the April OBOR briefing, officials announced that the ground routes will be used specifically to "pull along" the development of China's western and southern regions, while the maritime routes will expand the "openness" of China's coastal areas.
Goals of the initiative
The OBOR has three major goals: infrastructure building, regional trade promotion, and RMB internationalization. The first goal in particular may present broad opportunities for companies looking to tie their strategies into the momentum of China's OBOR initiative.
Absent specifics, the government has nonetheless cited a particular focus on transportation infrastructure between nations, which would all support greater land-based, air-based, and sea-based exchange of goods and people. Tourism, financial services, clean energy, and communications infrastructure—including logistics centers for airports, sea ports, and other transportation hubs—have also been cited as priority areas by the media and government (although concrete details remain sparse). In an analysis on OBOR and its "thematic" implications of regional integration, analysts at the Bank of America Merrill Lynch note that a number of sectors—defense, construction and building materials, equipment materials, and financial institutions—all have the potential to play roles in the initiative.
Local plans and financial institutions shaping the initiative
Several of China's cities and provinces have started drafting local plans to outline where they will fit in the overall initiative, including the cities of Shanghai, Xi'an, Qingdao, and the provinces of Sichuan, Fujian, and Heilongjiang. Local infrastructure projects—including railways, highways, and airports—that have already been publicly released may amount to as much as RMB 1.04 trillion ($168 billion) in value. However, central government funding remains unclear at this point.
The OBOR, for its part, is promoting the concept of financial integration. There are three financial entities currently targeted to fund OBOR initiatives:
The Silk Road Fund, established in November 2014, will focus on medium- and long-term equity investment in infrastructure, energy development, industry cooperation, and financial cooperation. The fund is designed to support Chinese outbound investment to countries within OBOR, particularly companies exporting high-tech and high-quality products.
The Asian Infrastructure Investment Bank, the new inter-government regional development entity set to be formally established sometime in 2015, is targeted specifically at addressing Asia's infrastructure needs. As of April 15, a total of 57 counties had joined, with Japan and the United States notably abstaining.
The BRICS Development Bank was established in July 2014, and under the OBOR initiative is slated to focus on providing credit aid to infrastructure building along the various routes.  
The Chinese government also seeks to use OBOR as a vehicle to develop and promote use of the RMB outside China's borders. As such, these financial institutions may serve a complementary purpose of helping RMB capital output and RMB internalization through supporting cross-border infrastructure projects via cross-border RMB settlement.
Where do foreign companies fit in?
The OBOR initiative has incredible potential for a region in need of serious infrastructure investment, collaborative partnerships, and greater regional integration. What these developments mean for US companies, however, is far from clear.
The initiative has not clarified its stance on how foreign participation will be integrated into OBOR, but the government has formally announced that participation by foreign companies will be encouraged, including American, European, and Japanese enterprises. At the April briefing on OBOR, the Chinese government stated they will require international input, talent, capital, and technical support to make OBOR effective.
Project transparency remains a top concern for OBOR development. In conversations with USCBC, analysts have noted that while participation may be open to foreign (i.e. non-regional) companies, the reality may be different. As China is seeking to use OBOR as part of its strategy to reduce domestic industrial overcapacity and strengthen its economic security, there are concerns that a majority of infrastructure contracts supported by funding from the major China-based institutions may in practice end up being awarded to Chinese bidders.