David Shogren has always liked to eat good food. So, it made sense to him to go from eating to selling it.
Food brokers are an important link in the US food supply chain. They generally represent manufacturers who employ them to interest wholesalers and retailers in their products.
"I was working as a broker in 2010, selling product mostly to big retail chains in the US," Shogren recalled. It was around that time that he got a new boss who wanted to diversify the company's work by selling outside the US. He got the assignment to build that business via a subsidiary.
"I got some introductions to people in the Philippines and China, and in 2012 we began selling grocery store items to customers in mainland China. We were ramping up sales and expanding distribution until 2014 when a new boss arrived on the scene. He made the decision to withdraw from our international markets because he complained international sales took longer to develop than domestic sales."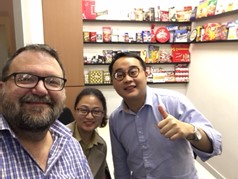 Instead of redirecting the breakfast foods, condiments, cookies and ice cream and other goodies elsewhere, he did what any self-respecting entrepreneur would try to do. He bought the export business from his bosses. Shogren had found his passion: love of food, travel, and new business challenges. Today, his company, US International Foods, is based in St. Louis, Missouri. Number of employees: four, including his wife, also a foodie.
Attention shoppers, wherever you are
"To make it all work, I had to put together all the things I've learned. They included financing, logistics, supply chains, sales, marketing, communications with customers and suppliers, building relationships, and sourcing." The more he traveled the world, the more he began to see some common patterns. In the grocery business, retailers want to stay in stock; they want to try new items; they want to make sure the products would sell through; they care about shelf life, they want to know that I can help promote new brands."
In China his products had some unique selling propositions. The biggest is that American products have an excellent reputation for food safety and quality. These were particularly important when he arrived in China at a time when consumers were upset by tainted infant milk formula and other scandals involving the food supply and public health. Chinese consumers generally appreciate American brands and buying them became an aspirational purchase and popular trend.
He focuses now on snack food and breakfast cereals with no or minimal cooking required. This fits the increasingly controversial lifestyle of many Chinese urban dwellers affected by the so-called 996 (9am to 9pm, six days a week). Even if Chinese workers eventually catch a break, demand for convenience foods is expected to expand.
Sales channels
Shogren has separate sales channels for Hong Kong (supermarkets) and mainland China (hypermarkets and distributors). Like many smaller US companies active in China, he relied on help from government agencies to learn about the markets and to meet potential buyers and partners. Hong Kong Trade Development Council (HKTDC) helps him there and has offices throughout the US.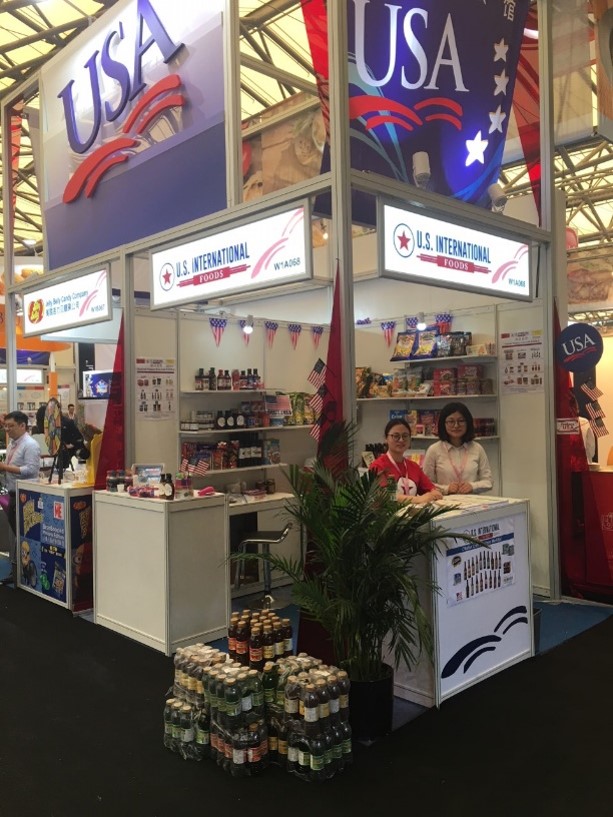 Hong Kong is a free port, so it's easy to ship product there because of low or no tariffs. "That makes our product less expensive for the consumer," he said. "Some product does make its way across the border to provinces in south China."
In China, he has found the US Department of Agriculture (USDA) helpful, as they have offices and market experts in Shanghai, Beijing, Chengdu and Guangzhou. "They know the big buyers in the Chinese market. We've participated in several trade shows with good results," he said.
Attack on snacks
Shogren has not escaped harm from the worsening geopolitical tensions between the US and China. "After Trump's trade war started in 2016 our sales declined quite a bit in 2017 and 2018. Fortunately, they've bottomed out and are growing again." Meanwhile, sales in Hong Kong have remained stable despite unrest.
"One of our snack products was pretty much killed off by increased tariffs. Potato sticks were very popular in China, but tariffs doubled, making the retail price uncompetitive, and sales cratered. Competitors from Korea and other countries were quick to fill the void with snacks that featured good quality and were priced lower because of low tariffs and transportation costs. Looming over future sales is the continuation of high tariffs under President Biden and potential consumer backlash against things American. "In the beginning of Trump's trade war, there was nationalistic spirit among the Chinese customers, and they didn't want to buy American products anymore."
Shogren says the situation now is much better than it was three years ago. "People in China are willing to give American products a chance now, and we are seeing more demand and interest."
He says he remains optimistic, despite darker forces in the bilateral relationship. "The United States and China have more to gain working together than against each other. In the US politics, there has to be a 'boogeyman'. It used to be the Soviet Union and now it is shifted to China—the so-called threat to American prosperity. China needs to take responsibility for its role in the troubled state of the relationship. Both countries need better ways to settle their disputes."
He's aware of the modest role he plays in international trade, and no role at all in diplomacy. While he hedges his bets on China and plans to serve other appetites in Asia, he's not giving up on the world's second largest economy.
"We are little guys. We are just trying to sell some good made in America food, that people want, that benefits people."