It's Feast or Famine for an Illinois Livestock Purveyor
By Doug Barry
At Houston rodeo, Jacob Cluver leaves a dusty cattle pen to take a reporter's phone call. Cluver explains he is meeting a group of buyers from Thailand. "Are they wearing cowboy hats?" the reporter asks. "No" replies Cluver, "but they have very large silver belt buckles."
Free of the dust, dung, and din, Cluver shares that he urgently needs a jumbo jet to fly a load of breeding stock pigs to China. His usual charter company is Russian, and he has just learned that Russian-flagged aircraft can no longer use US airspace, a sanction resulting from the invasion of Ukraine.
Alternatives are possible, but other charter companies may be reluctant to fly pigs, and costs are high with increasing oil prices and an almost 30 percent reduction in cargo aircraft availability due to the Russian invasion of Ukraine. "The Russian charter company's status has thrown a hiccup into things," said Cluver, the president of Ag World Int'l Corp, a company that works with pig, cattle, sheep, and goat farms in over 110 countries to improve productivity and herd health. "Even before the Ukraine situation, the cost of charter flights had doubled in the last two years to locations throughout Asia due to COVID-19," added Cluver.
Never a dull day in the genetic business, which has long been global. Ag World was started by Cluver's father, Bruce Cluver, in 1977. Growing up around farm animals all his life, Bruce got an MBA in international business from Northern Illinois University and went to work for the state of Illinois doing agricultural marketing and traveling around the world promoting Illinois products at trade shows. While doing so, he realized there was a need for someone to help farms around the world source high-quality livestock from the United States. "So, my dad started Ag World to fill that need. He set out to help make sure our exporting famers got paid, that the international farmers connected with reliable and high-quality farms in the United States, and that the animals were handled safely and humanely," explained Cluver.
Pigs do fly
The first deal was signed with farmers in the Philippines. Soon, Bruce added several office staff to Ag World and was consistently helping make pigs fly. In 2010, Jacob Cluver took over the company from his father and wanted to diversify. In 2013, he purchased Bio-Genics from a family in Idaho. That company specializes in goat semen and was mainly focused on the domestic US market with a bit of exports. He saw goats as an underdeveloped segment of the livestock market in the United States and the world. He took Bio-Genics to Ag World's international customers as well. Bio-Genics doesn't do much business in China yet, despite western China having one of the world's largest goat herds. But he hopes to change that in the coming years. In 2019, he also purchased RENCO, a livestock equipment company for which Ag World had already been distributing for about 35 years.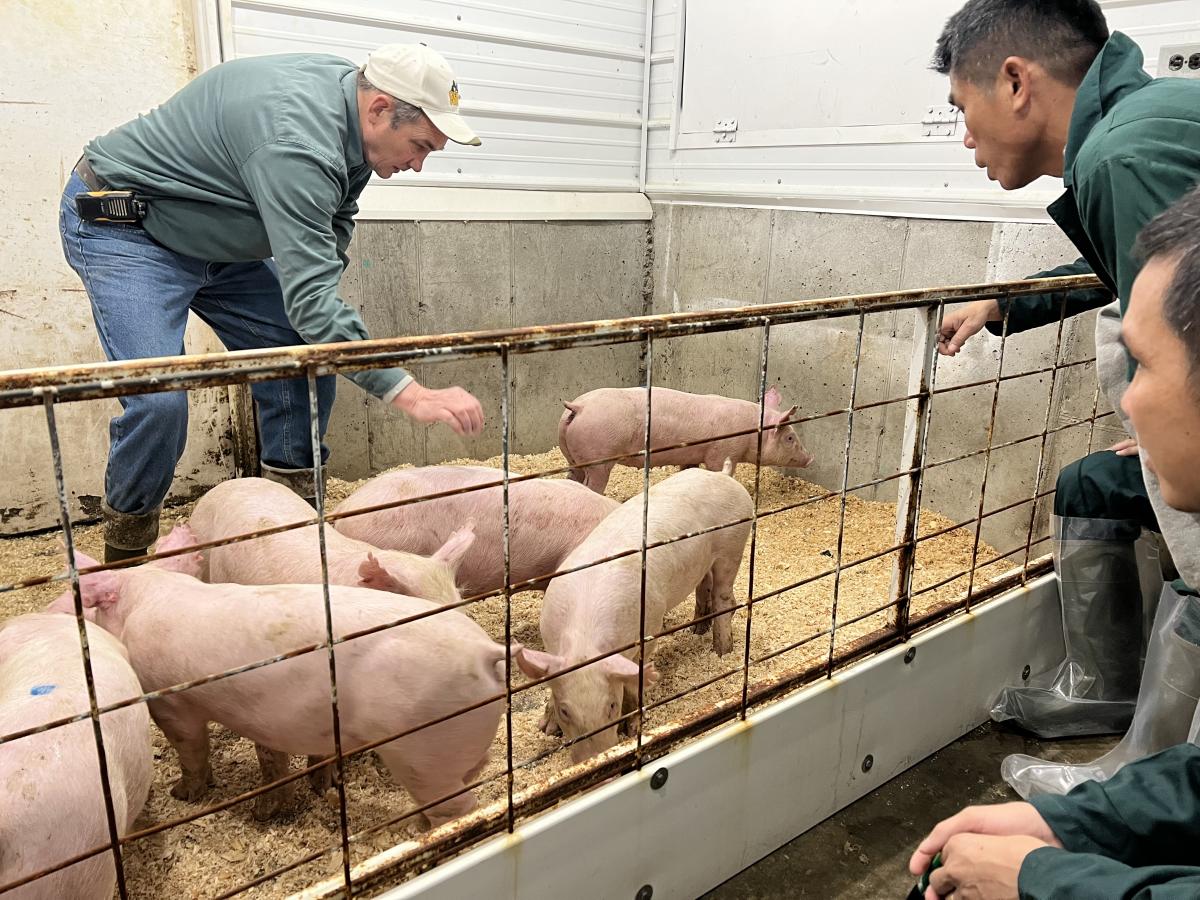 Ag World's mainland China connection came early on, in the late 1970's, when China was mainly closed to foreigners. "Dad started traveling to Hong Kong and going from there into the mainland to meet with customers. He was one of the few westerners there and was fascinated by Mao suits and by the people who always carried Mao's little Red Book," he stated.
"China consumes 65 percent of the world's pork. Before ASF, they accounted for 50 percent of world pork production."
The first time his dad checked into a hotel in China, there was no lock on the door. "They told him, 'Don't worry, we are on the honor system.'" Trust was important because the first charter flight of US pigs landed six months before diplomatic relations were established with the United States.
Ag World continues to sell pig breeding stock to China, helping to establish new farms and improve the genetic performance of animals in the country. All of this contributes to China's recovery from African Swine Fever (ASF), which devastated pork production in mainland China. In the past, Ag World has also worked with China's dairy industry, but the United States has not been able to ship live cattle to China for the last 19 years due to Chinese restrictions related to bovine spongiform encephalopathy (BSE or commonly known as "mad cow disease").
Pork and self-sufficiency
To set the stage for a breeding program, live animals can be shipped in or reproductive ingredients—semen and embryo—can be dispatched, which is much less expensive. Embryos have an added advantage of babies that emerge more adaptable to the new environment and more resistant to local diseases.
Cluver added, "the cattle market is 60 to 70 percent semen and embryos in place of live cattle shipments, with the rest live cattle. The sheep and goat market demand is still mostly for live animals. With pigs, it's all live animals because of limitations of existing artificial insemination technology."
Pigs provide his biggest market in China. "China consumes 65 percent of the world's pork. Before ASF, they accounted for 50 percent of world pork production. China has worked to become self-sufficient in pork production because it is wildly popular as well as a symbol of wealth and prosperity in Chinese culture. Even if they can't afford pork, they will use a little pork fat to season the vegetables," explained Cluver.
China wants to be self-sufficient in food. Buzz words like dual circulation and self-sufficiency appear regularly in official documents, drawing raised eyebrows in the United States, as such goals may violate WTO rules. Won't these aspirations eventually derail the gravy train for Ag World? "No," says Cluver. "China is not the only country to have this goal and officials there have been trying and falling short for over 30 years. Even if they find ways to improve herd health by controlling ASF and Foot-and-Mouth Disease (FMD), as the Chinese economy continues to grow, the demand for high-quality food will grow with it. And even if they can meet the self-sufficiency goal, Ag World will still have a market there to bring in new blood lines and new health stock after outbreaks."
"China is at a point where they need to develop outside the big cities and coasts. Rising incomes mean higher demand for better quality food and other goods. It would be foolish for the United States to quit China now."
China has also begun to change the definition of self-sufficiency by controlling production in sources outside of China. Chinese buyers purchased a major US pork giant. "Now as long as it is being produced by a Chinese company, even abroad, then that counts toward self-sufficiency of pork," Cluver explained.
As consumer incomes increase, the scale and quality demanded for Ag World services and products changes, but the customer is not lost. Years ago, Ag World would ship in enough animals to populate an entire farm. Now, a longtime customer may just buy 20 pigs at a time, but they are extremely high-end genetics and cost 10 to 20 times more than regular pigs, because they introduce new, improved blood lines or jumps in production. The price can be $20,000 for one boar.
Pig politics
The industry is volatile. "China is almost always Ag World's number one market, unless they don't buy one year because of political pressure or other problems," said Cluver. In 2021, sales were booming after the loss of half of China's herd from African Swine Fever. China had started importing from Europe in 2020, waiting for US elections, so Europe got a head start in the herd rebuilding period. China was ready to start purchases from the United States this year, but shipping was disrupted by the Ukraine invasion, sending Cluver scrambling for alternative transport.
Despite the turmoil, he employs seven people with additional agents working overseas. He said total US pork sales to China keep many small farmers going. The United States produces more protein than it can consume, and farmers can't easily switch to other commodities.
Where's the beef?
ASF, trade wars, actual wars.... A full plate for a small business. That his home country and his major market country are involved in a contentious relationship pains and worries Cluver. What sustains him is the belief that the United States and China need each other and that simple arithmetic will eventually compel cooperation.
He notes that Shanghai, China's richest city, has a per capita GDP around $23,000, while Mississippi, America's poorest state, has a per capita GDP of over $41,000. There's plenty of room for growth. Cluver said, "China is at a point where they need to develop outside the big cities and coasts. Rising incomes mean higher demand for better quality food and other goods. It would be foolish for the United States to quit China now." If China can reach per capita GDP close to the United States, their market size would be more than four times the size of the United States. That is a lot of consumers to sell to.
At the end of the day what he enjoys most is helping people feed themselves and growing his company. Higher quality genetics mean production costs are decreased, allowing more people to afford high-quality food for their families. "I just have to deal with the fact that the industry is feast or famine because of the unpredictable nature of animal health and geopolitics."