The Spiritual Side of Supply Chain Management
By Doug Barry
John Kent, a professor at the University of Arkansas in the Sam M. Walton College of Business J.B. Hunt Department of Supply Chain Management, was into supply chains and China before almost anyone else. Back in the day the field was called logistics, a term triggering images of trucks and warehouses and how your stuff gets from point A to point B. Thirty years after his first trip to China, supply chains are now an academic specialty, a mainstay of globalization, and have entered the business and political lexicon. Just ask neighbors who have waited months for delivery of their garden furniture or tried to buy a new car. More importantly, supply chains are now linked to national security: who controls them and what if they're unfriendly? 
Meanwhile, China became the "world's factory," controlling production and distribution of many commodities in high demand. Splashing money at infrastructure, China has become adept at controlling what for some people is a worrying amount of the links in the chains. Not all experts in the field share this state of alarm and Kent is one of them.   
What alarms him is the unfastening of supply chains that will raise prices, torpedo efficiency, and set in motion a costly race to replicate and shorten supply chains, if some countries are able. Most won't be able and will be at the mercy of the few that can. "From 1990 until the trade war (2018), supply chains were so efficient globally that nobody cared, and nobody talked about them," he said. "How can we get back to the efficiency in a friendly, cooperative way in this new world order? China is our customer." 
Supply chain diplomacy 
Kent's solution is to engage in supply chain diplomacy, a formal process to negotiate how global supply chains can in certain cases be reimagined and reconstructed to maintain efficiency while addressing national security concerns. He said he plans to start with "low-hanging fruit" such as food safety. "The Walmart Foundation funds food safety supply chain research. Two programs are at the University of Arkansas involving poultry and pork in China." The Walmart Food Safety Collaboration Center opened in Beijing in 2016. Kent said these are philanthropic grants, and benefit food safety for all participants in food supply chains, not just Walmart's business interests in China. 
In January of 2020, a trip to Wuhan was scheduled to start work on the pork safety research. "I read an article about a new coronavirus that had been discovered there. I asked my Wuhan partner if it would affect the trip. He said 'Yes, we should probably delay the trip until February.' He didn't say February 2023!" Now that date seems optimistic, as even the knowledge exchange supply change is suffering disruption. 
"Our primary goals are to balance trade and lower global inflation."
Kent believes there is considerable resilience in his supply chain, and he has several decades of success to show for it. At the heart of it is a network of industry professionals and faculty at universities in China and the United States that conducts research and awards undergraduate degrees to students.  
His network began in the early 1990s while working for Sea Land Service, an international container ship company. Kent's network further expanded when he got his doctorate in transportation and logistics from the University of Tennessee and his first teaching job at Missouri State University (MSU), which has a branch campus in Dalian, China. He traveled to Dalian about 20 times over 17 years with MSU, mostly over the last 12 years. During Christmas and summer vacation, he would go to Dalian to teach for two weeks in addition to teaching classes online by video for students in Dalian. From 2016-2019, he spent 100 days a year in China to support the University of Arkansas' dual degree programs and the food safety research. He traveled to China every other month for four years in a row. 
"Most Americans go to China for a meeting or two and go back after a few days or a week. I would get a roundtrip ticket for 21 days and not fill my agenda until I got there. Things would come up and I'd get invitations while there. My network expanded." 
Preparing the next generation 
Others took notice and he was hired by the University of Arkansas. "They liked the idea that I made Chinese students feel welcome in the United States," he recalled. "I don't speak Mandarin, but I'm familiar with the culture. At the time, 300,000 Chinese students were coming to the United States." Sadly for Kent, that number has shrunk due to the pandemic and the fraught state of US-China relations. 
One of his first roles in Arkansas was to coordinate a newly signed memorandum of understanding with Soochow University in Suzhou. It was approved by China's Ministry of Education for a dual degree program. Before the pandemic, they were graduating about a dozen students from that dual degree program. Today, there are about 90 students recruited in the program each year, but only some come to Arkansas to complete the Arkansas part of the degree. "Some Chinese parents have been saving since their child was born so they can go to the United States. Access to University of Arkansas faculty is seen as valuable and prestigious even if the students can't afford to travel and study in Arkansas." 
Since the start of the first year of the pandemic, no Chinese students have graduated from the program, but the hope is that there will be some next year, especially since the program has expanded with a new dual degree program with Kunming University of Science and Technology, located in an important southeast Asia hub. The study of supply chains isn't considered a security risk, so his university can still welcome Chinese students. Three students from Kunming moved to Fayetteville in August of this year with plans to finish their degree in December of 2023. In the past he has also mentored University of Arkansas students studying abroad in China, but there have been no such students for the past three years, a blow, hopefully temporary, to the people-to-people exchange that Kent has long promoted as a way of developing trust. 
Although temporarily grounded and holed up for part of the summer at his Arkansas farm, Kent continues to network and is now a Bush China Foundation Senior Fellow working on a new partnership with Zhejiang University. "We recently did a webinar that the Bush China Foundation hosted and within 24 hours were talking to people all over the country about ping pong diplomacy and supply chain diplomacy. We put the word diplomacy in the title because we wanted to emphasize that this isn't a war." 
Telling positive stories 
Kent says there are a lot of good stories about US-China relations that involve mutual benefits, supply chain cooperation being one. "Unfortunately, they aren't circulated as much as the anti-China stories," he believes. One positive example is the Coronavirus Action Network, a volunteer group that hangs out on the China communications app WeChat. The group acquired a million dollars' worth of PPE for Mercy Hospital Systems in St Louis, which serves Arkansas and Texas Tech Health Care System in Lubbock and El Paso. "It was a success story but didn't get much PR."  
But out of that relationship came the Bush China Foundation relationship which help inspire the supply chain diplomacy initiative. Kent barnstormed Washington in March of this year meeting with Embassy of China officials, think tank people, the US Department of State, the US Department of Commerce a few members of Congress, noting that one of his senators is "on the top of the list for anti-China rhetoric."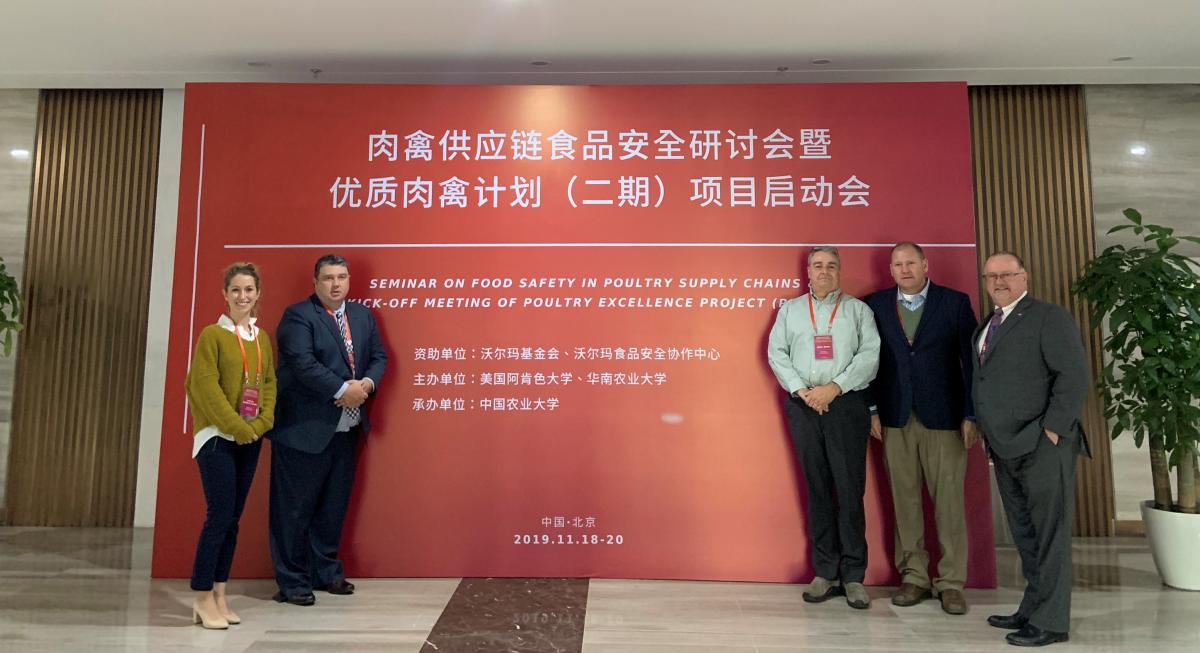 Sooner or later, he believes, the countries must work together—on climate change and related technologies such as electric vehicles, their batteries, recycling the batteries, hydrogen cells, silicon panels. He said that many long existing supply chains have become inefficient in the past four years providing opportunities to model cooperative behavior and rekindle trust in the context of supply chain management. He said the world's carbon reduction goals can't be met without China, and China needs other countries to help improve existing supply chains. Then there are sensitive supply chain issues such as forced labor and the future of Taiwan that also must be addressed. 
"I worry, though, that the negative attitude in the United States towards China and in China towards the United States may not change." 
Taking one step at a time, Kent and the Bush China Foundation are seeking support for a dialogue between a team of Chinese and a team of US supply chain professionals. There would be up to 16 people on each team, one for each industry category in the tariff code. "We want to model cooperative behavior between the United States and China with as much pomp and circumstance as we can afford," he said.  
"Our primary goals are to balance trade and lower global inflation." But he's a realist, understanding that anti-China sentiments in Congress are bipartisan, though some members are privately supportive of pro-trade policies, especially when their constituents rely on trade for their livelihoods. "All I can do is be an example of the cooperative behavior based on the personal and career goals I have." 
He added: "I worry, though, that the negative attitude in the United States towards China and in China towards the United States may not change. I have a group of lifelong friends that are suspicious of my work in China. They aren't very global. They are more like the rest of the country than I am." 
"I'm 61 years old. I've been an optimist my entire life. I'm practical. I like to think I'm more realistic now than I once was. But I'm also more spiritual. This idea of world peace to some people is pie in the sky. But I want to be one of the peacemakers. Similar to healthy spiritual relationships which include faith, hope, and love, supply chain relationships are most valuable when they contain trust, commitment, and a long-term orientation."  
Cover photo from Wikimedia under CC BY-SA-4.0