January 7th, 2015
Lingling Jiang
With three more districts incorporated into the original Shanghai Free Trade Zone (FTZ) and three more free trade zones approved in Tianjin, Guangdong and Fujian, China expanded the physical size of its pilot reform zones in December, even as the scope of new operating openings for foreign companies remains undetermined.
Since the Shanghai FTZ opened in September 2013, it has fallen short of foreign investors' expectations. Competition among multiple FTZs and central pressure to speed up trials could force Shanghai to move more aggressively on its own reforms. At the same time, local government officials could become more involved in the reform effort through the existence of multiple pilot zones. With the expanded zones in multiple regions, China's planners are hoping to test new systems of foreign investment management across a broader area and determine which reforms can be enacted nationally.
The Standing Committee of the National People's Congress (NPC) officially announced the expanded zones on December 29 and authorized the State Council to provisionally adjust current foreign investment laws in the FTZs, such as replacing the administrative approval process with a simpler filing system for certain foreign investment activities in the model of the Shanghai FTZ. The following transactions are eligible for the simplified approval system, according to the decision:
Establishing new foreign-invested enterprises;
Enacting mergers, splits, or other important changes to foreign-invested enterprises;
Extending business operation periods for foreign-invested companies;
Setting up equity/cooperative joint ventures between domestic and foreign enterprises;
Extending business operation periods for joint ventures;
Dissolving joint ventures;
Enacting important changes, such as the entrustment or transfer of the operation or contract of cooperative joint ventures; and
Establishing Taiwan-invested enterprises.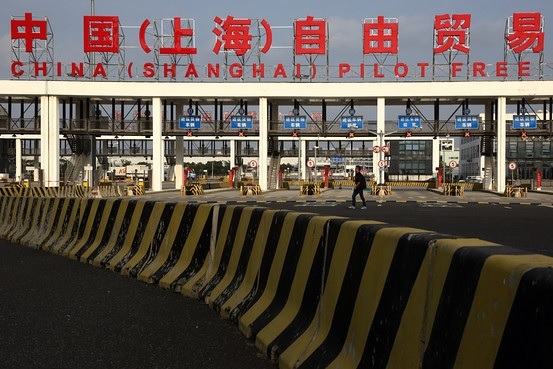 What's new in China's new FTZs
The second batch of FTZs—referred to as "pilot" zones—will model the Shanghai reform trials but also test their own unique reforms, Premier Li Keqiang explained in a State Council meeting on December 12. The Tianjin FTZ will focus on financial leasing and offshore finance. The Guangdong FTZ will focus on institutional innovation and economic cooperation among Guangdong, Hong Kong, and Macau. And the Fujian FTZ will focus on commercial exchanges between mainland China and Taiwan. Each of the new zones is approximately 120 combined square kilometers.
Schemes for each zone are still being drafted, but areas like Quanzhou and Fuzhou in the Fujian FTZ have already taken some moves from the Shanghai FTZ playbook. These include adopting innovative supervision measures and a negative list management approach. It is not yet public what other reforms from the Shanghai FTZ will be transferred to the new FTZs, and the relationship between the different free trade zones remains unclear. Therefore, the impact that these new zones will have on issues like market access and equal treatment is difficult to predict.
Revised foreign investment "negative list" in preparation
While the first two negatives lists—which identified sectors retaining restrictions on foreign investment in the Shanghai FTZ—fell short of many investors' expectations, officials are preparing a third version to come out in the first half of 2015, according to Shanghai FTZ deputy director and spokesman Zhu Min. The next negative list will focus on improving transparency and decreasing the total length of the list.
In the meantime, areas included in the Shanghai FTZ expansion are developing their own regulations. The Lujiazui, Jinqiao and Zhangjiang districts in Pudong will adopt the Shanghai FTZ negative list, and will be incorporated into the Shanghai FTZ. But the three new FTZs outside Shanghai have not made clear whether they will do the same or develop their own negative lists. According to a researcher close to Ministry of Commerce (MOFCOM) policymakers, a universal negative list could be established, but it would not come out until October 2015 at the earliest. This is due in part to the complexity of creating such a document and to the desire to wait for the resolution of two critical issues: US-China Bilateral Investment Treaty talks and the nationwide rollout of selected Shanghai FTZ pilot reforms.
What's new in Shanghai
The new pilot areas of Lujiazui, Jinqiao, and Zhangjiang will be incorporated into the current Shanghai FTZ for most functions, with the exception of customs inspections. The original Shanghai FTZ is a bonded area, while the new parts of the zone are not, leading to differences in terms of bonded policies, bonded business, and the establishment and operation of bonded enterprises. But in general, there will be great similarities between the new pilot areas and the old zone in investment administration, trade and commerce policies, government regulation, and financial innovation. The three new districts will further test FTZ reform in specific sectors: Lujiazui in finance, Jinqiao in high-end manufacturing, and Zhangjiang in high-tech industries.
Auto parallel imports
Meanwhile, China's long-awaited parallel imports policy for autos has been folded into the final plan and should begin implementation in the Shanghai FTZ. Under the policy, foreign cars can be imported directly into China without authorization from the carmaker and its exclusive domestic dealers. After implementation, the price of imported foreign cars is expected to drop, and foreign brands are likely to lose distribution rights to 15–20 percent of all of their China imports, according to the 21st Century Business Herald. Local governments have expressed interest in building comprehensive service centers to provide after-sale services to imported cars, rather than relying on the current "4s" model with separate authorized storefronts for sales, spare parts, services, and consumer satisfaction surveys.
However, based on US-China Business Council conversations with auto companies, many standards in these parallel imports—such as emissions testing—are not identical to Chinese standards, and autos entering the country under the new policy would need to be updated before they could be driven on Chinese roads. These updates are currently handled by carmakers at the time of import.
FTZ fund
On December 28, a RMB 5 billion ($802 million) fund was set up in Shanghai to act a financing tool for Shanghai FTZ development. The FTZ equity investment fund is China's first, and it is open to qualified businesses regardless of their country of origin. The fund had an initial size of RMB 1.5 billion ($240 million), growing to its current size with the investments of four state-owned enterprises and both domestic and foreign investors. State-owned capital accounts for only one-third of the total amount. Chinese officials expect the fund to last five to seven years and support development in logistics, e-commerce, services, and innovation.