By Wenham Shen
Starting April 1, seven Chinese cities and provinces raised their monthly minimum wages by an average of 12.5 percent, according to China News. These cities and provinces include Beijing, Shanghai, Tianjin, Chongqing, Shaanxi, Shenzhen, and Shandong. Shanghai tops the list with a new monthly minimum wage of RMB 1,820 ($292), followed by Shenzhen at RMB 1808 ($290).
These changes are the latest in a series of multi-year annual minimum wage increases. According to China's Ministry of Human Resources and Social Security (MHRSS), in 2013 a total of 27 regions across China raised their minimum wage standards, with an average increase of 17 percent. In 2012, the average national increase was 20 percent. Based on data compiled by human resources association China Labor Consulting, monthly minimum wages for 30 major provinces and municipalities are summarized in the table below.
It is worth noting that Beijing and Shanghai's minimum wage standards are based on "net earnings," which exclude individual contributions to pension, unemployment insurance, medical and social insurance, and housing funds.
According to the Minimum Wage Provisions issued by MHRSS in 2003, all local governments are required to adjust their minimum wage standards at least once every two years. The National Development and Reform Commission also outlined in its 12th Five-Year Plan that minimum wages in most areas must reach at least 40 percent of the average wage in the corresponding region.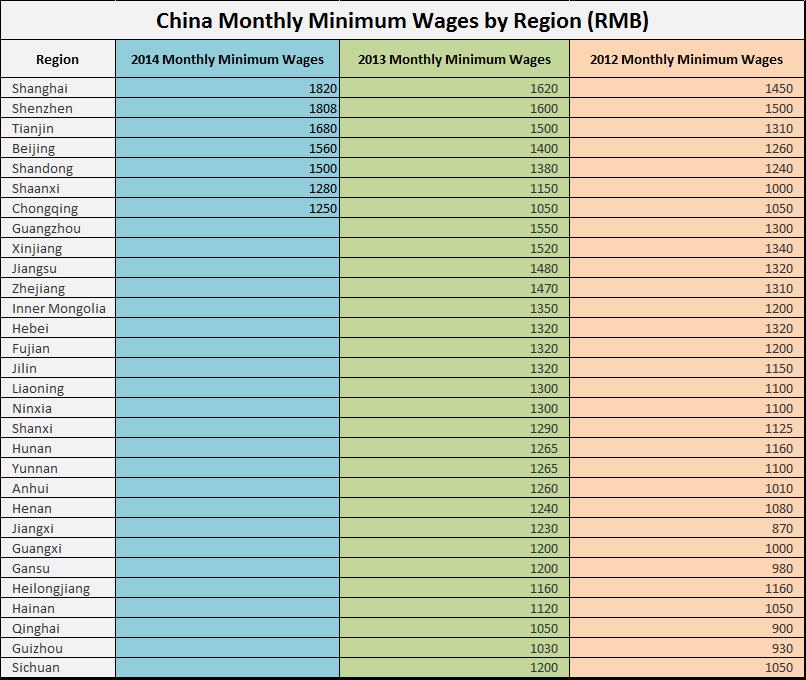 Source: http://www.51labour.com