Beijing China Operations Conference 2021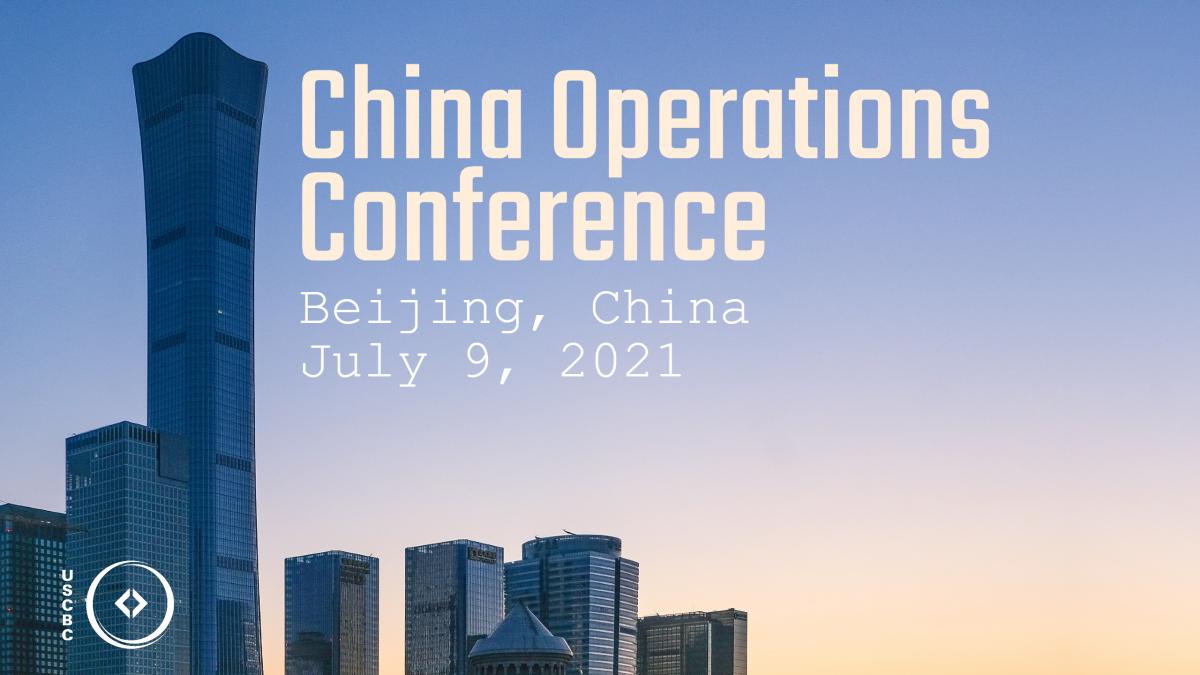 (In-Person Conference)
RSVP Today!
RMB payment via Yoopay | USD payment via Eventbrite
General admission: RMB 5300 | USD 730
---
The US-China Business Council (USCBC) is pleased to invite you to its Beijing Offices' annual China Operations Conference for 2021. This conference represents USCBC China Operation's biggest event of the year and brings together leading experts, academics, executives and policy makers to discuss the most important developments relevant to doing business in China. This year's conference will span the future of US-China relations, China's competition policy, company strategies supporting China's carbon neutrality goals, and high-tech supply chain resilience.
We have confirmed a good line of speakers for the event. Don't miss this chance to network with industry leaders and policy makers across the whole of USCBC's diverse member community and register now to reserve your spot.
Conference Schedule (updating)
8:30am-9:00 am | Registration & Coffee
9:00am-9:10am | Introduction -- USCBC Activities and Priorities
9:10am-10:10am | Economy Recovery in Post-COVID Era in both US and China
Xu Qiyuan, Head of the Institute of World Economics and Politics, Chinese Academy of Social Sciences
Steven Alan Barnett, Senior Resident Representative in China, International Monetary Fund
10:10am-10:30am | Coffee Break
10:30 am-11:30am | Expert Panel: Supply Resilience from a High-tech Point of View
Dan Wang, Technology Analyst, Gavekal Dragonomics
Christopher Thomas, Chairman, Integrated Insights Limited; Member of the Board, Velodyne LIDAR
11:30am-12:15pm | Understanding China's Emission Trading System (ETS)
Professor Zhang Xiliang, Director, Institute of Energy, Environment and the Economy at Tsinghua University; Head of the Technical Panel on China's national ETS design
12:15pm-12:45pm | Networking and Lunch Buffet Served
12:45pm-1:45pm | Luncheon Panel: US-China Relations
Sean Stein, Senior Advisor, Covington & Burling LLP; former US Consul General in Shanghai
Dr. Sun Lipeng, Director, Economic Division, Institute of American Studies, China Institutes of Contemporary International Relations
Professor Chen Qi, School of Social Sciences, Tsinghua University
1:45pm - 2:00pm | Networking and Break
2:00pm - 3:00pm | Competition Policy trends and Implication to Business
Professor Huang Yong, University of International Business and Economics; Member, Expert Advisory Committee under the Anti-Monopoly Commission of the State Council

Liu Wanlin, Managing Director, The Carlyle Group

Adrian Emch, Partner, Hogan Lovells