China Operations Conference 2022 (Beijing)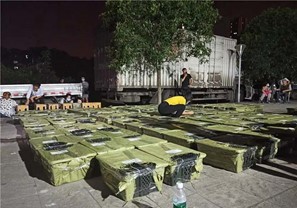 (In-Person Conference)
The China Operations Conference (CHOPs) is USCBC's annual flagship conference hosted in Beijing, featuring topics such as China's foreign policy and economic landscape, business and regulatory environment updates and implications for bilateral relations, and expert views on digital economy and sustainability. The event gathers policymakers, think tank experts, and senior executives to exchange views on those topics.
Facing geopolitical complexities, uncertain US-China relations, and pandemic-related crises, this year's conference spanned critical topics to help companies chart a course for success in China.
The closed-door conference was held in person with simultaneous interpretation provided.
8:30 – 9:00 am

Registration

9:00 – 9:20 am

 

 

 

Introduction – USCBC Activities and Priorities in 2022

Craig Allen, President, US-China Business Council (video remarks)
Matthew Margulies, Senior Vice President, China Operations, US-China Business Council

9:20 – 10:00 am

 

Digital Economy and Data Governance

10:20 – 11:20 am

 

 

 

 

 

Environmental, Social, and Governance Principles and Strategies for Success in China

CHAI Qimin, Director for Strategy and Planning, National Center for Climate Change Strategy and International Cooperation
Dr. GAO Yong, Vice President of Public Affairs and Sustainability, Bayer China
LI Junfeng, Investment Partner of Sequoia China, and Standing Director of China Energy Research Society

12:00 – 12:45 pm

 

 

 

 

Luncheon Keynote and Q&A

1:00 – 2:00 pm

 

 

 

 

How MNCs are Navigating Regulatory and Geopolitical Uncertainty in a Multi-stakeholder World

Simon Webb, Senior Vice President, Ogilvy Beijing
ZHOU Bing, Vice President, Greater China Government Affairs, Dell Technologies (speaking virtually)
HUO Weiwei, Senior Journalist, Phoenix TV

2:00 – 3:00 pm

 

 

 

Implications of 5.5% GDP Growth in 2022 and Beyond

Dr. CAI Fang, Chief Expert, China Top Think Tanks, Chinese Academy of Social Sciences
Michael Pettis, Professor of Finance, Guanghua School of Management, Peking University

3:00 pm

Adjourn
Many thanks to Bayer, Cargill, Dell, Thermo Fisher