Forecast 2018

Tuesday, January 30, 2018
Washington, DC
Registration: 10:00 am - 10:30 am
Program: 10:30 am - 3:30 pm  
For 37 years, leading US companies have used USCBC's annual Forecast to gain critical intelligence on China's business and political climate in this year ahead.
This January 30, we are convening top China policy experts, analysts, and business leaders to provide you in-depth briefings on China's 2018 economic forecast, its current business landscape, and best practices in approaching China trade policy.
We are pleased to add Representative Darin LaHood, co-chair of the House US-China Working Group, who recently traveled to China and has joined the House Ways & Means Committee, which handles trade matters. LaHood will provide insights on the congressional perspective on China, drawing upon his experience  representing a district with agriculture and manufacturing interests.
---
Experts in their fields will address:
Key Benefits:
Gain strategic intelligence and insight on the latest economic and political developments affecting commercial relations with China
Listen to presentations from expert first-hand observers on China's economy and politics, and key issues facing companies.
Network with fellow business executives, leading China watchers in the think tank community, and other special guests
Acquire best practices for managing your company's strategic China plans with key stakeholders
---
Registration: 10:00 - 10:30 am
Program: 10:30 am - 3:30 pm  
Download Full Conference Agenda
---
Sponsorship Opportunities: $5,000
Sponsorship Package Benefits:
Valuable corporate branding: Recognition as underwriter in all conference marketing and publicity platforms (USCBC website, conference agenda, social media) and from the podium on day of the conference
Opportunity to include promotional materials in meeting packet (up to 4 pages, front and back, of USCBC printing)
Two complimentary conference registrations
A seat for the most senior executive at the head table during lunch with conference speakers
Brief speaking opportunity
Please contact Gloria Gonzalez-Micklin for more details ([email protected]). Please note that sponsorship is only available to USCBC members or qualified member-prospects. 
---
Registration
Regular registration (after January 3, 2018)
Member: $425
Non-Member: $525*
*Non-member registration is available to USCBC prospective member companies only. Qualified USCBC prospective members include US-incorporated companies involved in trade and investment with China.
Please contact [email protected] if you are interested in learning more about USCBC membership. 
---
Lodging: 
For hotel booking on January 29 or 30, 2018, we have a room block agreement with the nearby Hyatt Regency Washington on Capitol Hill, starting at $229 per night, exclusive of applicable taxes. For reservations, please click here or call 202-719-8579 and mention the US-China Business Council's Forecast 2018 on January 30. All reservations must be guaranteed with a major credit card to be supplied at the time of reservation, and must be booked by Monday, January 15, 2018. 
---
This event is open to business executives from USCBC member and qualified prospective member companies only. Registration is required. Cancellations for refunds must be received in writing by the cancellation deadline of January 23 or registrant will be charged. No-shows will be billed.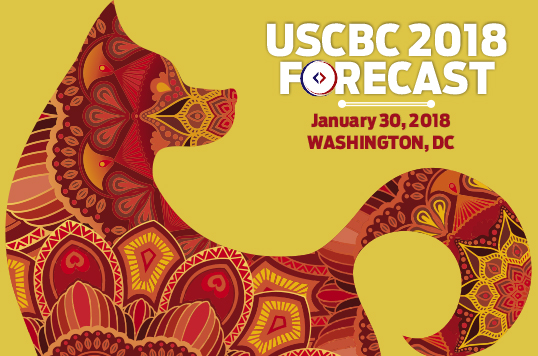 The US-China Business Council's annual Forecast on January 30, 2018, brought experts and policymakers to discuss the year ahead. The half-day program featured comprehensive projections for the Chinese business and political environment in the year ahead, as well as developments in US trade policy. It also provided an opportunity for companies to learn more about what may be ahead in the second year of the Trump administration, what Congress' priorities will be, as well as other key issues that companies will contend with in China.
Representative Darin LaHood, a Republican Congressman from Illinois, joined 100 US-China Business Council members at the annual USCBC Forecast event, to discuss the importance of the US-China relationship and the myriad views in Congress and the administration toward China. Other experts including Markus Rodlauer, deputy director of Asia and Pacific Department at the International Monetary Fund and David Frey, partner at KPMG in China spoke about the business and economic environment in China in the next year.
USCBC members may access reports and speaker presentations here.