Forecast 2021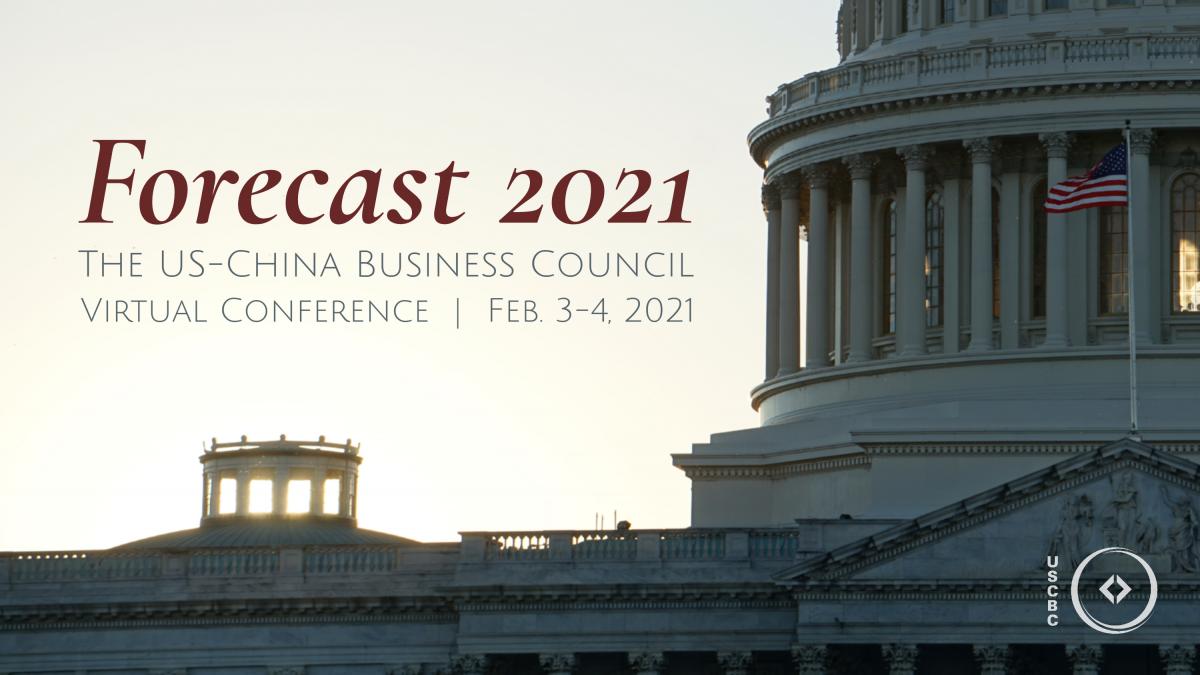 Mark your calendar for the US-China Business Council's (USCBC) premier conference on China's business and political environment in the year ahead. Presented virtually over two days, this annual event will feature top China policy experts, strategic analysis, and business professionals to discuss key intelligence, top challenges and opportunities coming up for China operations and bilateral relations.
Program:
Day 1
February 3, 2021: 8:30am - 11:40am EST
Forecasting China- Economics, Trade, and Investment
Two speakers will share their perspectives on what to expect in China's economy in 2021, as well as how US-China bilateral trade and investment dynamics may shift under a new administration.
Mary Lovely, Professor of Economics, Syracuse University; Senior Fellow, Peterson Institute for International Economics
Stephanie Segal, Senior Fellow, Economics Program, Center for Strategic and International Studies
Technology and Cross-border Controls
Amidst geopolitical tensions and rapidly changing technologies, the space for high-tech companies to be successful in both the United States and China is becoming increasingly strained. Speakers will discuss US export controls and investment restrictions, Chinese cybersecurity and data policies, and how security concerns impact technology policy.
Kevin Wolf, Partner, Akin Gump Strauss Hauer & Feld LLP
Denise Zheng, Vice President, Technology, Innovation, Business Roundtable
Antonio Douglas, Manager, Business Advisory Services, US-China Business Council
Keynote Address
Daniel Russel, Vice President, International Security and Diplomacy, Asia Society Policy Institute​
Day 2
February 4, 2021: 8:30am - 11:40am EST
Mitigating Operating Challenges under Current US-China Relations
Speakers will discuss how companies mitigate operating challenges under the currently tense US-China relationship. Topics will span issues including American reliability concerns by Chinese customers and JV partners, issues with government procurement tenders, influencing standards setting and industrial policy, and how policy changes impact company outlooks. 
Matt Margulies, Vice President, China Operations, US-China Business Council
Bill He, General Manager, Public Services, Greater China, SAS
Thomas Shao, Director of Government Affairs and Public Policy, Abbott China
The View from Capitol Hill
Michael Schieffer, Senior Adviser/Counsel, Senate Foreign Relations Committee
Lara Crouch, Professional Staff Member, Senate Committee on Foreign Relations
More information to be announced soon!
Key Benefits
Gain strategic intelligence and insights on economic and political developments affecting commercial relations with China, including forecasting of China policy priorities for the new presidential administration and incoming Congress.
Listen to presentations from expert first-hand observers of China's economy and politics
Acquire best practices for managing your company's strategic China plans with key stakeholders
Sponsorship Opportunities: $3,000
Seeking two sponsors for each day; Deadline: January 25, 2021
Package Benefits:
Valuable corporate branding: Recognition as underwriter in all conference digital marketing and publicity platforms (USCBC website, conference digital agenda, social media) and virtually on the days of the conference
Opportunity to include promotional materials in digital meeting packet 
Three complimentary conference registrations per day
We would be pleased to discuss additional ways to highlight your company's sponsorship, as appropriate 
Companies interested in this valuable branding and visibility opportunity should contact Gloria González-Micklin, Vice President of Programs ([email protected]; 202-429-0340 ext. 228)
Ticket Fees
BUNDLE: Day 1 + Day 2, February 3-4, 2021
$210.00 for Members
Day 1- February 3, 2021
$115.00 for Members
Day 2- February 3, 2021
$115.00 for Members
 
Thank you to our sponsor: