A New Era of Antitrust Law Compliance when Doing Business in China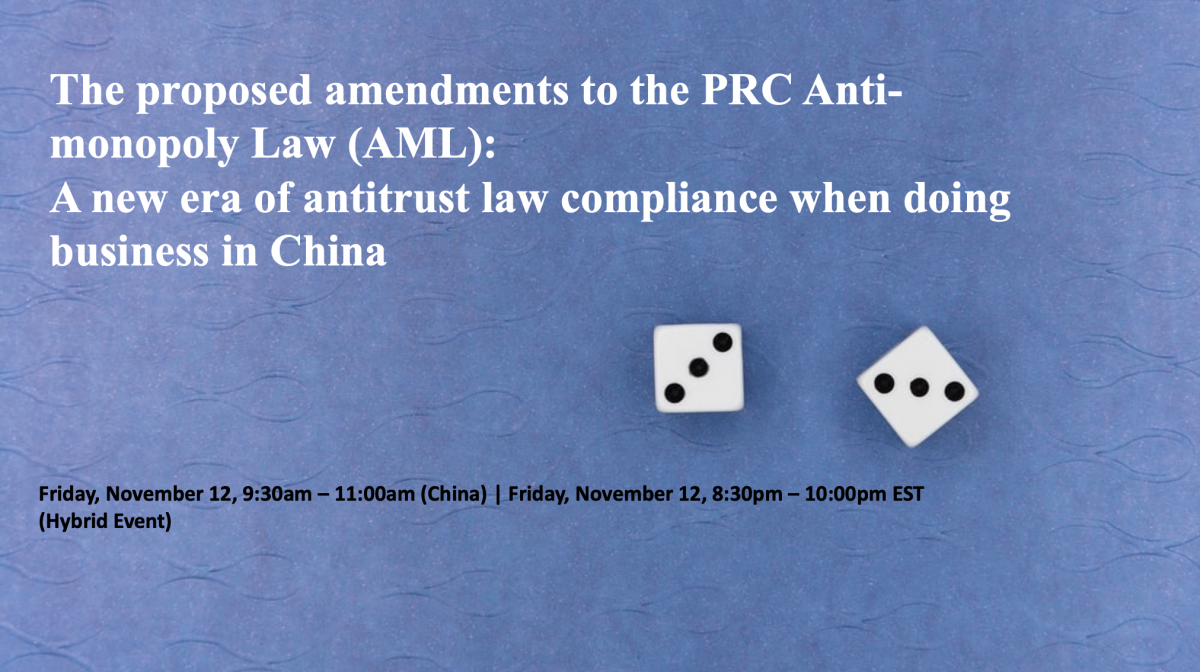 Please join us for an exciting in-person program co-hosted by USCBC and Baker McKenzie on Friday, November 12, from 9:30 to 11:00 AM. Event check-in will begin at 9:00 AM. The event will focus on the most recent draft amendments to the Anti-Monopoly Law (AML) and China's antitrust enforcement. This will feature senior antitrust experts Stephen Crosswell, Zhi Bao, and Laura Liu from the Baker McKenzie FenXun Joint Operation Office. They all have extensive experiences advising multinational companies on various antitrust issues and competition policies in China. Their practices include but are not limited to: anti-trust filing, national security review, anti-monopoly foreign direct investment, and other antitrust aspects.  
Agenda:
9:00 – 9:30 | Check-in
9:30 – 11:00 | Presentation and Q&A
Registration Deadline: Wednesday, November 10, 5:00 PM CST
2021 is a milestone year for the China AML enforcement. We have seen the most active enforcement cross all type of antitrust violations, i.e., illegal collaboration between competitors, illegal resale price maintenance, abuse of dominance, failure-to-notify/gun-jumping as well as remedies imposed to problematic M&As. In particular, the enforcement targeting online business companies seem to be in the same wave of harsher antitrust enforcement against big tech companies globally.
In January 2020, for the first time since the AML came into force on 1 August 2008, China has introduced a draft of proposed amendments on the AML. The draft amendments propose sweeping changes to the AML, including among others, harsher penalties for violations (especially for failure to notify M&As), a mechanism to stop the clock in merger reviews and more clarity on what will be considered anticompetitive, including hub-and-spoke cartels, abuse of dominance in the internet sector and unfair discrimination. It is expected that the amendments to the AML is being finalized within 2021, which will also be seen as another important signal of efforts to strengthen anti-monopoly and anti-unfair competition enforcement and prevent disorderly expansion of capital.
In striving to survive, sustainable development and grow market share, working with outside partners and competitors can expose a company to antitrust and merger control risks. Globally, antitrust and regulatory regimes have been also developing to correspond to the repaid changes. This presentation will provide the most recent updates on the proposed amendments to the AML as well as China antitrust enforcement and provide legal guidance from antitrust experts from Baker McKenzie Fenxun Joint Operation on how companies can mitigate antitrust risks when doing business in China in the uncertain world.
This event is for USCBC member companies, members of supporting organizations, and invited guests only. Please register using your work email so that we don't mistakenly decline you. Registration is required. The deadline to register for this program is on November 10 at 5:00 pm China Standard Time.