Shanghai China Operations (CHOPS) Conference 2017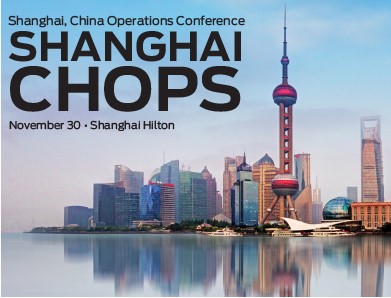 Only One Day Left to Register!
The US-China Business Council (USCBC) is pleased to invite you to its annual conference on China Operations. This not-to-be-missed conference is held in Shanghai once a year and will bring together a range of business and policy experts to discuss important operating and policy developments affecting business in China. The event will also provide a valuable opportunity to network with executives from USCBC member companies.
 
Topics and speakers will include:
Government Speakers
China's Cybersecurity Law Implementation: Liang Bo, Deputy Director of the Bureau of Cybersecurity at the Cyberspace Administration of China, will speak on the implementation of China's Cybersecurity Law and IT policies.
Research and Development Policies in Shanghai: Jin Xingming, Deputy Secretary-General of the Shanghai Municipal Government, Director General of the Shanghai State-Owned Assets Supervision and Administration Commission (SASAC), will speak on Shanghai's foreign investment environment, policies supporting R&D centers, and SOE reforms.
Panelists and Company Speakers
The Party Congress: Impact on China's Economic Policy Direction: Five years ago, China's Third Plenum set an ambitious reform direction which has fallen short of expectations. Experts will discuss how the outcomes of the 19th National Congress of the Communist Party will impact China's macro economy, implementation of financial reforms, and ultimately what lies in store for the implementation of a well-worn reform agenda.


Panelists:

Lillian Li, Vice President–Senior Analyst in the Credit Strategy and Standards Group at Moody's 
Jan Borgonjon, President of InterChina

The US-China Economic Relationship: Following President Trump's November visit to China, where do things stand in the US-China economic relations? What is the current status of the trade relationship, and what should companies be aware of?

Speaker:

Claire Reade, Senior Associate at CSIS, Senior Counsel at Arnold & Porter, and former Assistant US Trade Representative for China Affairs

Human Resources: Dealing with a More Competitive Environment: Human resources experts and leaders will discuss rising competition on China's labor market, looking at strategies for recruiting and retaining talent.


Panelists:

Carol Liu, Vice President of Human Resources of Coca-Cola Greater China
Robert Treme, Director of Human Resources at GM (China) Investment
Li Xiaotong, Vice President, Human Resources at Thermo Fisher Scientific China

Country Leadership Panel: IT Strategies for China: Senior executives will share experience in adopting IT strategies to be more competitive in the China market, as well as how China's developing IT regulatory environment impacts company operations.

Panelists:

Kennedy Horton; General Manager, GNC China
David Chen, Vice President of Microsoft, General Manager of Corporate, External, and Legal Affairs for Greater China Region     

Compliance: How Have Things Changed in Anti-Bribery and Fraud Practices: Since the launch of the anti-corruption campaign and new domestic laws and policies to prevent corruption, compliance teams have been adjusting their strategies and focus. USCBC will also be providing an overview of the findings of a compliance best practices study conducted over the past year.


Speakers:

Deborah Vaughn, Chief Legal Officer of Whirlpool Asia 
Simon Hui, Partner and Compliance Lead at Baker McKenzie 

Overview of USCBC Policy Work: USCBC's head of China operations will provide an overview of USCBC's recent policy work, US-China bilateral engagement.


Speaker: Jacob Parker, Vice President of China Operations, US-China Business Council
---

Additional discount available for groups of three or more!
Regular registration
Individual: RMB 4,595 online or cash in advance
Group of 3+: RMB 4,200 online or cash in advance (email to [email protected] for discount code before registering with a group over 3)
This event is for members and invited guests of USCBC only. Registration is required. Please register online or if you would like to pay by cash, contact Owen Haacke ([email protected]; Tel: 86-21-6288-3840; F: 86-21-6288-3841). Cancellations for refunds must be received in writing by cancellation deadline or registrant will be charged. No-shows will be billed.