Shanghai China Operations Conference 2021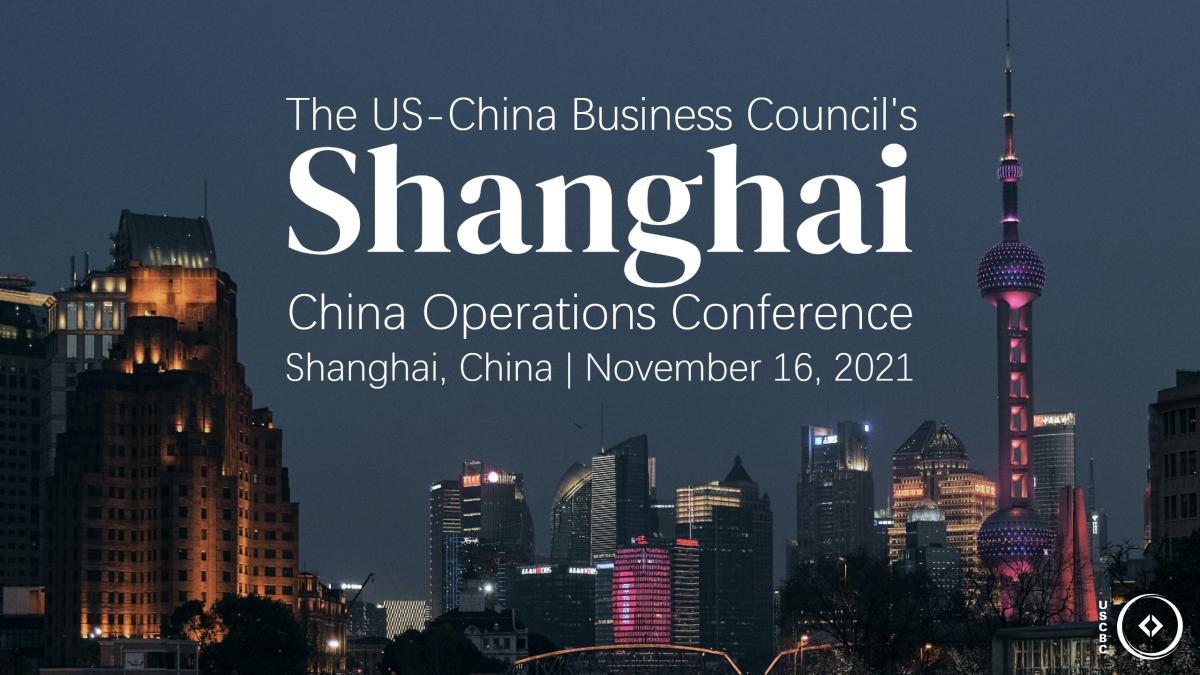 The US-China Business Council (USCBC) is pleased to invite you to its annual China Operations Conference in Shanghai. This conference represents USCBC China Operation's biggest event of the year and brings together leading experts, academics, executives and policy makers to discuss the most important developments relevant to doing business in China. The program will take place in Shanghai from 9:00am - 2:00pm (China Standard Time) on Tuesday, November 16. 
We had a tremendous turnout last year, with around 100 attendees joining us from a wide range of industries, academic communities, and leading experts, for lively discussion on a wide range of topics relevant to all of us involved in US-China business.
Limited sponsorship opportunities are available.  Sponsors not only receive extended visibility within the community, but also have the opportunity to differentiate yourself, generate new leads, and enhance business, consumer, and VIP relationships.
Conference Schedule (updating)
Language: English/Chinese, simultaneous interpretation available
8:30am     Registration and Coffee
9:00am     Welcome Remarks
9:10am     Keynote Address
A senior Chinese government official (inviting)
9:20am     Perspectives on the Future of the Multilateral Trading System
Cui Fan, Professor in International Trade, University of International Business and Economics;  Director of Research, China Society for WTO Studies; Advisory committee member on Global Value Chains, Ministry of Commerce, China; Executive lead of the expert committee on International Financial Studies, Ministry of Finance
Craig Allen, President, US-China Business Council (virtual)
10:00am     China Economy and Outlook-- the Era of Common Prosperity
10:35am    China's Era of Common Prosperity and its implications 
Li Shi, Dean of Institute for Common Prosperity and Development, Zhejiang University
11:05am    Navigating Public Relations in Uncertain Times
Jason Tang, Deputy Secretary-general, Shanghai Consumer Council​
11:40am    Networking and Lunch Buffet
12:10pm    Keynote Speech
12:40pm    Cyber and Data Compliance
Howard Wu, Chief Representative of Baker McKenzie's Shanghai Office
Carly Ramsey, Director of Control Risks
1:20pm      China's Decarbonization and Impact on Business
Junjie Zhang, Volkswagen Visiting Chair in Sustainability, Schwarzman Scholars Program, Tsinghua University; Associate Professor, Duke Kunshan University, Duke University
Chang Zheng, Head of Strategic R&D Center, Shanghai Environment and Energy Exchange
2:00pm      Adjourn
This event is for members and invited guests of USCBC only. Registration is required.
Fees & Discounts:
Cancellation deadline: 5:00 pm, Tuesday, November 10, 2021. Cancellations for refunds must be received by the cancellation deadline
Contact: USCBCSHO Programs ([email protected]; Tel: 86-21-6288-3840)
A 10% discount is available for groups of three or more.
Sponsorship Opportunities:
Platinum ($8,000) - sold out!

Gold ($5,000) -only two left!

Contact Melinda Xu for more details (

[email protected]

)
With gratitude to our underwriters: