Understanding 2023 Trends in China's Macroeconomic Development (Chinese Language & In-person Only)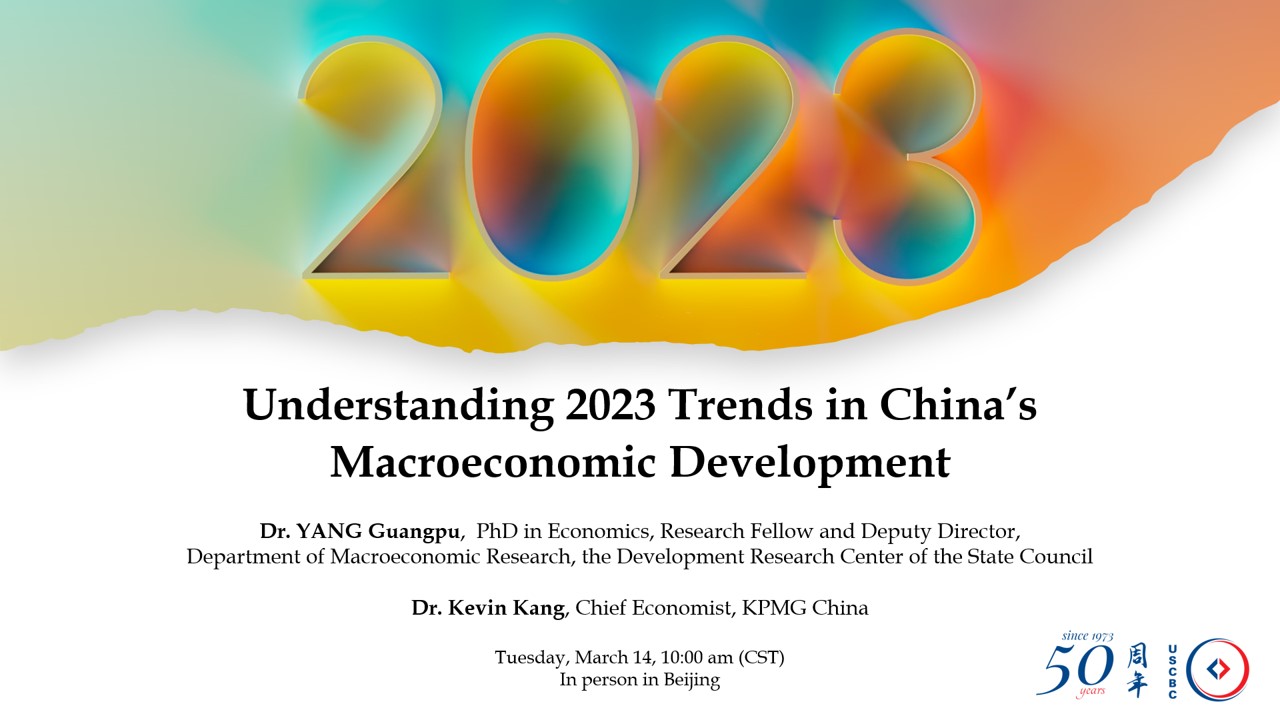 The year 2023 will be an inflection point for Chinese economy as China transitions into new leadership and gets back on track after lifting restrictive COVID control measures. The US-China Business Council (USCBC) is pleased to a host a briefing on 2023 China's macro-economic development trend and policy priorities under the new administration.
Speakers introduction:
Yang Guangpu,  PhD in Economics, Research Fellow and Deputy Director, Department of Macroeconomic Research, the Development Research Center (DRC) of the State Council


Dr. Yang's research interest lies in International Finance and Open Economy Macroeconomics, with a recent focus on the construction of macroeconomic indices, the international coordination of macroeconomic policies, the estimation and evolution of productivity, and the implementation of competition policies.
Kevin Kang, Chief Economist, KPMG China


Dr. Kang leads the firm's research on the macroeconomy and sectors. He has extensive knowledge and research experience in economic growth, policy analysis, sector development, and global issues. His insight helps various stakeholders grasp the rapidly changing economic environment and make informed decisions. He is also an expert of the New Economy and has conducted in-depth research on how technologies are changing the business landscape.
Topics:
China economy forecast and interactions with globe situation.
Stimulus package from the Chinese government and its implication to the economic outlook, with a look into the government working report.
Key tasks and priorities of the new Chinese government.
Views from investor/business on China's economy outlook in the post-COVID circumstance.
What suggestions are given to MNCs and what should they get prepared for?
This event is for members and invited guests of USCBC only. The event will be off-the-record and in person. Media will not be present. The event will be held in Chinese only.