USCBC Roundtable with Jinan, Ningbo, and Taicang Municipal Leadership
The US-China Business Council (USCBC) and the Investment Promotion Agency of Ministry of Commerce (CIPA) are pleased to invite you to join a small exclusive roundtable discussion with senior leaders and regulators from three cities: Jinan (Shandong Province), Ningbo (Zhejiang Province) and Taicang (Jiangsu Province). A buffet dinner will be provided at a reception following the program.
The roundtable is scheduled for April 10 in Shanghai. This will be a good opportunity for companies to directly communicate with local governments on issues including investment plans, development strategy, and operational problems. Senior city leaders (likely vice-mayor level) from the three cities, together with key functional department officials (based on member company interests) will attend to introduce the local business environment and listen to companies' suggestions and inputs. Roundtable discussions with each city will last 1.5 hours.
Attendees:
Liu Dianxun, Bureau Chief of MOFCOM CIPA;
Vice mayor of Jinan, local commerce department, DRC, MIIT, Environmental authority, etc.
Vice mayor of Ningbo, local commerce department, DRC, Environmental authority, etc.
Vice mayor of Taicang, local commerce department, Economic zone leadership, etc.
USCBC and member companies
Please note that we will have three separate roundtable discussions with the cities, respectively. Each session has limited 10 seats available for companies.
We are also planning to have a cocktail reception after the roundtables to provide companies networking opportunities.
We are seeking member company interest in joining the roundtable discussion. Space is limited, and representatives will be accepted based on seniority and timeliness of their response. Please note that companies will be limited to one representative.
Interested companies should send a company profile and designated representative's bio both in Chinese and English, as well as responses to the following questions to Huihui Shen ([email protected].cn) no later than Sunday, March 31.  Please indicate the following in your email:
Which session would you like to join
Which department you are interested in engaging with
What issues you would like to raise about during the roundtable discussion (submit in Chinese)
We encourage you to RSVP as soon as possible to secure your seat.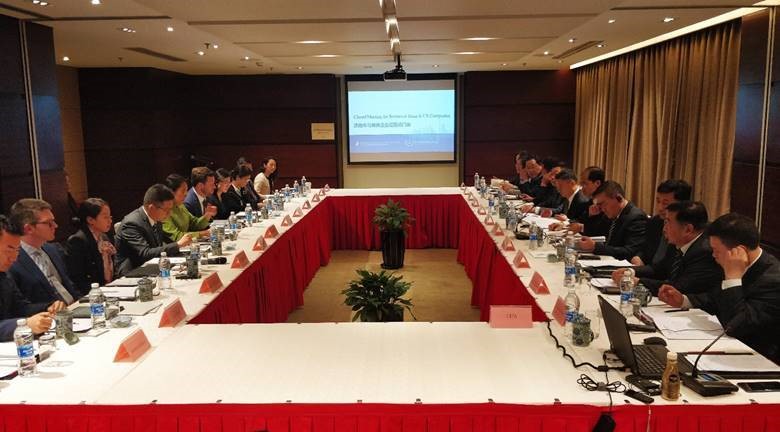 On April 10, the US-China Business Council (USCBC) and China Investment Promotion Agency (CIPA) of Ministry of Commerce (MOFCOM) jointly held roundtables with representatives of USCBC member companies and municipal leadership of Jinan, Ningbo, and Taicang. The USCBC member delegation was led by USCBC Shanghai Office Chief Representative Owen Haacke and consisted of 13 senior executives from US companies. MOFCOM CIPA Deputy Director-General Li Yong led the discussion between USCBC members and municipal leadership.
The Jinan delegation was chaired by Vice Mayor Li Zijun and was composed of 8 officials from different government agencies including the Investment Promotion Bureau, Industry and Information Technology Bureau, and Science and Technology Bureau. The Ningbo delegation, led by vice Secretary-General Yan Weiguo consisted of 10 bureau chiefs and directors from the Investment Promotion Bureau, Financial Affairs Office, Bureau of Commerce, and Science and Technology Bureau, among others. The Taicang delegation was headed by Vice Mayor Gao Bin and included officials from the Environment Protection Bureau, Investment Promotion Bureau, and Economic and Technological Development Zone.
The five-hour discussion included three separate roundtable discussions between company representatives and leadership of the three cities, where the group had straightforward and constructive conversations. Discussion covered a range of topics, such as cities' opening up policies, foreign investment promotion, high-end and intelligent manufacturing, environmental enforcement and compliance, IPR protection, and business opportunities in certain industries.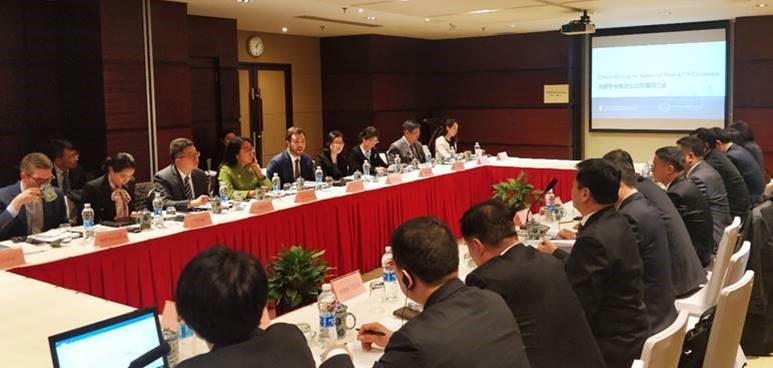 The Jinan vice mayor mentioned Shandong is promoting several key industries such as big data, intelligent manufacturing, advanced equipment, and biotech. He also emphasized Jinan's effort in IPR protection, noting that the city is one of the five trademark review centers nationwide and has set up a local IPR court. The Ningbo leadership highlighted city's port and location advantage, and unveiled its plan to foster industrial clusters in new materials, high-end manufacturing, and in the IT industry. The Taicang vice mayor welcomed more investment, and offered detailed information about Yangtze River environmental policy and enforcement.
After each representative from US companies gave their remarks, municipal officials were able to provide direct feedback.