Pronunciation: Wang Yi (pronunciation: Wahng Yee)
Chinese: 王毅
Title: CCP Central Committee Member; Minister Foreign Affairs; State Councilor
Salutation: Foreign Minister Wang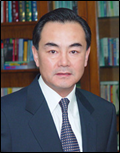 Wang Yi was appointed as minister of Foreign Affairs in March 2013 and appointed as state councilor in March 2018. He currently holds both posts.  Wang has been with the Ministry of Foreign Affairs--and working on China's foreign relations in Asia--for most of his career.
Wang Yi was born in 1953 in Beijing. He spent eight years – 1969 to 1977 – as a "sent-down youth" in Inner Mongolia during the Cultural Revolution. In 1982, after his return to Beijing, he received his bachelor's degree from Beijing International Studies University with a major in Japanese. In 1997, he studied as a visiting scholar at the Institute for Foreign Relations at Georgetown University, and subsequently received his master's degree in international relations from Chinese Foreign Affairs University.
In 1982, Wang took an entry-level position at the Asian Department of the Ministry of Foreign Affairs (MOFA), working his way up to become a division director by 1989. He moved to the Chinese Embassy in Tokyo, working as a counselor and then minister-counselor.
In 1994, he returned to Beijing to become deputy director-general of MOFA's Asian Department, and was promoted to director-general the following year. In 1998, he was promoted again to become an assistant minister, and head its Policy Research Office.
From 2001 to 2004, he served as vice minister at MOFA, where he served a three-year stint before being named as China's ambassador to Japan in 2004. In 2008, he was appointed as director of the State Council's Taiwan Affairs Office, where he served until being named to his current position.
Wang was appointed as a member of the 18th Chinese Communist Party (CCP) Politburo in November 2012, and was also a member of the 17th CCP Central Committee from 2007-2012.