Pronunciation: He Lifeng (pronunciation: Huh Leefuhng)
Chinese: 何立峰
Title: Chairman, National Development and Reform Commission; Party Secretary, National Development and Reform Commission; CCP Central Committee Member; Vice Chairman, Chinese People's Political Consultative Conference
Salutation: Chairman He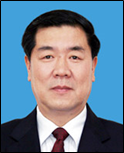 He Lifeng has served as chairman and party secretary of the National Development and Reform Commission (NDRC) since February 2017. Before his current position, he served as the vice chairman of NDRC from 2014 to 2017.
Born in Xingning, Guangdong province, in February 1955, He joined the Communist Party of China (CCP) in June 1981. He majored in finance for both his undergraduate and master degrees at Xiamen University from 1978 to 1984. He gained a doctorate in economics in Xiamen University in 1998.
As a youth, He was sent to the countryside in Yongding County, Fujian province and worked in a hydropower station and a commune.  Between 1984 and 1985, he worked in a variety of positions within the Xiamen municipal government, serving as an official and then deputy director of Xiamen municipal government office (1985-1987), deputy director and then director of Xiamen Municipal Bureau of Finance (1985-1990), district secretary of Xinlin District in Xiamen (1990-1992), and vice mayor of Xiamen (1992-1995).
Between 1995 and 2009, He took provincial and municipal leadership positions of increasing responsibility in Fujian province. He worked as acting mayor of Quanzhou city, Fujian province starting in 1995, was formally appointed mayor the next year, became municipal party secretary of Quanzhou in 1998, and moved on to serve as party secretary of the provincial capital Fuzhou in 2000. In 2001, he became a member of Fujian provincial party committee, and served as the party secretary of Xiamen starting in 2005.
In 2009, He was appointed deputy party secretary of Tianjin, and became chairman of the Tianjin People's Political Consultative Conference in 2013. He served in these roles until he was named deputy party secretary and deputy director of NDRC in 2014.