When Matt Tsien first came to China in 1995 as part of the negotiating team for General Motors' (GM's) first passenger car joint venture in China, the country was still a "bicycle kingdom." Visitors then were impressed not by the roar of vehicle engines, but by the buzzing sound of thousands of bike tires on pavement and the tinkling of handlebar bells.
In its infancy, the China automotive industry was dominated by trucks and busses. When Tsien returned to China in 2009 as GM's senior representative at its second manufacturing joint venture, the roads were full of passenger cars, sales of which exceeded 10 million units for the first time. That year, China surpassed the United States to become the world's largest vehicle market. GM and its joint ventures have played a role in the rapid growth of China's automotive industry. Now the executive vice president and president of GM China, Tsien continues to be highly optimistic about the industry and GM China's performance as the business of making and selling cars undergoes a global transformation.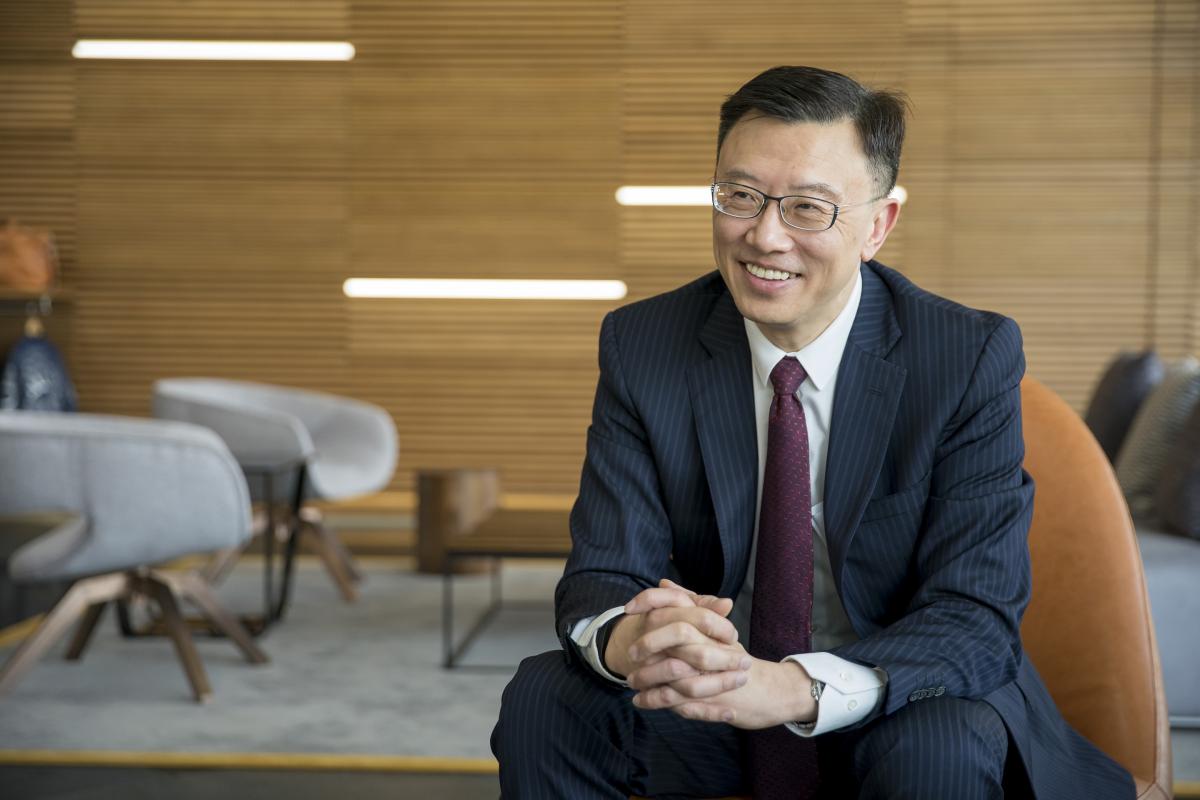 "In the past two decades, our products have been well received by Chinese consumers, making the brand truly global in terms of scale," he said. "We have also established strong capabilities in China, including design, engineering, manufacturing and R&D, and built an integrated value chain that serves the local market and our global operations."
Car sales have slumped in recent months due to a slowdown in China's economy and the first appearance of the cyclical nature of auto sales in a market that knew only growth since Tsien's first visit. But the future looks bright. Compared to US car ownership of 800 cars per 1000 population, China's ownership is 140 per 1000. And China has almost five times the population as the United States.
To realize this potential, GM can't afford to stand still. "The major challenge we're trying to address is keeping up with the diverse and rapidly changing needs of China's consumers, including their desire for upgraded products and services" Tsien explained. One example is stretching the wheel base of certain models to allow for a roomier backseat. This is important because cars are a popular and important means for children to take elderly parents to doctors' appointments and for leisure trips. Filial piety is still important in China, but so is the styling and finish on the popular Cadillac, which attracts a younger demographic than in the United States. In China, you can have both.
And it's important to have the latest technology on board, such as "Super Cruise," which enables hands-free driving on the highway. Since passengers like to shop online while cruising, the infotainment system in the vehicle must include access to Alibaba and other e-commerce platforms. Passengers can order items from the car and pick them up on the way home.
Modeling the future
One trend that will propel future car sales is the transition to new energy vehicles (NEVs). "GM believes in a future of zero emissions globally. We are on track to introduce 10 NEVs between 2016 and 2020, and will double that number in the ensuing three years. So far, we have rolled out five NEV models in China, including Cadillac CT6 PHEV, Buick Velite 5 and Velite 6, Baojun E100 and E200. Chevrolet will also introduce its first NEV model in China later this year. To support the steady product rollout, we also opened a battery pack assembly plant in Shanghai last year."
Electrification is still at an early stage of development. Ensuring the safety, reliability, and durability of NEVs is critical for building consumer confidence across the world. China is seen as a lab for accomplishing these goals and is an important part of GM's global vision, which it calls The Three Zeroes: zero crashes, zero emissions, and zero congestion. As for the last zero, if you've been in a large Chinese city lately, you know this is a tall order. But Tsien is confident that automated driving technology will one day make gridlock a thing of the past.
That future will arrive sooner with American and Chinese technologists working together. GM is not here only for access to this market," said Tsien. "We're also here to work collaboratively with indigenous talent," he said, referring to new innovations in battery chemistry and lightweight materials for car bodies. GM has learned to operate at "China speed"—responding quickly to evolving demand.
"Through joint ventures in China, we have been successfully integrating GM's unmatched global resources with our partners' local expertise. This collaboration enables us to react quickly to emerging trends and tailor make products and services for the Chinese consumers locally."
GM and Tsien have received help from several sources as their business has grown. The US-China Business Council (USCBC) has been providing GM valuable insights for driving sustained growth in China. Faced with changing industry dynamics and geopolitical challenges, these insights have become more important than ever.
 "We truly appreciate the high-level connections we can access in China. The USCBC is a voice for American businesses in China, building understanding between two great nations. It is playing an even more critical role in challenging times."
For Tsien, building understanding is a two-way street: "What really drives me is making a difference, but in a collaborative way. No one can accomplish their ultimate objectives by themselves. The automotive industry, for instance, has a very broad value chain that goes all the way from suppliers and sub-suppliers to us, an original equipment manufacturer, and then to dealers. You must have very strong partnerships across the value chain to ensure that you can ultimately deliver what customers want."
"The experience of working with our Chinese partners has taught me that it's not about speaking the same language, but more about listening to each other, identifying shared goals, and then respectfully articulating your opinion to drive win-win results."