April 30, 2015
Dan Markus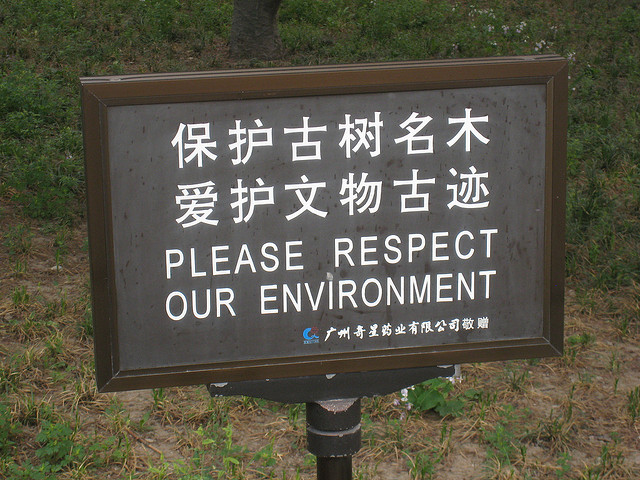 New provisions for continuous fines, detention for polluters, and public interest lawsuits give China's revised Environmental Protection Law (EPL) new powers to fight the war on pollution. But whether or not the EPL's added clout results in a cleaner environment depends on enforcement capacity—as well as implementation. The 1989 EPL was revised to mete out more serious punishments to polluters, reflecting growing concerns within China's leadership and at the local level about worsening water and air pollution in China. In effect since January 1, 2015, the revised EPL is receiving a lot of attention from foreign businesses on the ground in China. Earlier this month, the US-China Business Council (USCBC) invited Tad Ferris and Thomas Lorenzen—partners at Foley & Lardner LLP and Dorsey & Whitney, respectively—to give an overview of the important provisions within the EPL and an update on enforcement and implementation of the revised law as it relates to operational issues in China.
According to Ferris and Lorenzen, the revised EPL is best understood as an enabling statute that will serve as the basis for environmental policies and regulations throughout China. It creates a policy basis for provincial governments to build a regulatory structure for environmental protection that fits their region's specific needs. To ensure regulatory compliance, companies must look to provincial implementing measures, not the EPL. The revision of the EPL was a long process that included four readings (instead of the typical three) by the National People's Congress (NPC). The resulting revised law contains a number of articles that could increase polluter fines and boost public participation in environmental protection.
Key provisions within the EPL
What emerged from years of debate within the Chinese government is a law with 21 more provisions than the 1989 version and more rigorous penalties. One area that has been given greater regulatory weight is environmental impact assessments (EIA). Lorenzen explained that failure to prepare an EIA can lead to a stop construction order, restoration order, or fines. The revised law also allows for detention of up to 15 days for responsible persons found to be evading EIAs. In addition, responsible persons at enterprises found to have falsified monitoring data or discharged pollutants without a permit also may be detained.
Key provisions in the revised EPL also include:
Greater autonomy for provincial governments to set targets  The EPL creates a floor for environmental quality standards that provincial governments can build on, while article 15 gives provincial governments the autonomy to set environmental standards not specified in national environmental quality standards, and to create more stringent standards than national ones.
Seizing or shutting down facilities and equipment  Article 25 allows environmental protection officials at the county level or above to close down and seize facilities and equipment discharging pollutants found to be causing or likely to cause serious pollution. Guidelines for what is defined as serious pollution can be found in Interpretations of Several Issues Concerning the Application of Law in Handling Criminal Cases of Environmental Pollution. In December the Ministry of Environmental Protection (MEP) issued Measures for the Implementation of Sealing-up and Seizure to standardize the procedures by which MEP will clamp down on polluting equipment.
Public interest lawsuits  Article 58 opens the door to public interest lawsuits by non-governmental organizations (NGOs) that are registered with the Ministry of Civil Affairs and have been exclusively engaged in environmental protection activities for at least five years, which could include hundreds of organizations.
Continuous fines  Article 59 states that enterprises will be fined on a continuous basis for illegal discharge of pollutants until corrections are made. No ceiling is given for these fines, making this provision reach far beyond the 1989 EPL which called for a one-time fine for illegal pollution. Provinces will be able to set their own guidelines for what actions are considered illegal discharge. Under the January 2015 Guangdong Province Environmental Protection Regulations, for example, practices that may result in continuous fines include dismantling or leaving idle environmental protection equipment, not making environmental information available to the public, and starting construction before submitting environmental impact assessment documents.  
The impact on companies
Stricter enforcement of environmental standards presents opportunities and challenges for companies in China. For companies selling environmental technologies, stricter targets have the potential to increase sales growth. Manufacturers already in compliance may see a fairer competitive landscape as more rigorous environmental standards and enforcement will increase costs for less compliant competitors. Provisions within the revised EPL (notably article 26, which makes meeting environmental targets part of officials' evaluations) are likely to incentivize officials to take environmental protection more seriously. Companies should build partnerships with local authorities to support efforts to reach environmental targets—and be sure that their facilities are in full compliance with local air and water discharge guidelines. 
Challenges with environmental compliance remain, however. The capacity and expertise of provincial and local-level Environmental Protection Bureaus (EPBs) have been noted as challenges by USCBC member companies in the past, and will likely continue to be issues. A lack of manpower and a desire to impress higher officials has led to situations where some foreign companies felt they were being targeted unfairly on environmental compliance. Some USCBC member companies note that the lack of technical expertise has meant they have to train EPB officials on the environmental equipment they are inspecting. In addition to working with government officials, companies must be cognizant of public opinion and the potentially rising influence of environmental NGOs. Partnering with local groups to explain how companies are not only creating jobs, but keeping the environment clean while doing so will become an increasingly important message for companies to deliver.
The revised EPL not only requires that a company has its own house in order, but understands the regulatory risk throughout its supply chain. If a supplier's equipment is seized or sealed up for non-compliance, for instance, there may be increased costs from delivery delays. As companies engage in mergers and acquisitions, due diligence will be critical to ensure target companies are either in compliance with environmental regulations or have a clear understanding of the associated costs to becoming compliant.
Status of implementation
Even though the EPL is still in its early days, enforcement activity is already underway. Lorenzen cited a number of recent EPL-related statistics from Deputy Minister of Environmental Protection Pan Yue:
Total fines: over $1 million
Total cases involving seizures of companies/operations: 136
Total cases involving suspension/restriction of production: 122
Total cases involving detention of individuals: 107
The revised EPL's addition of environment-related public interest lawsuits will give NGOs and the public a new means to monitor pollution emissions and take legal action against polluters. Ferris noted that in January three NGOs filed public interest lawsuits related to issues from illegal mining to the discharge of toxic substances into water and soil. These cases are still ongoing, and their outcome may shed new light on the effectiveness of the revised EPL as a deterrent to polluters. It remains unclear if China's NGOs will file significant numbers of lawsuits in the near future, however. Ferris explained that funding for legal fees, a short supply of legal professionals in local environmental groups, and political pressures might constrain the growth of public interest environmental lawsuits.