Pronunciation: Xiao Jie (pronunciation: Siaow Jyeh)
Chinese: 王勇
Title: CCP Central Committee Member; State Councilor; Secretary General of the State Council
Salutation: Councilor Wang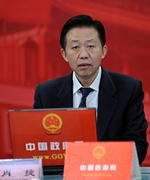 Xiao Jie was appointed State Councilor and Secretary-General of the State Council in 2018. From 2016 to 2018, he served as minister of finance. From March 2013 to November 2016, he was deputy secretary-general of the State Council and chief of staff for Premier Li Keqiang.
Xiao Jie, 59, was born in Liaoning province in northern China. He received his bachelor's degree in Finance from Renmin University of China and doctoral degree in Economics from Research Institute of Fiscal Sciences of the Ministry of Finance. He also studied in Germany from 1987 to 1989.
Before working for the State Council, Xiao was the director of the State Administration of Taxation from August 2007 to March 2013. From July 2005 to August 2007, Xiao was the vice governor of Hunan Province and a member of the Hunan Provincial Party Standing Committee.
Other important positions that Xiao had held include vice minister of finance (2001-2005), chief of the National Treasury Department of the Ministry of Finance (2000-2001), chief of the Administrative Office of the Ministry of Finance (1998-2000), and vice sector chief of the General Reform Section of the Ministry of Finance (1994-1998).