Pronunciation: Lee Kuh-chiahng
Chinese: 李克强
Title: Politburo Standing Committee Member; Premier of the State Council
Salutation: Premier Li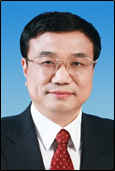 Li Keqiang was appointed premier of the State Council in March 2013. Previously, Li served as executive vice premier in charge of the economy, finance, and climate change portfolios. He became a Standing Committee member of the 17th Chinese Communist Party (CCP) Politburo in October 2007, and was appointed to the 18th CCP Politburo Standing Committee in 2012.
Li was born in July 1955 in Dingyuan, Anhui, the son of a low-ranking local official. In 1974, he was sent to Fengyang County, Anhui, to work in an agricultural commune. After joining the CCP in 1976, he served as secretary of the local party branch until 1978, when he was admitted to Beijing University after the Cultural Revolution. Li graduated from Beijing University's Department of Law in 1982. He also earned a master's degree and a Ph.D. in economics.
After graduating from Beijing University, Li spent the next 16 years working in various capacities at the Communist Youth League of China under Hu Jintao. Li also served as vice chair of the All-China Youth Federation while Hu was chair. In 1991, Li took a brief sabbatical from his official duties to attend the Central Party School.
In 1998, Li was named deputy party secretary and acting governor of Henan; he was named governor of Henan in 1999. In 2002, Li was reappointed as provincial governor and concurrently elevated to provincial party secretary. In 2004, he moved to Liaoning province, where he was appointed provincial party secretary and chair of the Standing Committee of the Liaoning Provincial People's Congress. He held that position
until being named executive vice premier in 2008.
Li also served as a member of the Central Committee for the 15th, 16th, 17th, and 18th CCP congresses (1997-2016), and a member of the Politburo for the 17th and 18th CCP congresses (2007-2016). He also served as a member of the Standing Committee of the 8th National People's Congress (1993-1998).
Li is viewed as a leading voice for economic reform in China, although it is not clear that he has the power domestically to enact change. In his delivery of the annual government work report in 2017, Li announced the lowest GDP growth target in 20 years, instead highlighting the importance of moderating economic growth expectations and facilitating needed structural adjustments. In March 2018, Li said that China would treat foreign and Chinese firms equally, not forcing foreign firms to transfer technology, and affirmed a commitment to negotiating with the United States and maintaining open dialogue. Many believe Li's reformist agenda has at times conflicted with the agenda of other senior leaders.