Pronunciation: Hu Chunhua (pronunciation: Hoo Chwun-hwa)
Chinese: 胡春华
Title: Politburo Member; Vice Premier, State Council
Salutation: Vice Premier Hu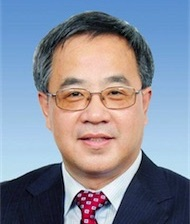 Hu Chunhua is a vice premier of the State Council and a member of the Politburo, and was most recently the Communist Party Secretary of Guangdong Province, a position he had held since 2012. At the 2012 Party Congress, Hu became the youngest Politburo member, raising speculation that he could be a contender for the general secretary position in 2022. In Guangdong, he has been known for his efforts to fight corruption and drug trafficking.
In a 2016 speech, he said that supply-side reform ought to be the main line for economic development in China. From 2009 to 2012, Hu worked as party secretary of Inner Mongolia. In this role, he sought to ensure that economic growth was balanced and productive, rather than trying to achieve the highest possible GDP.
Previously, Hu served as acting governor and deputy party secretary of Hebei province from 2008 to 2009. From 2006 to 2008, he was first secretary of the Secretariat of the Chinese Communist Youth League Central Committee, where he had worked for several years in the late 1990s. Hu began his career in Tibet in the early 1980s, and eventually served as deputy party secretary for the autonomous region from 2003 to 2006.