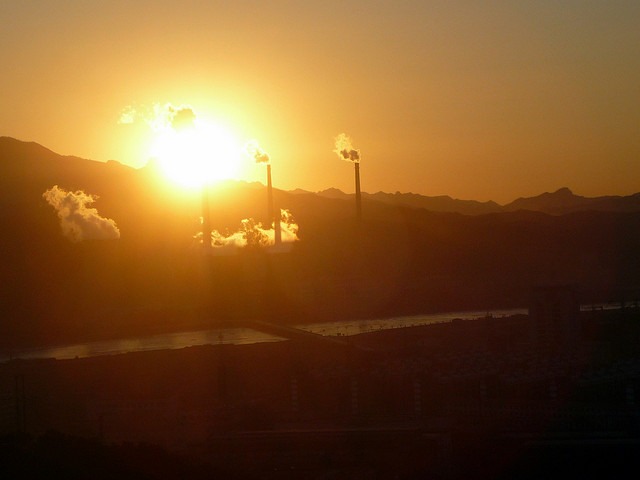 Dan Markus
The US-China climate change joint agreement received significant media coverage in the United States, with many outlets citing it as the main outcome of last month's Obama-Xi summit. Under the agreement, China agreed to cap its carbon dioxide emissions by 2030 and increase non-fossil fuel energy from 10 to 20 percent of its energy mix by the same year. But despite its high visibility, many questions remain. How much of a change does the new agreement represent? How feasible is implementation? And what types of business opportunities—or challenges—will it create for foreign company operations in China?
A comparison of the Chinese targets laid out in the agreement with China's current Five-Year Plan (FYP) shows that planners had already set a goal for non-fossil fuel energy to provide 15 percent of the country's energy mix by 2020, making the new goals an extension of China's existing targets. These goals are likely to be extended in China's next FYP, which will run through 2020.
But hitting those targets could be tough. Neither China nor the United States is legally bound to the agreement, which calls for the United States to cut its greenhouse gas emissions to 26–28 percent below 2005 levels by 2025. Additionally, to adjust its energy mix, China will have to invest considerably in improvements in its electric grid and transmissions infrastructure. Finally, China—which usually delegates implementation targets to local and provincial officials—will have to make sure that such goals are achievable on a micro scale.
Perhaps because of this, Chinese coverage of the agreement was much more subdued, with the climate change deal listed as just one of several outcomes in many media stories. Air pollution is a serious concern among Chinese citizens, and it is quickly becoming a source of anger that some leaders fear could fuel domestic unrest. Although provisions in the joint agreement—along with landmark amendments to China's Environmental Protection Law—could address air quality and pollution issues in the long run, they offer little in terms of an immediate solution.
 As a consequence, the joint agreement itself is unlikely to shift the landscape for Chinese government officials or foreign companies. It does, however, indicate increased Chinese willingness to engage on these issues, which could mean changes down the road.
Growing engagement
Despite the logistical challenges, the agreement indicates stronger Chinese intentions to engage on climate change issues. China's plan to have carbon dioxide emissions "peak" around 2030 is unprecedented for the country's climate negotiators. In the past, PRC policymakers refused to set a hard cap, and instead favored an approach of increasing carbon efficiency, the amount of carbon emissions per unit of GDP. The use of the term "peak" suggests that officials advocating for a cap may be winning this long-run debate.
In addition, for the first time, the Chinese-language statement referred to climate change as "one of the biggest threats to humanity." In past joint statements on climate change like the 2013 announcement, the Chinese-language statements referred to climate change as a "challenge," which suggests that the Chinese leadership is viewing the issue with increasing importance.  
China and the United States also agreed to joint projects that could support both countries' climate change targets. Notably, the United States and China decided to expand cooperation through the US-China Clean Energy Research Center (CERC), a bilateral initiative that encourages research, development, and deployment of clean energy in both countries. CERC's mandate, which previously ran from 2011-2015, will be extended for an additional five years. Both sides agreed to renew funding for CERC's three research tracks—building efficiency, clean vehicles, and advanced carbon capture and sequestration technologies for coal—and to add a fourth: the interaction of energy and water in the "energy/water nexus." Such agreements can promote environmental protection goals, but they also provide new opportunities for business.
An impetus for change
Given the nature of China's system, the public joint statement with the United States may give Chinese officials added impetus to carry out their planned goals for reducing carbon dioxide emissions and greater leverage for central government officials to push their local counterparts. Even if the immediate impact of the joint statement is unclear, it lays a framework for future cooperation and demonstrates a push for action over talk.       
In addition, the Obama-Xi joint statement seems designed to inspire other countries to take action in advance of the 2015 United Nations climate change conference in Paris. With the European Union announcement in October that it planned to cut greenhouse gases by 40 percent by 2030 and raise the share of renewable energy in the energy mix to 27 percent, the agreement could indicate efforts by the United States and China—the world's two largest economies and biggest polluters—to set a more ambitious goal for upcoming negotiations.