For Georgia Black Entrepreneur, China is Where He Wants to Be
By Doug Barry
In China's business and community circles, William D. Frazier is a visionary with a purpose in Shanghai. He's a foreigner. He's an American. He's Black. He's an entrepreneur. He's a problem solver. He's also the author of a 2020 book, Black American Entrepreneur in China: Connecting Industry and Cultural Differences".  
What's he up to now, having made his first visit to China in 2000 as part of a China study abroad program with the historically black university he attended? Based in Shanghai, he has business and community organizing interests. He consults US small- and medium-sized enterprises and entrepreneurs who want a better understanding of private businesses in China, manages manufacturing and product sourcing projects, and organizes community activities to promote US-China relationships. He currently has three staff and supports mainland Chinese businesses with over 300 employees through his project management services to keep and expand their global presence. 
He started with textiles, such as sorority and fraternity clothing and accessories. Then, when the economy hit a snag, he switched to the hospitality household industry, arranging the production of frameless shower doors and kitchen and bathroom items. "I did some hair care products but quickly got out of that industry." 
"When the airplane landed in Shanghai in 2000, I walked out into Shanghai and knew immediately: 'This is where I want to be.'"
He primarily consults now on how to deal with manufacturers, including conducting onsite evaluations based on established criteria. He has a website, social media platforms, and an Apple Podcast, but most clients come from word of mouth. The business was great before COVID-19. "During COVID, business flatlined. Freight costs more now. Things take longer now. It has been tough, but I'm here for the long term." 
"Coming and living here has been one of the best moves I've ever made," he said. The move started with that first trip he organized and included 10 students, faculty members, and the president and vice president of academic affairs from Savannah State University. Before departing the United States, he had to do a research paper, but didn't want to do it on US urban studies because he didn't want it to sit on a shelf. "I delayed picking a topic until I got to China. I wondered aloud what construction workers did after a construction job ended, while visiting what is now known as Jinmao Tower. My professor said, 'why don't you find out?'" 
He did. His thesis became "The Role of Migrant Workers on the Economic Development in China." He compared this role with the great migration of Black people from the South to the North of the United States. He earned a master's degree in urban studies and became a Ph.D. Candidate in Urban Planning with a concentration in Housing Development at Tongji University in Shanghai in 2002. 
Being Black in China 
Has his race attracted negative attention in China? "I come from Brunswick, Georgia, and went to high school with Ahmaud Arbery's father, Marcus," he said, referring to the young man murdered in 2020 by three white men while jogging in their neighborhood. The men were all convicted and sentenced to life in prison for the murder. "Growing up in that environment in the United States, racism is nothing in China."  
He said he had met people that might not like him because he is Black or a foreigner. "They don't impact me because they don't grab me, and I don't grab them. We both get to go home. The racism I've encountered here has been from other foreigners."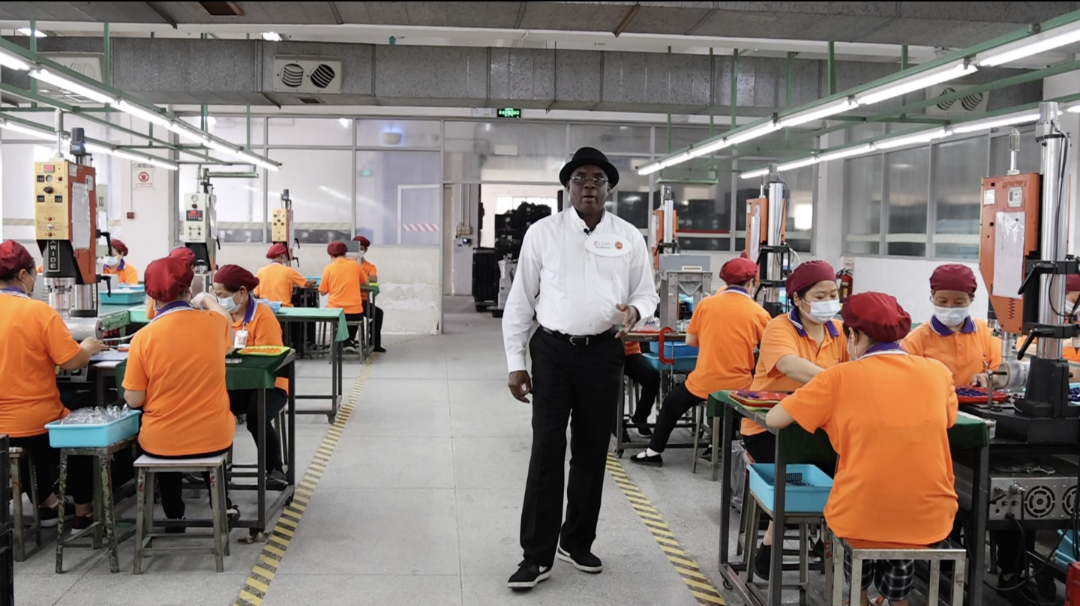 He didn't have any mentors when he came. So he had to learn things on his own. However, even though he is not fluent in the language, he has business counterparts, family members, and friends to ensure his personal and professional well-being. 
COVID-19 and the trade war delivered a one-two punch to his business. He says he was affected, but not entirely in a negative way. He said that with the spread of COVID-19 and the increased economic and social inequities in America, Black entrepreneurs are starting to inquire about business collaboration with private companies in China. But tariffs increase costs for US importers and US consumers. Frazier pivoted and has become a global business developer for Chinese manufacturers. Among other services, he helps clients improve their social media platforms to attract new non-US customers, since orders from many US customers are constricted due to high tariffs. Servicing Chinese clients in a different way is becoming Frazier's sweet spot. 
"People asked me if I would leave China because of COVID-19. Hell no, I told them. I lived through SARS here, which was much more damaging than in the US. Living through SARS helped the Chinese prepare for COVID." 
The outlier 
Frazier says he's not worried about the future of US-China relations and understands that he's created a niche in this regard. He believes some US companies will leave China because the Chinese have become more aware of what they can do. If you are doing something here, you must create something unique so no one can take it from you. "It's like training a person who can take your job, but not your know-how." 
What about calls from some US elected officials for US companies to leave China or lessen their dependence on China's supply chains? "If politicians want to do something against China, boycott the big-box stores and throw away everything from China in your house. Otherwise, you are being a hypocrite for your cause." 
He said Chinese people are very entrepreneurial. "In 2005, when I first started working with small- to medium-sized companies in China, some didn't know how to do contracts and other project management aspects of doing business with Americans. They had 2-3 years of formal education, few had college degrees, but they owned several manufacturing plants." 
"Around 2010, after the Shanghai Expo, more Chinese people started getting passports and traveling worldwide. They would buy goods abroad, open online and offline stores, and sell foreign goods in China. Then manufacturing kept improving and improving because importers insisted on high-quality standards. And with the exchange of foreign goods, the government was learning how Chinese people could create a new industry." He said people still need products from China, and decoupling the two economies is fanciful. 
His other passion besides his business is helping Black people in America improve their economic situation. "Folks need to learn to do business, need to do business outside the United States." He advises, "China is a good market to end up in because most likely it will be the fastest-growing for decades to come." He said, "If you have never experienced China, it is hard for that message to sink in. Black chambers of commerce, the Urban League, and other Black American organizations have not taken a serious look at the economic benefits of establishing a representative office in China. It doesn't resonate."  
Does he imagine a scenario where he would leave? "If the Chinese government tells me to leave, that's it. I don't think I could live in the US for a long time because I have been abroad for so long. I would probably be bored out of my mind. I'm used to learning and doing so much." 
Frazier is grateful for the opportunity. "When the airplane landed in Shanghai in 2000, I walked out into Shanghai and knew immediately: 'This is where I want to be.'"