USCBC 46th Annual Membership Meeting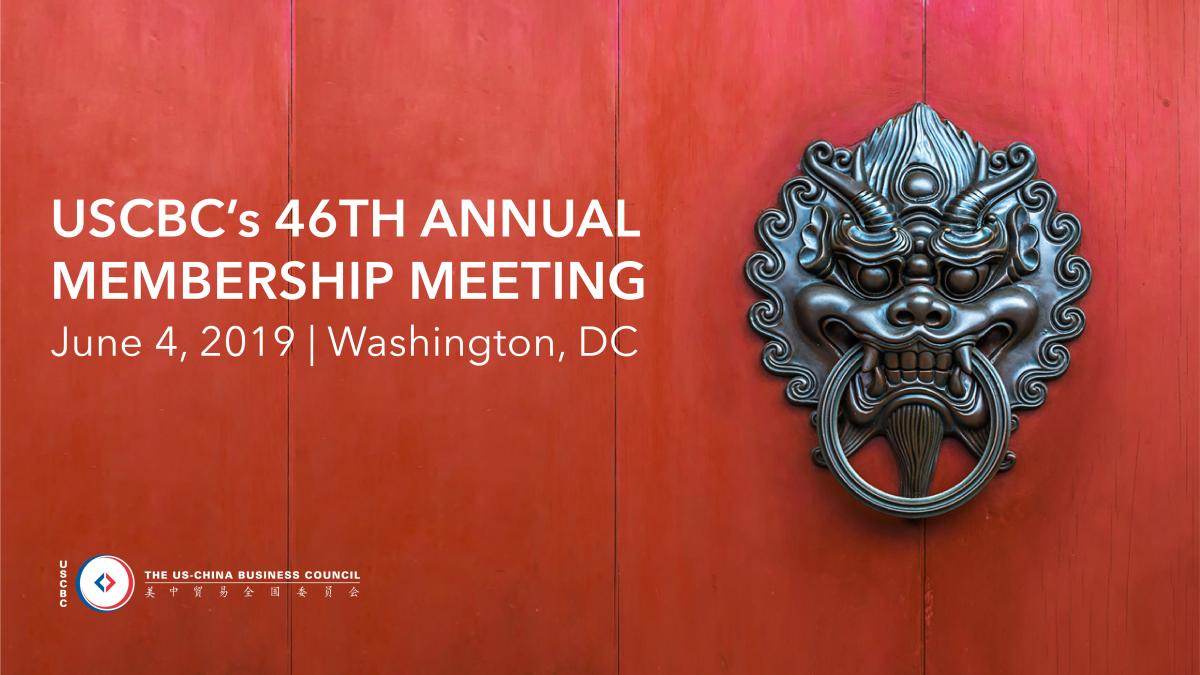 Please join the US-China Business Council (USCBC) and experts from business, academic, and policymaking sectors for our 46th Annual Membership Meeting. This conference will provide an overview of business and economic trends in China, examine where we are following the ongoing trade negotiations, and host a forum for members to discuss crucial US-China commercial policies with experts from academia and various sectors.
Experts in their fields will address the following topics:
---
The full conference schedule can be found here.
---
Program highlights:
Gain strategic intelligence and insight on the latest economic and political developments affecting commercial relations with China
Listen to presentations from expert first-hand observers on China's economy and politics, and key issues facing companies
Share effective practices and network with fellow business executives, leading China watchers in the think tank community, and other special guests
---
USCBC Member Registration
Early Registration: $375 (Register by May 1)  |   Standard Registration: $425
USCBC Non-Member* Registration
Early Registration: $475 (Register by May 1)  |  Standard Registration: $525 
*Non-member registration is available to USCBC member-prospect companies only. Qualified member-prospects include US-incorporated companies involved in trade and investment in China. 
Cancellations for refunds must be received in writing by 5:00 pm ET, Tuesday, May 28, 2019. No-shows will be billed.
---
 Sponsorship Opportunities - $5,000 and $10,000
Opportunity to assist USCBC in identifying and securing speaker(s) of interest to your organization and your sector
Valuable corporate branding: Recognition as underwriter in all conference marketing and publicity platforms and from the podium on day of the conference
Opportunity to include promotional materials in meeting packet (up to 4 pages, front and back if USCBC printing; or brochure if you are providing the printed materials)
2-4 complimentary conference registrations
A seat for the most senior executive at the head table during lunch with conference speakers
Brief speaking opportunity
We would be pleased to discuss additional ways to highlight your company's sponsorship, as appropriate. For more information, please contact Gloria Gonzalez-Micklin at [email protected]. 
---
Lodging - The Darcy
For hotel booking on June 3 and/or 4, we have a discounted room block agreement with The Darcy, starting at $269 per night, exclusive of applicable fees. For reservations, please click here. 
All reservations must be guaranteed with a major credit card to be supplied at the time of reservation, and must be booked by Friday, May 10.
---
Special thanks to Amazon for their partial underwriting of our 46th Annual Membership Meeting!
 
---
Date: Tuesday, June 4, 2019
Contact: Vivian Zhu ([email protected]; 202-429-0340 ext. 208)
Registration Deadline: Friday, May 31, 2019, 5:00 pm