What China's Dual Circulation Strategy Means for Global Business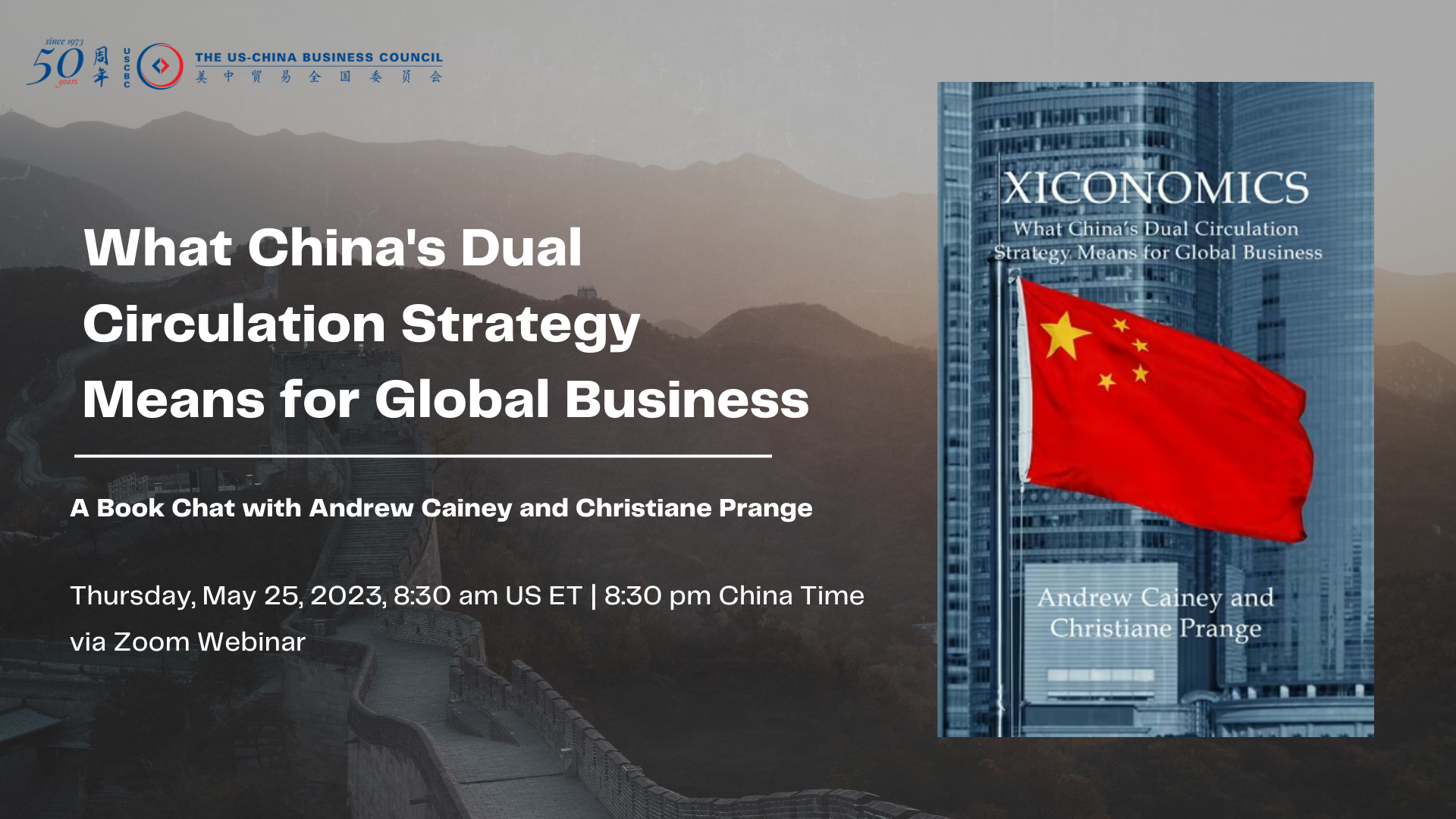 For the next installment of our 'book chat' series, USCBC is delighted to host Andrew Cainey and Christiane Prange discussing their new book, Xiconomics.
Matters of ideology and security have become deeply entwined in China's economic and business environment. The context is more politicized, more uncertain. At the heart of Xiconomics is the Dual Circulation Strategy, which marks out clear dividing lines between China's domestic economy and the rest of the world. It sets out how China seeks to manage the links between the two just when western countries are also focusing on decoupling and "friendshoring". In order to prosper, business leaders and policymakers need to understand these new international dynamics.
In this concise and incisive analysis, Andrew Cainey and Christiane Prange explain what is happening in China and how this affects its relations with other countries. They identify what foreign companies need to do, how strategies need to change, and what this all means for managing the China business as part of a global portfolio, under a range of geopolitical scenarios.
Link to Columbia University Press Website
 
Speaker Biographies:
Andrew Cainey has advised businesses and governments on China for over twenty years. He is a senior associate fellow at the Royal United Services Institute; a founding director of the UK National Committee on China; and an advisory board member for Lumen Capital Investors, a Singapore-based multi-family office.
Christiane Prange is a Professor of Strategy and International Business with universities in Europe and globally. She previously taught at Tongji University and Jiaotong University (Antai College) in China. She also advises multinational companies on their internationalization and agile strategies.
This event is for USCBC member companies and invited guests only. Registration is required. Please register using your work email so that we don't mistakenly decline you. The deadline to register for this program is on Thursday, May 25th at 2 pm (US ET).