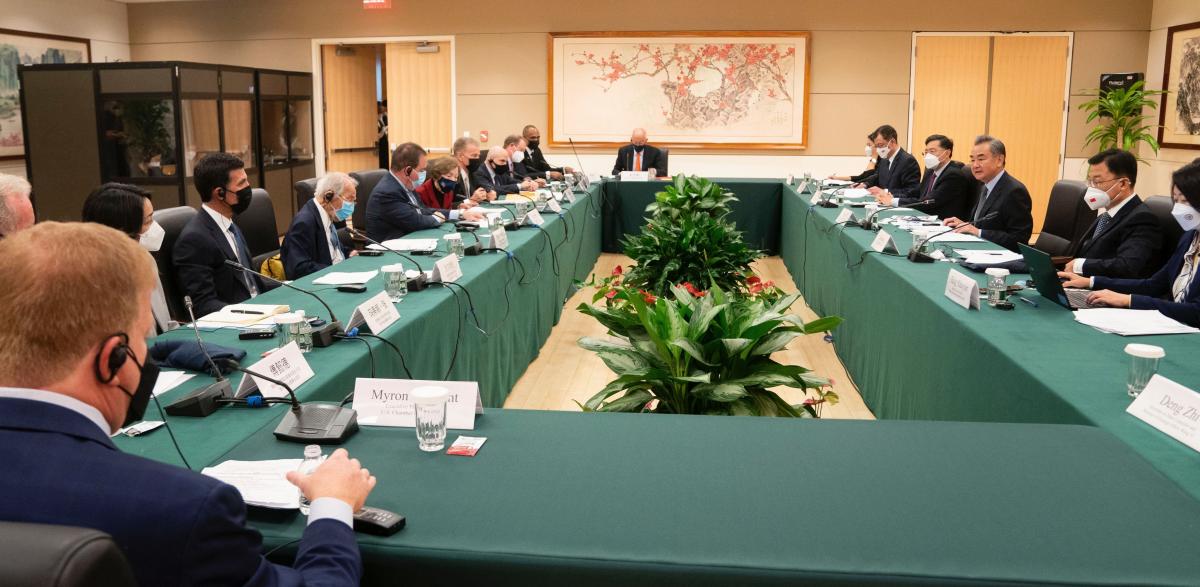 NEW YORK, NY—September 19, 2022—A small group of business executives with member companies of the US-China Business Council (USCBC), the National Committee on US-China Relations (NCUSCR), and the US Chamber of Commerce met with State Councilor and Foreign Minister Wang Yi today in a private meeting on the sidelines of the United Nations General Assembly. The meeting comes at a time when US-China relations are at their lowest point in recent history.
Participating from USCBC were board chair Marc Casper, Chairman, President, and CEO of Thermo Fisher Scientific Inc., and board member John Waldron, President and Chief Operating Officer of Goldman Sachs, as well as Fabrizio Freda, CEO of Estée Lauder, and Martina Cheung, President of S&P Global Ratings, both USCBC member companies.
The meeting took place after the recent release of a USCBC member survey report showing that while most USCBC members remain committed to the China market and do business in China to serve the Chinese market, they have significantly less business optimism there. According to the survey, this decline relates to COVID-19 shutdowns in China, geopolitical tensions between the two governments, and longstanding commercial challenges in China. USCBC members expressed hope that an expected face-to-face meeting later this fall between President Joe Biden and President Xi Jinping could help put bilateral relations on a better footing.
"We communicated to Foreign Minister Wang that the commercial relationship has been of great benefit to both countries during the past almost 50 years and can be a catalyst for addressing some of our bilateral disagreements and cooperating on common global interests like climate change, public health, and food security," said Craig Allen, USCBC President. "The challenges facing our planet are serious and need the combined focus and capabilities of both countries."
Allen noted that USCBC will continue to work closely with both governments. Allen plans to travel to China to meet with senior government officials and USCBC member representatives based there in the near future.
USCBC represents more than 270 American companies,  many of whom have done business in China for decades.