Oregon Inventor Engineers Business Between the United States and China
By Doug Barry
George Wang has product and business ideas daily. Most remain in his head, and a few have launched but didn't last long. One got traction, and today is E-BI International, a contract engineering and manufacturing company whose clients range from small businesses to Fortune 500 companies.
Wang's story begins in Beijing where he grew up. He earned a PhD in electrical engineering from Tsinghua University. Enamored with the United States, he arrived in Seattle on August 14, 1990, soon after his graduation in 1989. He remembers everything about the day because it changed his life. "At that time the United States was on top of the world. My initial intention was to learn and to see what on 'top of the world' really feels like," he recalls. "I wanted to learn from the technology and all the magnificent things created by America. That is how the rest of the world looks up to the United States."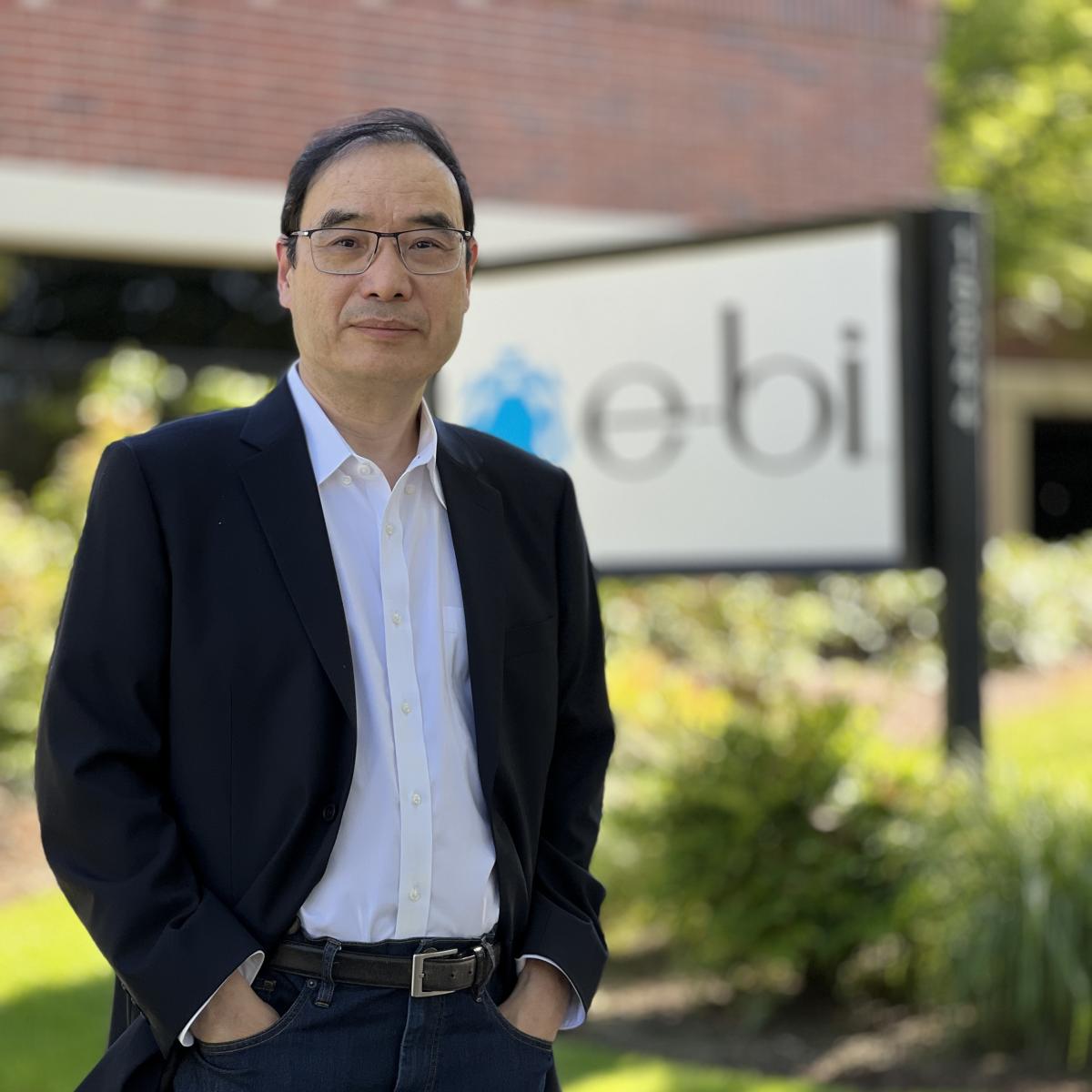 His first stop was the Seattle airport and the subways. "At the time, there were very few Chinese people there, and my English was limited. People were so friendly and caring. I felt like I was in paradise. The working environment, how people do things, it was a great feeling."
Wang said, "It was a totally different world from Beijing back then. In Beijing there were only two little airport terminals, and only one had an airplane." He said people in China had one phone for a whole building. People only made $10 to $20 a month. "One phone call would cost your whole monthly salary."
From Seattle, he flew to nearby Portland, Oregon, where a company had invited him to work as a visiting scientist making fiber optic sensors for semiconductor reactors. That company moved to Silicon Valley in California, and he moved with them. Then he worked at Lam Research on cutting edge semiconductor equipment. 
Before his time
When internet use exploded in the mid-to-late 1990s, Wang was ready. He invented a network system of control modules for industrial and home automation. He sold a number of these systems and thought the technology was going to change the world through the Internet of Things, as it is called today.
It didn't. In 1996, his main investor said there was great potential, but the internet was too slow and people wouldn't put it into their homes for the cost. That door closed, and he relied on his then-wife's income to carry him through. He continued to generate multiple ideas a day – seeing problems, finding technology solutions, identifying costs and ways to lower them. "I chat with others and ideas just pop up," Wang said.
When he first came to the United States, he wanted to read technical books about all the great things Americans know. But he couldn't find them in the bookstores. They mostly just sold popular books. Unless you happened to see it on a colleague's desk, you wouldn't ever learn about a great book's existence. As soon as the internet came out, he thought someone should put the books online. The only problem with these ideas is someone has got to implement them.
Some ideas that popped up, such as selling books, were implemented by others before Wang could move. He revisited his smart system, which required building control modules. He made the connectors, which would cost $100. To make a profit after costs, he had to sell them for $800 each. "Potential customers said if you sell it at $50 maybe they would be interested to buy. Little by little, I lost air. I sold some systems, but the main buyer stopped. I was one guy in a garage. Too small and naïve."
"I was in a depression of great ideas. Everyone loved my system, even those from major innovative large companies, but no one wanted to buy it in volume. I was too small."
The cheaper, the better
He remembered the cost part of bringing good ideas to market. If he could make the product cheaper, it might sell. He knew China production costs were low. What if he put all the China manufacturers online and charged them a fee to be on his search engine? In 1999, he started a new business with about $1.5 million in angel investment, mostly from US friends and some small institutes. He started an internet company with a website and developed a backbone system for an internet portal. He leased digital real estate to the manufacturers on the website.
Back then he hired 10 people in Portland. In Shenzhen, he recruited about 40 people to find and upload Chinese manufacturing companies onto the website. In those days, China didn't even have the internet. "The factories didn't even know what his team was talking about. They didn't even have computers," Wang recalled.
"Another company started doing the same thing as us. It was called Alibaba. They were in Hangzhou, and I was in Shenzhen. My money ran out really fast and I needed more funding. In 2000, the internet bubble burst. Everyone decided there was no money in e-commerce, and no one would invest in it. After the seed round, I couldn't get any money anymore. Anyone doing internet stuff was seen as an idiot."
"Without China, these small creative businesses' products wouldn't exist. If each iPhone were $100,000 each, no one would buy it. Without globalization, 90 percent of products wouldn't exist. Some politicians just don't get it."
Wang said, "It can't be that everyone is wrong. It can't be that everyone is right. No one had found the recipe yet to make e-commerce work. In 2005, Google started."
Wang asked the Chinese factory managers what they really needed. They replied: "'Send us purchase orders.' They didn't care about the internet."
In the early 2000s, globalization was just starting. Wang's US clients needed a solution. He decided to help them find low-cost manufacturing. He built up a team little by little. He became a solutions company with little reliance on the internet.
His secret sauce is developing engineering solutions, integrating tier one, two, and three subcontractors to guarantee good product development for his small and midsize clients. "Without China, these small creative businesses' products wouldn't exist. If each iPhone were $100,000 each, no one would buy it. Without globalization, 90 percent of products wouldn't exist. Some politicians just don't get it."
He has a client from Omaha who is now able to sell his product at the ideal price point of $15 each, thanks to affordable engineering in the United States and manufacturing in China. He now supplies major hardware stores in the United States. Many of Wang's clients sell to Australia, Japan, and throughout the world, including China. "I helped develop a lot of products that are now sold in China. There are a lot of American brand products in China. In the United States, you don't see many China brands."
Selling all over the place
Today, he still employees 10 people, mainly engineers in Portland, 30 contractors in different states, and more than 100 people in Shenzhen, Ningbo, and Beijing. He also employs contractors in Vietnam, India, Australia, and Singapore. About 70 percent are engineering positions because of customer quality needs. His clients come from the United States, Canada, Australia, Europe, the United Kingdom, Norway, and "all over the place," as he puts it. Fifty percent of what his clients sell is for export markets. "People forget the jobs and social good generated by this activity."
The 25 percent Trump-initiated tariffs on many goods imported from China hurt his business. "They were an immediate cost that hurt me, my clients, and raised prices for their customers. Those that can't raise prices can't make money anymore."
Wang has looked at Mexico, Vietnam, and the United States to do customized manufacturing, but the US companies are only used if the client can pay many times the price of Chinese competitors. India has been considered, but he says the bureaucracy is stifling.
On the other hand, the Chinese government treats him like a local company in Shenzhen. "We got COVID-19 tax relief, same as domestic companies. Every two months the government gives out some money: $80,000 one month, $120,000 another month, for COVID-19 relief. We are considered a high-tech company and qualify for larger subsidies."
Has he suffered from intellectual property theft? "With 22 years of history, I've had almost zero problems. We made a memory foam pillow some years ago. Someone else saw the product and copied it. The California company that held the patent filed a lawsuit and won in the court."
For some clients, the finished product is made in the United States, not China. In every case, Wang has non-disclosure agreements with all contract manufacturers. This kind of mutually beneficial cooperation between US and Chinese companies in non-sensitive industries helps both companies, as well as their home countries, grow. And both sides would benefit from an elimination of the Trump-era tariffs as well. Another company in this series has also highlighted the value for the US economy of importing low-cost inputs, with the owner saying that many American jobs exist because of lower manufacturing cost options.
Wang said that businesses in China and the United States continue to cooperate in many useful ways. His company helped design head straps for hospital ventilators, which were sold to hospitals in Wuhan where the COVID-19 virus first appeared on a deadly scale.
Is Wang pessimistic about the future? "Down the road 20 years from now the world will be different and the Americans and Chinese will work well together. These are big countries, and the politicians are temporary."
"If the Chinese work hard, their GDP will be perceived as a threat to America because of the population size. So now what do you do? Keep China poor? That is one problem that needs some really brilliant politicians to figure it out."