41st Annual Membership Meeting Speaker Biography
Roberta Lipson
Chief Executive Officer and President, Chindex International, Inc.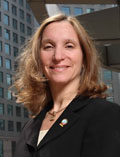 Roberta Lipson is CEO of Chindex International and Chairman of the Board of United Family Hospitals. She has 30 years of experience in the healthcare industry in China. Since she co-founded Chindex in 1981, the company has expanded from its business of capital medical equipment distribution to healthcare delivery. She is the creative force behind the United Family Healthcare brand, and its hospitals and clinics in Beijing, Shanghai, Tianjin, Guangzhou and Wuxi. United Family is the first foreign invested and managed private healthcare group in China.
An active leader in the business community in Beijing, Lipson has served as a director of the US-China Business Council, as well as 4 successive terms on the board of the Governors of the American Chamber of Commerce – China (AmCham) and is Co-Chair of the Amcham Healthcare Forum. She also chairs the Board of the United Foundation for Chinese Orphans and is a co-founder of Kehilat Beijing. Lipson holds a BA from Brandeis University and an MBA from Columbia University.