Optimism, Hope, and Ping Pong
By Doug Barry
US and other brands want an online presence in China. They've heard about "netizens," the army-sized community of Chinese online dwellers who can both make or break a foreign brand based on its social media presence. How do you promote a brand there without fatally damaging it? Enter New York-based PingPong Digital.
Full disclosure: PingPong Digital is a member of USCBC. That said, the company has clients in the United States and elsewhere who want to navigate China's digital platforms and grow their market share, build and protect their reputation. The online environment is very different in China and not for the faint hearted.
PingPong's creation was in part serendipity mixed with desire to build bridges between countries and cultures, like the little white ball diplomacy that fascinated the world in the 1970's. The company's founder, Jimmy Robinson, hadn't been born yet.
No matter. When he was old enough to have heard about it and how it helped bring former adversaries together, his focus was to study business management in college in the UK so he could one day "run something." His father advised that he needed an additional skill set to stand out in a highly competitive job market. He then looked at a degree in languages, and was deciding between Chinese or Japanese. He picked Chinese "because it represented the future."
Fresh out of school, he took a job with a London headhunting firm. When the office moved to Beijing, he went too. With PingPong Digital not yet in view, Robinson found he liked Beijing but not headhunting. "You just pick people up in one place and put them over there. You don't create anything. It's very transactional."
"We've demonstrated how a crisis like this can be managed effectively to keep negative sentiment and statements to a minimum."
Inflection point number two came when a manager's girlfriend, who was CEO of an advertising company, headhunted him. He stumbled into the China advertising world. He loved it, and the best part was seeing ads that he worked on in the back of taxis and on the subway. "I was thrown in the deep end of the advertising world, a world that you either sink or swim, and I thrived, even during those 3am creative disagreements."
All for one, and one for all
But thriving ended 18 months later when the company went through a merger and acquisition. He was offered a role in Australia but decided to return to the UK immediately. He looked for new jobs but didn't make much progress. One company offered him an intern position. He wanted to be an account manager. "If you won't give me the job title I want, then I will start my own company and give myself the title I want," he recalled. Recruiting two other friends, they became the "three musketeers" and PingPong Digital was off and running, paddles at the ready.
China being thousands of miles from London proved a minor inconvenience. There were many local marketing agencies, but none focused on China. Soon PingPong had offices in Shanghai and New York, becoming the only non-Chinese company to be partnered with Weibo, WeChat, Bytedance, Baidu, Bilibili, and Xiaohongshu—all the big names in Chinese social media. The company is small—50 employees—but profitable despite COVID and trade tensions. Luckily, there are no tariffs on traded services.
PingPong works with companies in fashion, beauty, tourism, and other industries. Their biggest sector is in education, with institutions keen to start or maintain the flow of Chinese students who tend to pay full tuition costs and spend freely on food and lodging. On the client list are Purdue, Columbia, Pratt, Wisconsin, Harvard, Northeastern, Louisville University, Miami, and others.
One of the reasons for opening the New York office was to better serve their US client base. At the time, US universities weren't eager to work with Ping Pong from the UK because of the time difference. As soon as they set up office in New York, US universities started coming on board.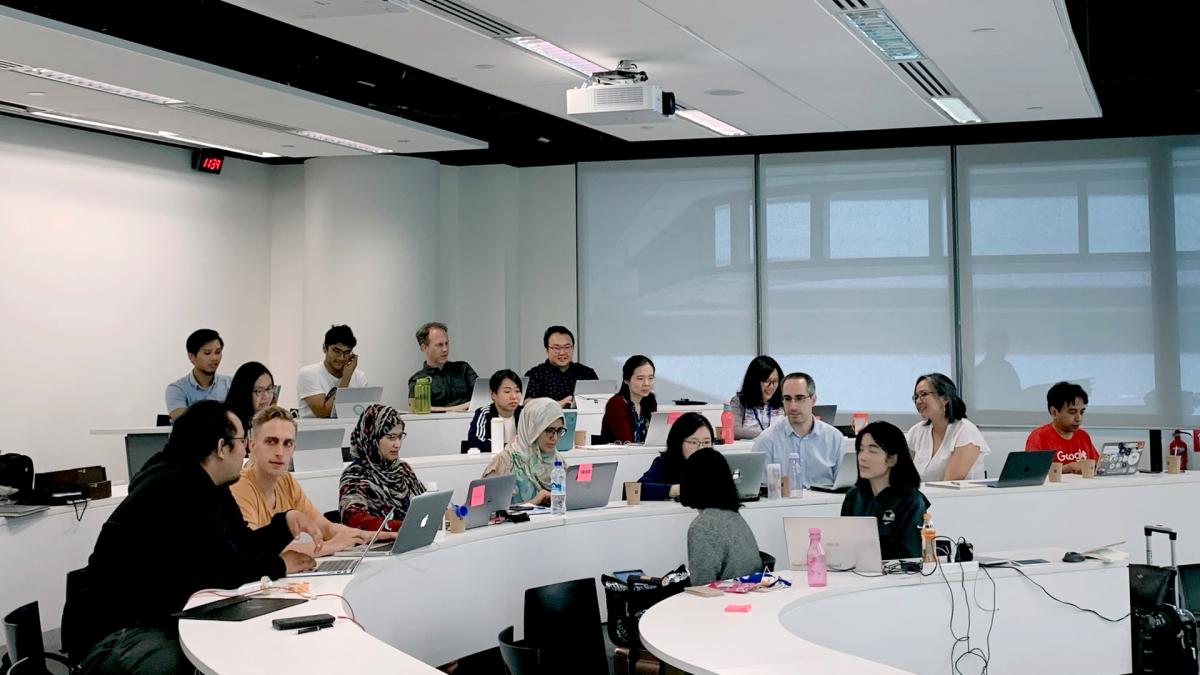 Why the eagerness? Robinson says many US universities aren't doing enough beyond attaching themselves to "Brand USA", an umbrella visitor marketing program funded by the US visitor industry and the federal government. "The US is falling behind a lot of other key competitors for the highly desirable Chinese foreign student," said Robinson. "The UK has 1/5th the population of the United States but 150,000 Chinese students, while the US has only 300,000 Chinese students."
He explained that US schools are not doing much from a branding perspective, especially the non-Ivy League places which don't tend to register significant awareness in China and elsewhere. There is too much emphasis on using recruitment agencies who represent schools that pay them the highest fees. Another problem is that US schools have fragmented rather than centralized marketing and communications functions, making it difficult to effectively focus on specific international markets like China.
Overall, international student growth from China in the United States is flat-lining. Robinson said other English-speaking countries are reaping the benefits of better marketing and better relations. He cites the UK and Canada as the biggest beneficiaries of stumbles in the United States. Even Australia, which has butted heads with China, continues to attract Chinese students.
"The public in China follow US news carefully. Depending how it's explained online can turn critics into followers and even brand advocates."
Social media is used by US and other client schools in China to create positive engagement with prospective students. He said: "If a crisis happens, like a shooting on campus, schools tend to stay mute instead of proactively handle it. This doesn't stop Chinese students and parents from talking about this on Chinese social media, however; and the overall sentiment towards certain schools can be very negative. We've demonstrated how a crisis like this can be managed effectively to keep negative sentiment and statements to a minimum."
It's a shame marketers must deal with such things, but this is the reality. "The public in China follow US news carefully. Depending how it's explained online can turn critics into followers and even brand advocates."
China social media is different
Key to understanding social media in China is to understand that there are many more diverse platforms available, including online vertical communities to help users "find their tribes" and cultivate relationships with each other or with the brands. "The one-child policy meant that kids felt isolated growing up. Technology allowed them to reach out to others, so Chinese netizens are fast to adopt new technologies and trends."
He said everything you knew about China six months ago is already out of date. Brands that are not quick at jumping on the latest trends or platforms are going to find that they will be left behind.
Exposure to innovations in the China market can speed innovation in the United States. "Those brands familiar with Tiktok as Douyin in China meant they were ready to be successful on Tiktok in the United States. Trends tend to seep out from where they begin." For example, TMall and Taobao all have livestreaming ecommerce functions for selling products. "We haven't seen that in the United States to date, but it will come," said Robinson.
"They have a lot of optimism and hope. And so do I."
Censorship can be area that brands are nervous about. Certain words and subjects can be taboo in China, and next thing you know you're in trouble with local authorities. "If you want access to one of the world's biggest middle-class marketplaces, you must accept and understand that there are certain rules and regulations you must follow. Don't mention a competitor platform. Avoid political issues. The rules are not as draconian as you might think."
Robinson is generally optimistic about the future of his business in China. He doesn't expect the current suspicion and vitriol to continue ping ponging.
He said: "The one thing that China values more than anything else is stability. The reason why Chinese people accept restrictions is because their quality of life is still going up. If that changes, that could result in instability. The instability that we are seeing now will be short lived, as China will likely start to return to more stabilizing policies prioritizing trade and business. They have a lot of optimism and hope. And so do I."