Some Californians Take the Long View on the US-China Trade Relationship
By Doug Barry
A few years ago in Silicon Valley, it was not unusual to find the flag of the People's Republic of China flying along side the stars and stripes in front of buildings belonging to the latest tech startup joint venture. Today, the Chinese flags, once a symbol of integrated business cooperation, have disappeared. Though it may now be politically incorrect to showcase such national symbols, trade between California and China continues, and participants in both places are cautiously optimistic that the days marked by more investment and jobs could eventually return.
Such optimism, in contrast with an increasingly gloomy national view of China, springs from a decade of growing trade. Since 2010, California's services exports to China have increased 175 percent while those to the rest of the world only increased 65 percent. Chinese investment has poured in. Services trade has boomed, with Chinese students, tourists, and business travelers contributing $2.2 billion to the local economy in 2019, the most recent year data are available. Other services exports were worth more than $8 billion. The state's combined goods and services exports support more than 100,000 jobs, many of them in the well-paid manufacturing sector.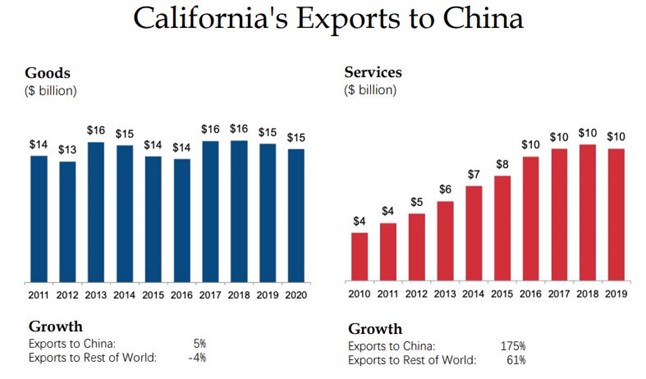 Unlike many other states, California's exports consist mainly of manufactured goods. The main product categories are industrial machinery and semiconductors and components. Medicines and pharmaceuticals are also important. Jobs in these sectors tend to be better than other kinds of employment. China is California's third-biggest export market after Mexico and Canada. China is the fourth biggest services export market racking up $10.2 billion in 2019, the most recent year data are available.
No fault fault lines
With so much as stake, it is no wonder that state government officials and business leaders work closely to keep the trade lanes open in the face of a pandemic and increasing geopolitical fault lines. How California, the world's fifth-largest economy if it were a country, manages these challenges may represent a bellwether for how the rest of the US reacts. But it could also be an outlier as it has often been, susceptible to lagging but more powerful geopolitical forces. Because of the state's dependence on international trade and investment, it is more vulnerable to international shocks.
Former California Governors Jerry Brown and Arnold Schwarzenegger led trade missions to China where they rode the then-fledgling highspeed trains, prompting an epiphany about the huge potential of China as a trading partner. As one trade official put it, "California can't have a foreign policy, but we must have a foreign relations policy."
Currently, responsibility for this policy is housed in the governor's GOBIZ office, which is headed by the lieutenant governor, Eleni Kounalakis. Her international team promotes exports and foreign direct investment. An inter-agency committee coordinates international work across state government including departments of health, environmental protection, natural resources, agriculture, and others. The state also funds a trade office in China and employs market experts to counsel California companies. The federal government also has a role advising companies via Export Assistance Centers (California has the most of any state) and connecting them with commercial diplomats in China through the US and Foreign Commercial Service.
As one trade official put it, "California can't have a foreign policy, but we must have a foreign relations policy."
According to a state official who spoke on background: "We are concerned about future relations with China but tend to be optimistic. We haven't discussed a worse case because we don't think there will be one. As a state, we remain open and welcoming. This is our competitive advantage and includes our higher education institutions, world-class tech companies, venture capital ecosystem, large Asian population."
When it comes to the state's congressional delegation and the calibrating of policy to protect this advantage, the conversation is ongoing. In this respect, and similar to other states' delegations, there are few champions who support increasing trade with China. Senator Diane Feinstein gets high marks from business groups based on a long history of involvement going back to her time as mayor of San Francisco when she started a sister city program with Shanghai. Almost 30 years later, people in these cities helped each other during the pandemic by taking turns donating PPE to local hospitals.
Representative Nancy Pelosi, Speaker of the House and one of California's most prominent political figures, is a leading voice on holding China to account for human rights abuses but has not shown much interest in the commercial relationship. Former senator and now Vice President Kamala Harris was busy championing other issues, and her successor is too new to judge where he comes down on US-China trade. 
Building the future
California relies on a mix of public and private organizations to keep deals going. The Bay Area Council is a nonprofit based in San Francisco that conducts economic research and provides programs to stimulate trade. The Council coined the phrase "innovation ecosystem" to describe the region's competitive advantage, one of the world's most potent. Council member Jeffrey Heller, founding partner of the San Francisco architect firm Heller Manus, says states need to regularly engage their congressional representatives on the importance of the trade relationship, including when it comes to tariffs and the need for China to open further and play by international rules. "We go to Washington and knock on their doors," he said. "They need to hear stories of the companies that have carried the trade relationship on their backs for decades."
The Bay Area Council is a key player in the ecosystem, one that mapped and helped connect it. Alex Foard directs international programs.
"We do advocacy and participate in the state's trade and investment network including the state's four China trade offices," Foard said. He is also responsible for launching and recruiting vendors for an e-marketplace featuring California products packaged for the China market and due to go live soon. The problem is finding enough interested companies. "We need 50 and I'm beating the bushes, as it has been more challenging than we thought." The problem, he acknowledged, is that bad press pertaining to many things China has chilled interest in doing business there, especially for smaller, new-to-market companies despite the state's capabilities for providing abundant support and even some funding.
"If you can work with a local firm, you can bypass political problems at the central level."
There are plenty of seasoned business folks who've done business with China for decades, including Heller, the architect. His firm has done more than 80 design projects in 24 cities with more in process. He says his firm and others in the area that do green building have an edge now that China has committed to ambitious environment goals. "There's tremendous opportunity in carbon neutralization. California leads in this, and we have to scale up our capabilities with the Chinese."
He acknowledged that trade tensions have made some Chinese clients wary of doing business with American suppliers regardless of what state they are from. "If you can work with a local firm, you can bypass political problems at the central level." He said that his firm can still be the lead on a JV project, but it does add another layer of complexity. "A smaller profit is still better than none."
Another architect across the Bay in Oakland agrees that the potential for doing business in China is huge. Chris Lee, a partner with Studio T Square, immigrated from Taiwan and his firm does a lot of work for Chinese clients. He recently got a phone from a client prospect in Wuhan who wants to build condos in the area. He said: "The caller represented a private sector developer. I told him that it's better to build apartments in this area because condo developers are frequently hit with lawsuits and Chinese companies are not good at managing such problems from afar." The developer appreciated the advice and will likely engage the firm.
Lee has done many projects in China, with an emphasis on high-end residential and city planning. One of his creations (pictured) looks like a Lego structure. He explained: "Like many developers in China today, he wanted creativity and energy efficiency with no cost limitations. "When I look at the outside of the building, I don't want to tell what floor I'm on," the developer said. Such eccentricity is not rare in today's China, and Lee and other California service providers are happy to indulge it while creating alternatives to China's oversupply of cookie-cutter high rises, many of them empty and in the middle of nowhere. He says he wants to be a commercial ambassador between the two countries.
California Dreamin'
On the same page when it comes to the opportunities available is Shawn Flynn, a Silicon Valley investment banker focused on the mid-market, serial entrepreneur, and host of his own podcast—a reminder that it is California we are talking about. He lived in China for five years, started three companies, and moved stateside in 2013. In Silicon Valley, he met with venture capitalists and startup founders, introduced them to Chinese businesspeople looking to acquire startups, and engaged in the giddy deal making of the day, including incubating incubators—some of them with Chinese investment. Eventually, the capital flow dried up, first because of restrictions imposed by China, then because of the onset of the US government seeing China as a strategic competitor and frenemy—with the friend part now in question.
"The Chinese have been pulling out and we stopped pulling them in," he observed. But that may be changing. "The Chinese are showing renewed interest. They know they need to be present in the United States. They are testing waters, hoping things might get better."
"They need help navigating our increasingly complex system. US companies need help entering and navigating the complex Chinese system."
He said that China-related events are starting up again and will increase now that Covid restrictions are lifting. "My advice to my clients and partners is that deal flow can take time, often three to five years, so start now," he said brightly.
A San Francisco international trade lawyer, China native, and member of the Bay Area Council agreed. "Chinese companies are still interested, especially in access to capital markets," she said. "They need help navigating our increasingly complex system. US companies need help entering and navigating the complex Chinese system."
Her firm's services for Chinese clients will be counted as an export from California. But she's not entirely pleased with this state of affairs, saying that conflict has chilled the collaborative spirit. "It's disheartening, especially when you consider these are the two most powerful economies in the world, and how much the rest of the world depends on them." She does not believe the United States and China will go back to the honeymoon period but hopes there will be a new phase somehow.
But will it? Within the ranks of otherwise sunny Californians are people who wonder whether the good times maybe over. Even while China FDI increased last year, a chill has fallen over Silicon Valley in part due to enhanced US government scrutiny of proposed deals. Additional legislation to regulate US investment in China would further crimp business if it becomes law. Some Chinese investors have packed up and left. As one state official said, "A lot of our businesses are taking a wait and see attitude, and there's not a lot of optimism."
But there is some, with a not insubstantial camp refusing to believe that a way forward cannot be found. The Bay Area Council's Foard finds comfort in a bigger picture, arguing that a world that can produce eight Covid vaccines in a year is capable of even more public goods.
"We've traded with [the Chinese] since before the days of the Yankee Clippers," said Heller. "There are many people of Chinese background here. They take the long view. We can learn the value of that from the Chinese."
Another lesson was proposed by Flynn, the investment banker. "The future is brighter than some people think because the Chinese have become more like us. Many of them are committed, diehard capitalists. That more than culture or nationalism will open doors."