FOR IMMEDIATE RELEASE
WASHINGTON – February 13, 2020 – The US-China Business Council (USCBC), the National Committee on US-China Relations and the George H. W. Bush Foundation for US-China Relations have organized a shipment to China containing much needed medical supplies, including 2 million masks.
"At this critical moment, the US private sector stands with and in support with the Chinese people," said Evan Greenberg, the USCBC Chair, Vice Chair of the National Committee and Chief Executive Officer of Chubb. "I would like to thank FedEx for donating air transportation of these relief supplies to China. I would also like to thank Walmart for joining Chubb in helping to obtain these goods. This donation is just one example of the many efforts undertaken by the US private sector to assist China in combating the coronavirus."
In response to the coronavirus, which first appeared in Wuhan, a central China city of 12 million people, USCBC members have contributed millions of dollars in medical supplies, many of them to hospitals in the Wuhan region—the epicenter of the deadly outbreak that has caused more than 1000 fatalities and spread alarm across the world.
"This is the time to demonstrate our shared humanity and dedication to the common good," said Craig Allen, the US-China Business Council's (USCBC) President. "In particular, we want to help and to honor the courageous healthcare workers throughout China."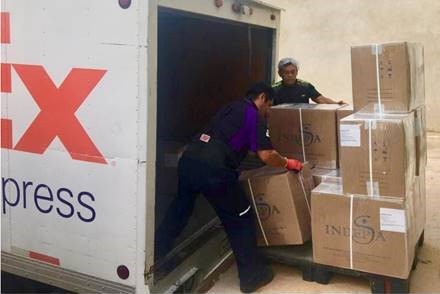 "Since our hosting of the Chinese ping pong team in 1972, NCUSCR has stood for strengthening people to people relations between our two great peoples," said Steve Orlins, President of the NCUSCR. "During this crisis we are gratified to be able to continue this great tradition by helping to provide urgently needed medical supplies to the Chinese people."
"We are honored and deeply gratified to be one of the organizers of this humanitarian action, a powerful gesture of American friendship and goodwill toward China at this challenging moment," stated David Firestein, the inaugural president and chief executive officer of the George H. W. Bush Foundation for US-China Relations and a founding member of the Foundation's Board of Directors. "Our Foundation stands ready to do all in our power to help our Chinese friends fight and defeat this virus."
Most of the donated goods on the flight will be rushed to Wuhan hospitals with support from Chinese People's Association for Friendship with Foreign Countries and China Charity Federation. Masks are difficult to acquire currently because of unprecedented demand, but a reliable supply was identified by the Bush China Foundation through its newly established and rapidly growing US-China Coronavirus Action Network, "US-China CAN," and representatives of the business organizations swiftly arranged for purchase and transport.
Donations from individual companies and their employees are expected to continue for as long as needed.
(end)
For press inquiries, contact:
Doug Barry
USCBC Director of Communications
[email protected]
Joseph Weed
Director of Communications
​[email protected]
Robbin Goodman
George H. W. Bush Foundation for US-China Relations Director of Business Programs and Corporate Affairs
[email protected]
---
  
美国工商界紧急空运医疗物资,支持中国抗击新型冠状病毒肺炎疫情
(美国华盛顿) – 美中贸易全国委员会(The US-China Business Council)、美中关系全国委员会(National Committee on US-China Relations)以及乔治·布什美中关系基金会(George H. W. Bush Foundation for US-China Relations)已组织一批包括两百万个口罩在内的急需医疗物资运往中国。
      "在这个关键的时刻,美国工商界坚定地与中国人民站在一起,"美中贸易全国委员会主席、美中关系全国委员会副主席、安达保险首席执行官埃文·格林伯格先生这样说道:"我要向无偿提供救援物资空运服务的联邦快递公司表示感谢。我也对沃尔玛公司对安达保险在物资收集过程中提供的帮助表达谢意。这次捐助只是众多美国企业支援中国抗击疫情做出努力中的一个例子。"
      新型冠状病毒肺炎疫情最先出现在约有1200万居住人口的武汉市。为应对疫情,美中贸易全国委员会的会员企业已经捐助了价值数百万美元的医疗物资,其中大部分物资直接捐助到位于武汉的各医疗机构。在疫情爆发的最中心已有超过1000名患者死于新型冠状病毒,警报已传播至世界各地。
      "这是我们为了人类的共同利益作出人道主义奉献的时候," 美中贸易全国委员会会长克雷格·艾伦(Craig Allen)说道:"我们尤其希望向勇敢的中国医务工作者提供帮助并致以敬意。"
      "自我们于1972年接待中国乒乓球队至今,美中关系全国委员会一直致力于加深两国人民之间的联系,"美中关系全国委员会会长史蒂夫·欧伦斯(Steve Orlins)表示:"在这次危机当中,我们很欣慰可以继续这一伟大传统,协助向中国人民提供急需的医疗物资。"
      "我们对成为这次人道主义行动的其中一员感到荣幸和欣慰。在这个充满挑战的时刻,这是体现美国对中国友好和善意的有力姿态。"乔治·布什美中关系基金会会长兼首席执行官、基金会董事会创始成员·方大为 (David Firestein) 提出:"我基金会已做好准备尽全力帮助我们的中国朋友抗击并战胜病毒。"
      在中国人民对外友好协会和中华慈善总会的支持下并将在之后尽快运往武汉地区的医院。由于空前大量的需求,目前口罩供应仍很难获取,但乔治·布什美中关系基金会通过其近期建立并迅速发展的美中新冠病毒行动关系网(US-China CAN)确定了一个稳定的供货源,也因此商协会的代表得以迅速安排了采购和运输。
      来自其他公司和其雇员的捐赠预计将根据情况需要持续进行。
(全文止)
媒体采访请联系:
Doug Barry
美中贸易全国委员会传播总监
[email protected]
Joseph Weed
美中关系全国委员会传播总监
​[email protected]
Robbin Goodman
乔治·布什美中关系基金会项目与公司事务总监
[email protected]