WASHINGTON - June 16, 2015 - The US-China Business Council's (USCBC) annual report on US exports to China shows that China continues to be an important destination for American goods and a significant contributor to US economic growth, despite a slowdown versus previous years.
In 2014, US exports to China totaled $120 billion, making it the third-largest export market for American goods behind Canada and Mexico, our neighbors and NAFTA partners. Overall, 42 states experienced at least triple-digit export growth to China since 2005, and five states saw export growth of more than 500 percent over the same period.
"Since 2005, USCBC data reveals that US exports to China have grown faster than exports to any other major US trading partner," USCBC President John Frisbie said. "Over the past decade, US exports to China have increased 198 percent; that is greater than growth to any of the other top ten US export markets, including our two largest trading partners, Canada (47 percent growth) and Mexico (102 percent growth)."
"Exports to China play an essential role in the US economy and job growth," Frisbie said. "In 2014, US exports to China helped support a wide range of industries including transportation equipment, crop production, computers and electronics, and chemicals, along with export-related jobs in America's port cities. Exports are vital to the health of US industry, supporting 11.7 million American jobs in 2014, according to the US Department of Commerce."
"Though the value of US exports to China last year was largely unchanged from 2013, China's market continues to be a top destination for US goods," Frisbie concluded. "China's maturing economy is undergoing important changes that have resulted in a slowdown in GDP and trade growth. As China's market continues to undergo changes, import growth is likely to remain at lower rates than seen in past years. At the same time, China is seeking to rebalance its economy toward a consumer-driven growth model. With this shift, US companies may see broader opportunities to export more goods and services to meet the needs of China's growing middle class."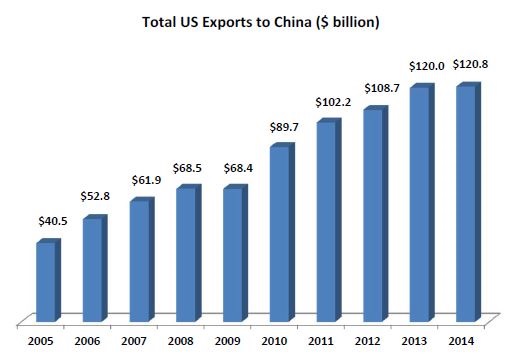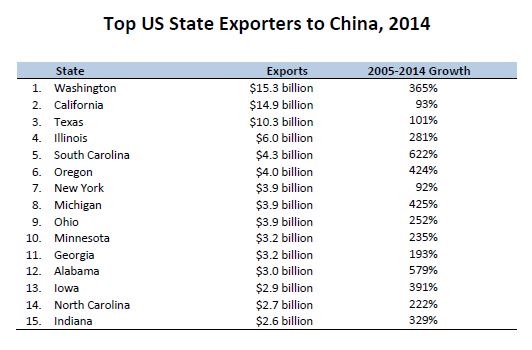 For details on state-by-state data, visit https://www.uschina.org/reports/us-exports/national. 
The US-China Business Council (USCBC) is a private, nonpartisan, nonprofit organization of roughly 210 American companies that do business with China. For over four decades, USCBC has provided unmatched information, advisory, advocacy, and program services to its membership. Through its offices in Washington, DC; Beijing; and Shanghai, USCBC is uniquely positioned to serve its members' interests in the United States and China.
###