February 17, 2016
Owen Haacke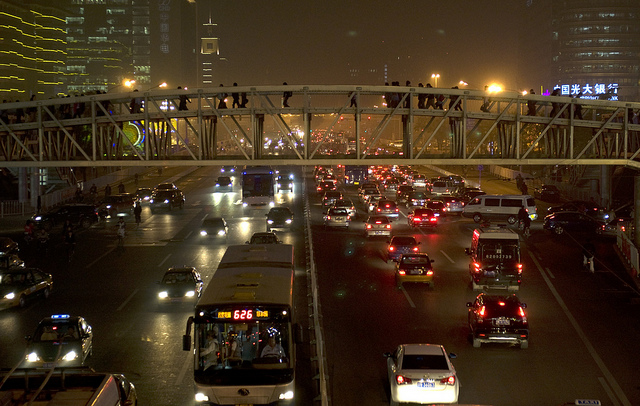 Environmental compliance is taking center stage as US companies face implementation of China's 2015 Environmental Protection Law (EPL), new regulations on improving soil and air quality, and a sharp increase in environmental inspections. The changes are part of a high-level "war on pollution" launched in 2013 to address environmental concerns raised by the public with a bolstered environmental enforcement regime. The changes have led to uncertainty about the environmental licensing and approvals process, such as the environmental impact assessment (EIA) and routine inspections.
USCBC interviewed more than 30 member companies through October and September 2015 to discuss company experiences with the licensing process, including environmental licenses and approvals. Environmental compliance-related licensing was a common concern shared by companies with manufacturing operations in China.
What's changed?
As China focuses on improving environmental protection through better standards and strengthening enforcement, companies have noted more scrutiny from local environmental protection bureaus (EPBs). US companies are often a step ahead of domestic competitors in implementing high environmental protection standards in their operations, but over time, a number of changes have been observed.
Stricter enforcement  Before the new EPL, EIAs were often completed after construction, instead of before, and the associated fines were minimal. Under that model, domestic competitors often chose the cost of noncompliance fines rather than creating EIAs prior to development. Under the new EPL, failure to prepare an EIA prior to development can lead to a stop-construction order, a significant daily penalty, and an order to restore the property to its original state.
Transparency through public participation  Public participation in EIAs—an external review by people potentially impacted by a project—has garnered more influence in recent years after a push by the Ministry of Environmental Protection (MEP) for a more transparent process. With a nearly universal online submission process, EIAs are more readily available for public feedback, and the quality of EIAs is easier for local environmental protection bureaus to scrutinize. One company noted that it is more common for local EPBs to call individuals to verify feedback and ensure legitimacy.
Improved information protection  Companies have noted improvement in specific jurisdictions in regard to information disclosure requirements during the EIA process, indicating there is less concern about disclosing confidential information. This is particularly true in developed areas such as Shanghai, which have an understanding that companies need to withhold certain proprietary information from application materials. In more experienced jurisdictions, companies have noted instances where local EPBs have sought approval from a company before disclosing information included in the EIA to external stakeholders, such as NGOs or the public. However, greater clarity is still required on protections for companies outside of more experienced jurisdictions, where companies cite continued concern that proprietary information may be disclosed during expert panels and external reviews.
What are the pitfalls?
As the government works to improve the EIA process and overall environmental compliance regulations, there remain concerns about the impact to company operations in China.
Ambiguous requirements  While some companies note an EIA is always required, others note that EIA requirements (such as when an assessment is necessary) is not always straightforward. As a consequence, some companies have faced challenges with conflicting statements from agencies regarding the need to conduct an EIA. For example, one company looking to expand employee facilities was told by the local EPB they needed a full EIA, but the local National Development and Reform Commission regulator said the expansion did not require approval. The dispute led to the company abandoning its original investment plans.
Unexpected suspensions or delays  Companies have been impacted by arbitrary suspensions of licensing approvals by local governments. Some companies noted unexpected suspensions of EIAs and other building-related permits, such as fire permits in certain jurisdictions, without indication of when local governments would resume review. Such uncertainty has led to suspensions in investment projects, which affected companies' ability to meet internal deadlines and contractual obligations with clients.
Low expertise, high costs  Companies note a lack in expertise among EPBs to appropriately assess pollution monitoring equipment, which can be costly. For example, one company said it was required to install excessive, expensive equipment required by a local EPB. While increased environmental enforcement and the use of new environmental monitoring technology is welcomed by companies, environmental compliance approvals are costly as companies must foot the bill to conduct government and third-party reviews, and purchase required equipment following the review. Technical expertise among local regulators might reduce costs and save time.
Insufficient emission quota transparency  Another common challenge is emissions standards and emissions quotas (a pollution threshold for specific jurisdictions) are not always public. In some cases, regulators may not be willing to approve new projects unless emissions for an existing one are reduced or eliminated to ensure an emissions quota is not exceeded, making public access to this information all the more important. As one company noted, there is risk of projects being shut down after investment plans have begun if they do not have access to local quotas during planning. Moves toward a more transparent carbon trading platform—expected to rollout nationally in 2017—might create more certainty for companies in the manufacturing sector.
Expect stricter enforcement
Companies should expect additional scrutiny of the EIA process and general environmental compliance as MEP continues its initiative to reform and improve its industrial environmental protection function. Efforts to combat corruption in the EIA process, which gained traction in October 2015, aim to reduce conflict of interest, increase fines, and improve transparency. There are also provisions in the EPL for harsher penalties, including demotion, dismissal, or prosecution of officials who do not rigorously enforce the law or engage in misconduct. These provisions were included to underscore the importance of the EIA process and ensure the public and government officials take it seriously.
As China's enforcement capabilities improve, companies should work with internal counsel to stay informed of changes in environmental compliance requirements. Companies should proactively engage with local EPBs to ensure that they are in compliance with the jurisdictions' environmental regulations, and to communicate with local agencies about the project and details in advance, which can ease the EIA process. Companies noted that hiring third-party consultants is also an important step in ensuring that they are engaging with relevant stakeholders, such as individuals in expert panels.