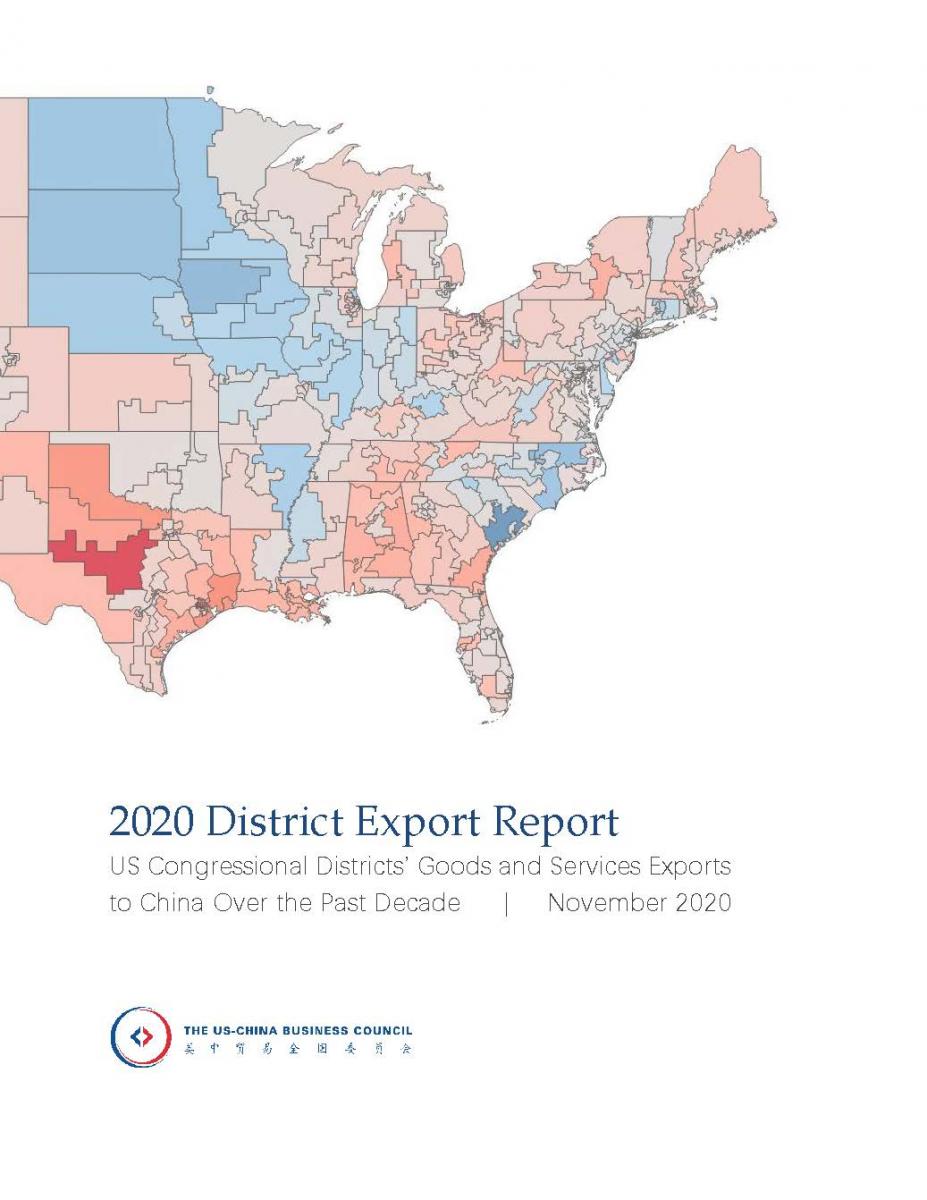 Over the past two years, tariffs and an uncertain business environment have prompted precipitous declines in US exports to China that have not been fully made up by export growth to other markets. For the second year in a row, US goods exports to China fell. Services exports to China grew in 2018, but at roughly the same slow pace as 2017. Despite these challenges, exports to China continued to be important to US economic growth, supporting just under 1 million jobs.
Goods exports to China have fallen to their lowest level since 2011. US goods exports to China contracted 11.4 percent in 2019 to $104.8 billion after contracting by more than 7 percent the year prior. Only 138 out of 435 congressional districts saw growth in goods exports to China last year.
Services exports to China have plateaued. Services exports to China have been one of the remarkable highlights of US export expansion, growing 230 percent in the past decade of available data. Yet from 2016 to 2018, services exports to China grew at just 2 percent on average, compared to more than 18 percent on average from 2009 to 2016.
However, China still managed to be the third-largest market for US goods and services exporters. Despite frictions and tariffs, China is still a top market for US exporters, reflecting the important commercial opportunity it presents to American businesses. Only USMCA partners Canada and Mexico bought more goods from the United States last year. For services, China remained the third-largest export market after the United Kingdom and Canada. 
Exports to China impact nearly all US states in a wide range of industries. China was a top five goods export destination for 326 districts in 2019. Many states generate substantial economic value from service exports, from licensing royalties to tourist spending. In 2019, the top US goods exports to China included aerospace products and parts, semiconductors and components, and oilseeds and grains.
Phase One trade commitments could result in a spike in exports. If China follows through with the large purchases in agriculture, energy, and other goods it committed to making in the next two years, there could be a sharp uptick in exports next year.
View the data from every district here, or jump to your state to find your district from the list below:
---
Alabama - Alaska - Arizona - Arkansas - California - Colorado - Connecticut - Delaware - District of Colombia - Florida - Georgia - Hawaii - Idaho - Illinois - Indiana - Iowa - Kansas - Kentucky - Louisiana - Maine - Maryland - Massachusetts - Michigan - Minnesota - Mississippi - Missouri - Montana - Nebraska - Nevada - New Hampshire - New Jersey - New Mexico - New York - North Carolina - North Dakota - Ohio - Oklahoma - Oregon - Pennsylvania - Rhode Island - South Carolina - South Dakota - Tennessee - Texas - Utah - Vermont - Virginia - Washington - West Virginia - Wisconsin - Wyoming
---
May not work on some mobile devices