September 30,2015
Owen Haacke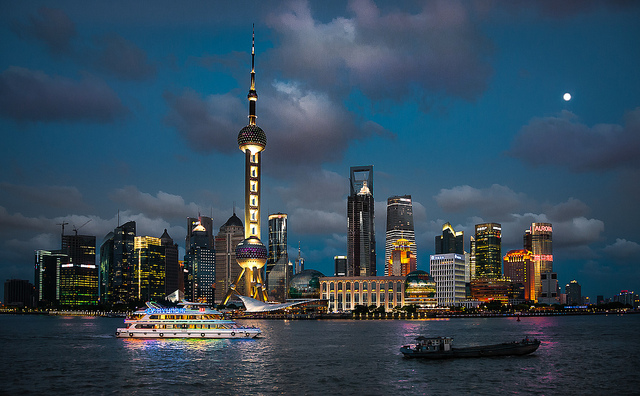 China's four free trade zones (FTZs)—the initial Shanghai FTZ and subsequent zones in Tianjin, Guangdong, and Fujian—offer companies a range of select market openings and preferential policies, while serving as a testing ground for reforms that eventually may be implemented nationwide. Although many companies initially reported only a modest impact from openings in Shanghai, a September 2015 announcement that the "negative list" guiding foreign investment in the FTZs would be expanded nationwide by 2018 puts a renewed spotlight on the FTZs—and the range of investment opportunities open to foreign companies in these zones. As China's FTZ Shanghai pilot scheme approaches its second year, a number of US-China Business Council (USCBC) member companies have indicated they are taking a closer look at FTZ benefits, along with the respective advantages and disadvantages of each zone.
Launched in September 2013, the Shanghai FTZ has attracted several thousand foreign investors, particularly among banking and finance companies. In early 2015, the Shanghai FTZ model was expanded to three additional zones, in Guangdong, Tianjin, and Fujian. To date, USCBC member companies see the reforms and investment openings in the Shanghai FTZ—the model for all of the FTZ pilots—as having a limited to moderate impact on improving access to the China market. Substantive market openings in sectors of interest to USCBC member companies have been slow to come, though some companies operating in the Shanghai FTZ have benefited from administrative policies such as expedited licensing approvals, importation, access for e-commerce, RMB remittance and exchange, and cash pooling. As a three-year "test lab" for reform, the Shanghai FTZ is likely to see further implementation of test policies, some of which may then be implemented nationwide.
In recent months, USCBC member companies have asked a number of detailed questions about the different goals and objectives of China's four FTZs.
Are investment restrictions applied equally across all four FTZs?
Foreign investment restrictions listed in current policies apply to all four FTZs. In April 2015, the State Council published the policy framework for the Tianjin, Guangdong, and Fujian FTZs, detailing the prohibited or restricted industry sectors for foreign investment in all four FTZs—essentially applying the Shanghai restrictions to these three zones. The FTZs share the same list of investment restrictions—the "Notice of the Special Management (Negative List) of China Pilot Free Trade Zone on the Approval of Foreign Investments"—and the same accelerated company registration procedures. Individual zones have also adopted further pilot programs to ease access in specific areas, such as the Kuajingtong cross-border ecommerce platform in Shanghai.
What are the key differences among the four FTZs?
Each of the FTZs serves a different role. The Shanghai FTZ was the first FTZ, and still serves as the main testbed for market reforms. Each zone, however, also has a more specific focus: Shanghai's zone is positioned to support the city's ambition of being a global financial center; Guangdong is designed to attract service industries such as shipping, trading, and related finance services; Tianjin focuses largely on capital-intensive, technologically advanced manufacturing; and Fujian concentrates on financial leasing, e-commerce, and improving logistics.
Each FTZ also has a strong regional focus. Guangdong's FTZ targets investment from Hong Kong and Macau, as well as Southeast Asia; Tianjin's is oriented towards north and east Asia, as well as the Beijing, Tianjin, and Hebei region; Fujian's targets business from Taiwan; and Shanghai's focuses on other global business.
While there are over 40 USCBC member companies registered in the Shanghai FTZ, fewer US companies have invested in the newer Tianjin, Fujian, and Guangdong FTZs to date. More companies are beginning to explore these opportunities, however: Boeing, Honeywell, and GE, three US firms that have had factories in Tianjin since the 1990s, are among the US companies reported to have a presence in the Tianjin FTZ.
What are the specific regional goals of the four FTZs?
China's FTZs share a number of common goals of employing the negative list and promoting further openings, improving administrative licensing procedures and efficiency, and exploring tax policies that benefit investment. However, there are some key differences in their overall objectives that correlate with regional initiatives that should be noted when companies are looking to invest.
Shanghai
Serve as the primary test bed for the pan-FTZ negative list, as well as the corporate registration and audit system
Strengthen national security inspection and antimonopoly mechanisms
Promote innovation in trade supervision by deepening trade facilitation within the FTZ's special Customs zone, further improve a "single window system" for international trade for areas such as e-commerce, and bolster competitiveness in international shipping management and operation.
Further open the financial sector and improve regulation of financial industry
Tianjin
Coordinate balanced development in the Beijing-Tianjin-Hebei region by expanding the region's role in port services, promoting regional financial integration, encouraging industrial transformation and upgrading, boosting technological innovation, and attracting talent

Promote free trade with South Korea and Japan

Further develop a financial leasing industry and establish financial risk management mechanisms
Fujian
Promote trade and economic liberalization and cooperation with Taiwan

Prioritize free trade and investment with Taiwan by expanding the level of openings in both goods and services trade, and promoting enhanced transportation between Taiwan and mainland China

Strengthen the comparative advantage of Fujian's Pingtan economic area by supporting liberalization of services trade and international shipping and establishing Pingtan as a tourist destination
Guangdong
Promote cooperation and openings in services trade between Hong Kong, Macao, and mainland China

Encourage innovations in cross-border RMB business, including easing the ability to move funds between Hong Kong, Macao, and mainland China

Serve as a gateway to support outbound investment for China's "going-out" strategy
Will FTZ policies go nationwide?
Recent announcements suggest that FTZ reforms are testing the waters for broader investment reforms nationwide, potentially in alignment with changes that will be necessary if a US-China bilateral investment treaty (BIT) is concluded and implemented. In September, a meeting of China's leading group approved a guideline for establishing a national negative list in 2018. The guideline stated that the purpose of the FTZ pilot programs is to gradually improve upon the negative list of sectors where foreign investment is limited, which will then be incorporated into a national negative list. The guidelines also call for loosening business restrictions, increasing market access, and regulating the market fairly. However, regardless of implementation of a national negative list, there remain concerns of foreign company discrimination, as foreign companies remain regulated by a separate set of regulations under the draft Foreign Investment Law.
In looking at opportunities in China's FTZs, companies should look beyond the incremental market openings and consider the regional economic goals of the respective FTZ, and if they align with company goals for the China market. As suggested by USCBC member companies established in various zones, to gain a holistic view of benefits offered in the zones, companies should engage with local FTZ regulators to gain a better understanding of their policies, and a better sense of where goals may align.