The US-China Business Council's annual Export Report takes a deep dive into the goods and services that US businesses export to China every year and the American jobs supported by those exports. The report, usually released in the spring, takes the latest full sets of annual data available at the time into account. Due to how and when the US government releases data on goods exports (early in the year) and services exports (late in the year), the latest data for services exports at the time of publishing each spring lags one year behind the latest data for goods exports. Because the number of export-supported jobs is calculated using both goods and services data, jobs data also lag a year behind as a result. This addendum to the 2022 Export Report serves to update those services and jobs figures to provide a more current snapshot of all US exports to China and the American jobs supported by them in 2021.
US goods exports to China hit an all-time high in 2021. After hitting a trough in 2019, US goods exports continued a two-year growth streak in 2021. Such a strong showing was made possible by solid consumer demand in China and tariff exemptions enacted by China after the Phase One trade agreement was reached. More detail on goods exports can be found in USCBC's spring 2022 Export Report. 
US services exports to China expanded slightly in 2021, growing by seven percent to $39.6 billion. While this represents around $2.6 billion in growth, total US services exports, previously powered by travel spending, remain far under the peak of $55 billion before the pandemic.
The number of US jobs supported by US goods and services exports to China in 2021 topped 1 million, powered by strong goods export growth that year and assisted by growth in services exports.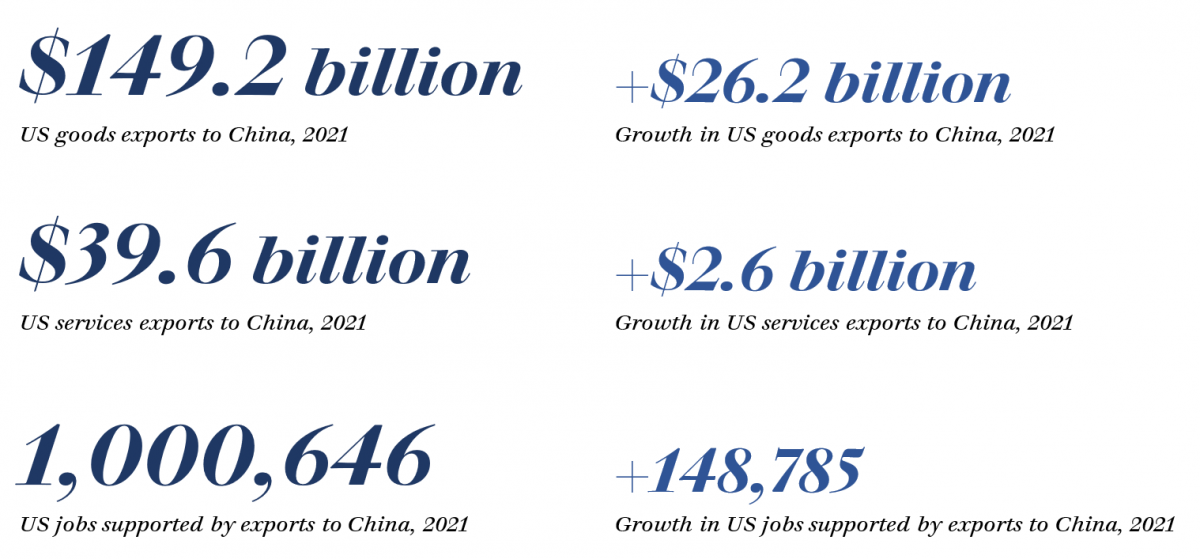 Read the full report: