The latest data on US exports to China paint a picture of extremes. In 2021, as global trade continued recovering from the pandemic, goods exports to China grew by 21 percent to an all-time high of $149.2 billion. On the other hand, in 2020, the latest year of services data available, services exports to China contracted by 33 percent to $37 billion. This was the lowest amount since 2013, reflecting the devastating impact of the pandemic on travel and education. When it comes to jobs supported by US exports to China, the bump in 2020 goods exports from tariff relief did not make up for the pandemic's impact on services exports. The number of US jobs supported by both goods and services exports to China stood at just over 858,000 in 2020, roughly 44,000 fewer than in 2019, a five percent drop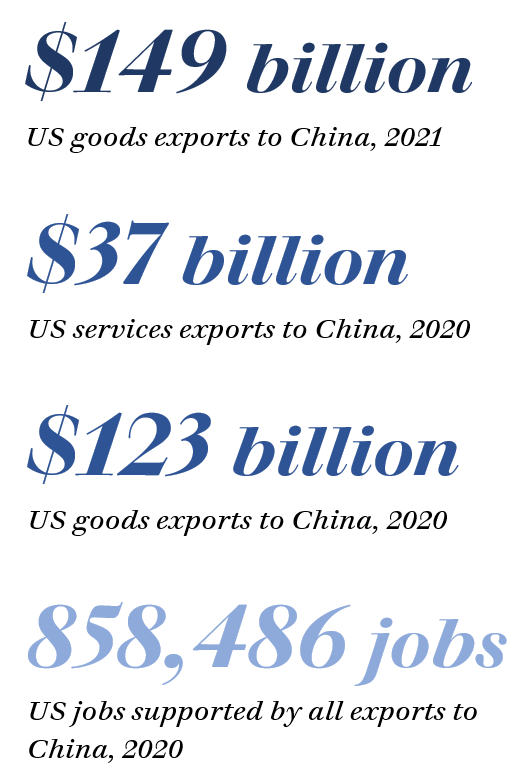 .
US goods exports to China hit an all-time high in 2021. After hitting a trough in 2019 during the peak of tariff escalations, US goods exports continued a two-year growth streak last year. That boost was powered by substantial growth in the three largest categories of exports: oilseeds and grains, semiconductors and their componentry, and oil and gas. 
In 2020, US services exports to China were crushed by the COVID-19 pandemic. The global spread of COVID-19 in 2020 caused international travel to plummet, hammering the largest US services export to China. North Dakota, the state with the highest growth figure, saw its services exports to China contract by 19 percent. 
China remains an important market for US exporters. As in years past, China remained the United States' third-largest goods export market in 2021, outsized only by USMCA partners Canada and Mexico. While China fell to the United States' sixth-largest services export market in 2020, when it comes to combined goods and services exports that year, it was still the top export market for four states, in the top three for 38, and in the top five for 47. 
US businesses and farmers across the country benefit from exporting to China. US exports to China continue to include a broad array of goods and services—including agricultural goods, semiconductors, oil and gas, and education—supporting US jobs across the country.
---
Read our full in-depth report on the United States' exports of goods and services to China and the US jobs that they support. This report covers the major trends in the US-China trade relationship and digs into several specific case studies of the largest industries that drive US exports to China. Read more
You can also read the report's executive summary in Chinese here.
---
Our report features individual pages for every state and the District of Columbia on goods and services exports to China and the US jobs they support. Find data from your state here or jump to your state using the list below:
Alabama | Alaska | Arizona | Arkansas | California | Colorado | Connecticut | Delaware | District of Columbia | Florida | Georgia | Hawaii | Idaho | Illinois | Indiana | Iowa | Kansas | Kentucky | Louisiana | Maine | Maryland | Massachusetts | Michigan | Minnesota | Mississippi | Missouri | Montana | Nebraska | Nevada | New Hampshire | New Jersey | New Mexico | New York | North Carolina | North Dakota | Ohio | Oklahoma | Oregon | Pennsylvania | Rhode Island | South Carolina | South Dakota | Tennessee | Texas | Utah | Vermont | Virginia | Washington | West Virginia | Wisconsin | Wyoming
---
Is the state level too broad? We also have individual pages for every congressional district's goods and services exports to China and the US jobs they support. Find your district's report here, or jump to your state's district section using the list below: 
Alabama | Alaska | Arizona | Arkansas | California | Colorado | Connecticut | Delaware | District of Columbia | Florida | Georgia | Hawaii | Idaho | Illinois | Indiana | Iowa | Kansas | Kentucky | Louisiana | Maine | Maryland | Massachusetts | Michigan | Minnesota | Mississippi | Missouri | Montana | Nebraska | Nevada | New Hampshire | New Jersey | New Mexico | New York | North Carolina | North Dakota | Ohio | Oklahoma | Oregon | Pennsylvania | Rhode Island | South Carolina | South Dakota | Tennessee | Texas | Utah | Vermont | Virginia | Washington | West Virginia | Wisconsin | Wyoming