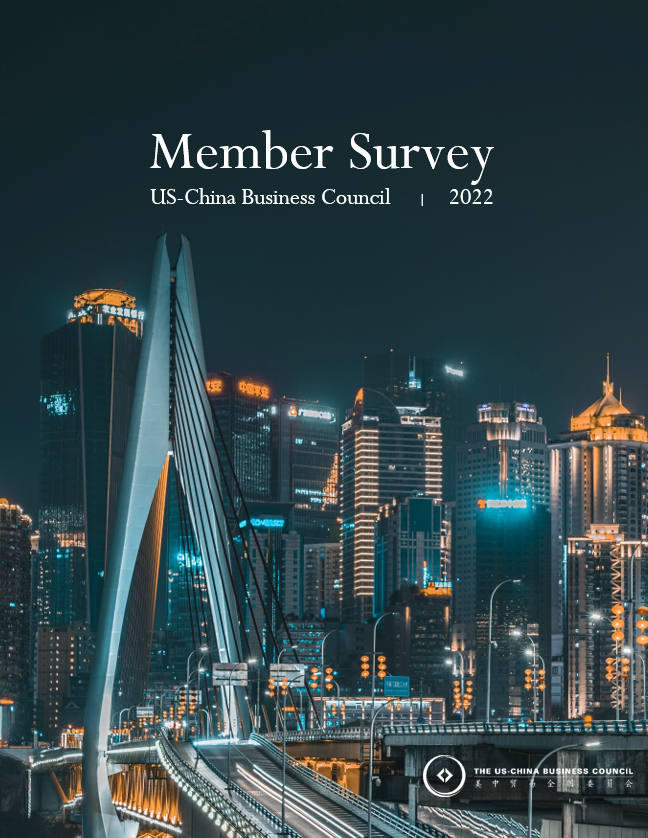 The US-China Business Council's 2022 Member Survey was conducted in June 2022, shortly after a period of widespread COVID-19 lockdowns across China, most prominently in Shanghai. This report is based on responses from 117 member companies, a similar participation rate to past years. Most respondents are large, US-headquartered multinational companies that have operated in China for more than 20 years. The findings in this report are meant to measure business sentiment and benchmark challenges and opportunities in the China market.
Key takeaways
China's COVID-19 policies are the top challenge: China's COVID-19 strategy now poses the top challenge to US companies, displacing US-China relations, which ranked as the top concern for four consecutive years. The looming possibility that companies will again be forced to partially halt operations due to lockdowns and the impacts of local controls on consumer demand have undermined confidence in the business environment.
Bilateral tensions continue to hurt American companies: Respondents report record-high concern with US-China relations, which continue to deteriorate. Geopolitical pressures are bleeding into the commercial realm, leaving companies—which depend on a stable and predictable trade environment—in increasingly challenging positions. Chinese customers' real and perceived concerns about ongoing access to US technology due to US-China tensions continue to threaten US companies' competitiveness in the market, an alarming trend that could be difficult to reverse.
Little progress on long-standing issues as new barriers emerge: Significant market access barriers remain, even as China assures foreign companies that they will receive equal treatment. Intellectual property (IP) protection has seen limited improvement. Chinese economic planners have expanded industrial policies to bolster Chinese companies, and localization requirements to qualify for state-affiliated procurement are increasing. At the same time, new Chinese data security and privacy rules threaten to disproportionately increase costs for multinational companies.
Trajectory of commercial relations at another inflection point: The difficult operating and geopolitical environment has impacted company performance, leading to record levels of pessimism and affecting companies' decisions about their supply chains and future investments. At the same time, companies overwhelmingly remain profitable in China and they continue to recognize China's importance to their global competitiveness. Whether business sentiment and the pace of future investment rebound or continue to falter will depend on decisions by US and Chinese policymakers in the coming months and years.
Read the full report: