In Pursuit of a Billion Sweet Tooths
The makers of Almond Roca, the almond-crusted toffee and chocolate in the crinkly gold wrapper, are planning for Chinese New Year 2022 with a mixture of excitement and trepidation. The holiday is typically cause for a big bump in sales to the mainland, but exports from the United States to China are off overall, and COVID-19 may stymie gift giving and confection consuming in large gatherings.
While parent company Brown and Haley does not put all its sweets in one basket, Greater China has become an important market (20 percent of global sales) and trouble there affects life for the 175 employees here—in Tacoma, Washington. Some workers have been with the company for 50 years. How'd they all get to this point?
Ninety years ago, Brown and Haley developed the pink tin packaging that preserved the almond bits which, in paper and cardboard, wouldn't have survived the trip to the Philippines, the first overseas destination in 1929. The tin was also ideal for the US Army during World War II, again because Almond Roca had a long shelf life and could survive any climate.
Sales in Hong Kong began in the 1960s, thanks to a clever choice of the Chinese characters "Happy Family" for the Roca brand, and the relationship lasted a half-century. "The golden foil, and pink and red packaging played well there because of the association with good luck and fortune," said John Melin, the President and Chief Operating Officer. Coincidence became lucky for Brown and Haley, which waited patiently for the big prize of mainland China to open as it eventually did in 1989, long after President Nixon's groundbreaking trip to Beijing.
A recipe for success
Almond Roca had a number of things going for it in China. One was the allure of foreign confection products. Second was its saccharine flavor, much sweeter than common Chinese sweets. Third was America's reputation among consumers for safe and high-quality products. A fourth advantage was dedication to understanding the China consumer. For example, the brand released a smaller morsel specifically to cater to the physiology of Chinese consumers, who, on average, have smaller mouths.
Yet Melin and his colleagues couldn't rest on laurels or the secrets of their kitchen recipe. "We relied on importers and market experts in China to guide us," recalled Melin. The brand has already solidified its "Happy Family" positioning. After learning that sweets are a popular wedding favor in China, the brand developed the "wedding one piece," a single morsel wrapped in red and gold packaging to represent good fortune, happiness, and prosperity. The redesign proved popular and profitable.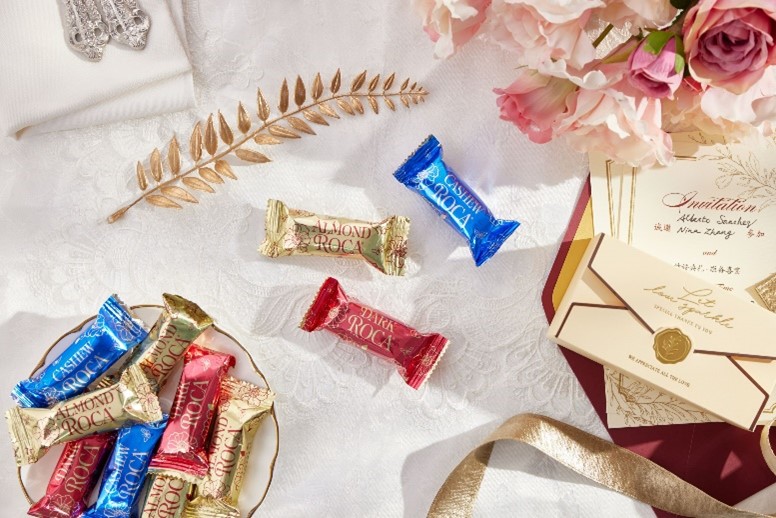 "We've done product adaptation in China in a limited, thoughtful way," said Melin. "We made the chocolate darker and the pieces a bit smaller." Mango-flavored chocolates are popular in China and wider Asia, and he has taken note. "Trends shift quickly, and we need to jump on them."
Innovation learned and executed in China has helped Almond Roca in all its markets. A version of the wedding one-piece, but with a different name, is selling well in the United States. Sales channels developed in China, especially e-commerce, have boosted sales elsewhere, as has use of social media. In China, Melin has hired a company to promote on China social media channels and another to manage participation on China e-commerce platforms like T-Mall with their own Almond Roca branded web stores.
All is not sweetness and light
All the innovating in the world doesn't prepare you for events like Covid-19 and trade wars. In the case of the former, government curbs on Chinese New Year and other gatherings put a big dent in sales. In addition, mainland tourists to Hong Kong used to scoop up tons of Almond Roca and bring them home on bullet trains as gifts. Then, the China government clamped down on travel and sales crumpled like the celebrated gold foil covering. Things have eased lately, and 2,000 Mainland visitors per day are allowed in.
Another blow came in the form plunging airline traffic in the entire region, hitting Almond Roca in the duty-free shops at airports.
Trump-era tariffs on Chinese goods sparked reprisals against US goods, which drove up tariffs to 30 percent, later reduced to 25 percent. "Buyers can always find a producer that doesn't have a punitive tariff added to their product, so we're facing a lot of competition," Melin said. Some of the damage was mitigated by leaning on their distributors to take a lower margin. He said he doesn't think Chinese consumers are dissuaded by anger against Americans and their products. "There is still great respect in China for the quality and safety of American products," he said. "Brown and Haley has a food security system that's second to none, and our customers in China know it."
There's no sugar-coating the past few years. But Melin sees a possible turnaround in the offing, even if he and other exporters in export-dependent Washington state have been unsuccessful so far getting the Biden administration to ditch the tariffs and eliminate other trade barriers. "I think the era of tension has bottomed out. I'd like it to return to its former glory of three years ago. We are seeing a turn-around. We are seeing stronger sales in China. We have been growing like crazy on e-commerce in China."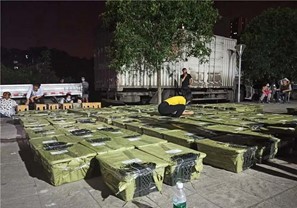 Almond Roca's experience in China runs counter to much that's believed about China—monolithic, an adversary, masses in lockstep, pell-mell rush to disengage. Melin bristles at some of the criticisms he's heard about the motivations if not patriotism of American businesses that operate in China.
"We are an exporter to China, and I feel proud to sell our American-made food products to China and other overseas markets. The United States is advantaged in terms of high-quality ingredients and a high standard of food safety. Chinese customers recognize this and are willing to pay a premium which enables us to support American jobs."
Brown and Haley has doubled down on the future, investing $7 million to upgrade factory equipment, including a new production line and machines for more efficient wrapping of Almond Roca in golden foil. US-China relations may be on a rollercoaster, but weddings in China continue, and with them, demand for the wedding one-piece and other mouth-watering variations.
Photo from Thomas Hawk under CC BY-NC 2.0