US exports to China support a broad swath of the US economy. These exports contribute to American livelihoods across the country. This report explores the latest comprehensive data available for both US goods (2022) and services (2021) exports to China, as well as the American jobs (2021) they support. China was the United States' third-largest goods export market in 2022 and its sixth-largest services export market in 2021. For combined goods and services exports in 2021, China was the top export market for four states, in the top three markets for 38 states, and within the top five markets for all but three states. China is just one of three countries wh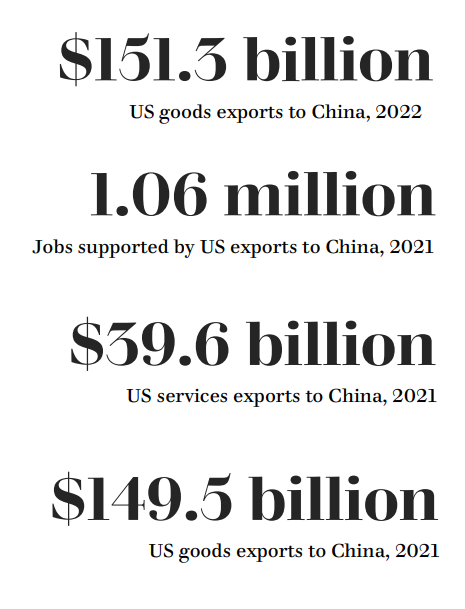 ose purchases of US goods and services supported more than 1 million jobs—Canada and Mexico were the other two.
The US-China trade relationship has grown steadily for decades, but in 2022, it appeared to weaken slightly. Goods exports to China reached a record high, but much of that year-over-year growth can likely be attributed to inflation. When compared to US exports to other top markets, goods exports to China grew at a significantly slower rate. Stunted economic growth in China, Russia's war in Ukraine, and US-China tension are weighing on the bilateral trade relationship, as are long-standing barriers, such as tariffs. On the services front, US exports to China increased in 2021 but had not recovered from the shock of the COVID-19 pandemic. 
US goods exports to China increased by 1.2 percent in 2022 and were led by oilseeds and grains. Both oilseeds and grains and pharmaceutical exports saw double-digit growth year over year. While semiconductors and oil and gas remained among the top goods exports to China, both saw double-digit contractions. 
US services exports to China increased by 7 percent in 2021, with education and various types of royalties comprising the largest categories. More than half of states increased their services exports to China by at least 5 percent. Travel, historically the largest services export to China by far, sunk even lower than it had the year prior, and education exports saw a moderate increase.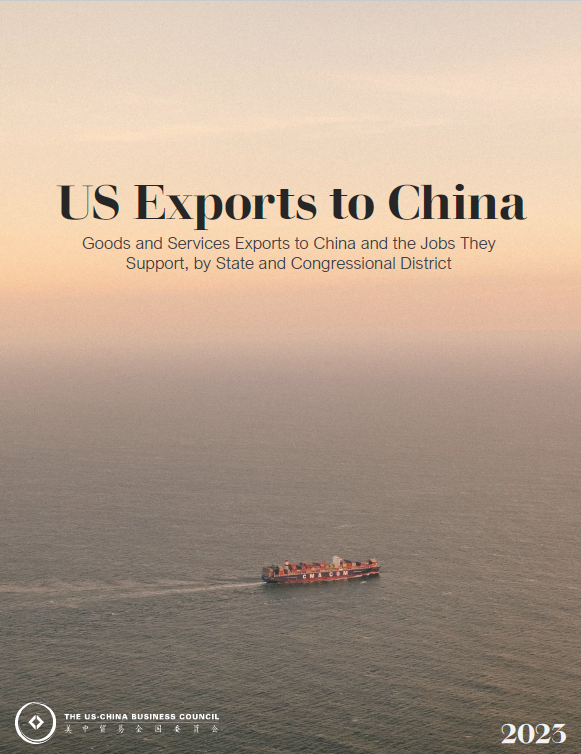 ---
The annual export report provides a full readout of US goods and services exports to China as well as the jobs supported by those exports. It also covers high-level trends within top export industries and looks into individual states' and districts' trade relationships with China. 
Read the executive summary in Chinese here.
---
See export data at the state and congressional district levels:
Alabama | Alaska | Arizona | Arkansas | California | Colorado | Connecticut | Delaware | District of Columbia | Florida | Georgia | Hawaii | Idaho | Illinois | Indiana | Iowa | Kansas | Kentucky | Louisiana | Maine | Maryland | Massachusetts | Michigan | Minnesota | Mississippi | Missouri | Montana | Nebraska | Nevada | New Hampshire | New Jersey | New Mexico | New York | North Carolina | North Dakota | Ohio | Oklahoma | Oregon | Pennsylvania | Rhode Island | South Carolina | South Dakota | Tennessee | Texas | Utah | Vermont | Virginia | Washington | West Virginia | Wisconsin | Wyoming | Full Report